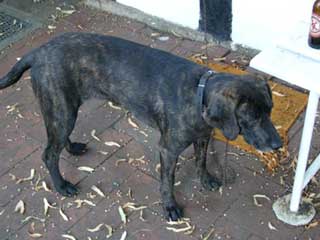 | | | | | | | |
| --- | --- | --- | --- | --- | --- | --- |
| Grooming: | | | | | | |
| Shedding: | | | | | | |
| Energy Level: | | | | | | |
| Protection: | | | | | | |
| Watch Dog: | | | | | | |
| | |
| --- | --- |
| Group: | Hound |
| Size: | Medium |
| Life Span: | 12-14 years |
| Height: | Male: 20-25 inches |
| | Female: 20-23 inches |
| Weight: | Male: 50-60 lbs |
| | Female: 40-50 lbs |
Plott Facts
Coat :
Smooth, fine and glossy
Gait :
Agile and graceful
Color(s) :
Any shade of brindle, or Black
Living Area :
Average
Hair Length:
Short
Exercise Need :
Daily long walk and jog
Recognized By :
(UKC) United Kennel Club
(NKC) National Kennel Club
(AKC) American Kennel Club
(CKC) Canadian Kennel Club
(APRI) America Pet Registry, Inc.
(ACR) American Canine Registry
(DRA) Dog Registry of America

Date of Origin :
18th century
Place of Origin :
United states
Todays Use :
Guard Dog
Originally Used :
Wild boar/bear Hunter
Other Name :
Plott Hound
Plott Information
Plott Description:
The origin of the Plott goes back to the 18th century. It is the only hound dog breed whose lineage does not lie in the foxhound. According to historical evidence, around 1750, a certain Jonathan Plott along with his brother left their homeland Germany for America. They brought along some of their boarhounds with them. They settled in the North Carolina region and bred dogs specifically for hunting bear, raccoon and other big game. The legacy of these big game hunting dogs continued for over two centuries, during the course of which they came to be known as the Plott Hounds. There are no known crosses which went into the making of this breed. However, some litters may have a bit of leopard spotted dogs, Blevin Hounds and Cable Hounds in them. The breed was first recognized by the AKC in 2006.

The Plott is a medium to large sized dog with a muscular build. It has a proportionate head; prominent eyes which are brown or hazel in color; high set ears which are medium in length, slightly pendulous and lie close to the cheeks; a strong muzzle of moderate length which is slightly square in appearance; black nose; taut, black lips with teeth which meet in scissors bite. The tail of this breed is slightly low-set, with a strong base and tapering towards the end. It has a prominent curl and is carried upright. The tail is never carried over the back. The breed has long, slender legs with padded feet. The coat of this breed is short, smooth, fine and glossy. Some specimen of this breed might also have a double coat. The color of the coat can be different shades of brindle; or black.

The Plott is an intelligent and an agile breed. It has innate hunting skills and is a fierce fighter. It is loyal to its master which makes it a good guard dog. This breed is great with kids as well as other dogs. However, caution is advised around other pets such as birds, rats, hares, cats etc. because of its innate hunting skills. Socializing at an early age is required to bring out the best behavior. It is an obedient breed which makes it easy to train. It makes for a great companion breed as well. However, it does not adapt very well to an indoor environment so is not well suited to an apartment life.
Plott Care & Grooming:
The Plott sheds very little hair. Its short and glossy coat is easy to maintain. Brushing its coat once or twice in a week with a firm bristle brush and rubbing its body with a damp towel once in a week are sufficient to maintain a healthy looking coat. It should be bathed regularly using a mild shampoo. Regular trimming of the nails is advised to avoid injuries. Its eyes and ears should be cleaned properly to avoid any infection.

It is an active breed which requires a lot of daily exercise. Daily long walk is required to keep the dog healthy both physically and mentally. Daily long walks should be supplemented with jogging or sprinting in an open area. However, when out in the open or on the road, it should not be let off the leash as this breed has a tendency to wander. This dog is prone to bloat, so small frequent meals are recommended instead of a large meal.
Plott Health Problems:
The Plott is prone to some health issues like Bloat, Ear and skin infection etc.
FEATURED DOG BREED
| | |
| --- | --- |
| Group: | Hound |
| Size: | Large |
| Life Span: | 10-12 years |
| Height: | Male: 23-28 inches Female: 20-25 inches |
| Weight: | Male:40-65 lbs Female: 30-55 lbs |
| Color: | white, cream, fawn, golden, red, grizzle a... |
| Description: | The Saluki is one of the oldest dog breeds known to man. The origins of the breed go as far back ..... |