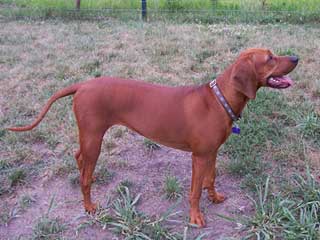 | | | | | | | |
| --- | --- | --- | --- | --- | --- | --- |
| Grooming: | | | | | | |
| Shedding: | | | | | | |
| Energy Level: | | | | | | |
| Protection: | | | | | | |
| Watch Dog: | | | | | | |
| | |
| --- | --- |
| Group: | Hound |
| Size: | Large |
| Life Span: | 10-12 years |
| Height: | Male: 22-27 inches |
| | Female: 21-26 inches |
| Weight: | Male: 55-70 lbs |
| | Female: 50-65 lbs |
Redbone Coonhound Facts
Coat :
Smooth, dense and glossy
Gait :
Steady and powerful
Color(s) :
Solid Red
Living Area :
Average
Hair Length:
Short
Exercise Need :
Daily long walk and jog
Recognized By :
(CKC) Canadian Kennel Club
(UKC) United Kennel Club
(NKC) National Kennel Club
(APRI) America Pet Registry, Inc.
(ACR) American Canine Registry
(DRA) Dog Registry of America
(AKC) American Kennel Club

Date of Origin :
18th century
Place of Origin :
US
Todays Use :
Guard Dog
Originally Used :
Raccoon & bear hunter
Other Name :
Reds
Redbone Coonhound Information
Redbone Coonhound Description:
The origin of the Redbone Coonhound lies in Southern part of America, particularly Tennessee and Georgia. Around the 18th century, a number of European hunting dog breeds were imported to America. They were trained primarily for hunting small game. However, after the American Revolution, a need was felt for a hunting breed which could hunt in rugged terrains and could take on big game like Raccoon, Bears, porcupines etc. Thus, the Foxhound and the Bloodhound were crossbred to create the modern Redbone Coonhound. The breed owes its name to one of the earliest breeders of this breed named Peter Redbone and its ability to hunt Raccoons. The breed was first recognized by the AKC in 2009.

The Redbone Coonhound is a medium to large sized dog with an athletic frame. It has a slightly long head; round eyes which are either dark brown or hazel in color; low set ears which lie close to the head; a square muzzle with a slightly tapering appearance; black nose with flared nostrils; thin lips with teeth which meet in scissors bite. This breed has a high set tail with a slight curve and is always carried above the line of the back, in an almost erect fashion. It has long, slender legs with cat like feet. The coat of this breed is short, dense and smooth. The color of the coat is always red, with slight white markings.

The Redbone Coonhound is a docile, well mannered breed. It is good with children as well as friendly with strangers. Therefore, it does not make for a very good watchdog. However, given its hunting instincts and its eagerness to please its master, it makes for a good guard dog. Caution is advised with non canine pets such as cats, birds, hares as it has an inherent hunting tendency. Socializing at an early age is important to bring out the best behavior. Being an obedient breed, it is easy to train. If sufficiently exercised it does okay in an apartment life but is more comfortable at least in an average sized yard.
Redbone Coonhound Care & Grooming:
The Redbone Coonhound does not shed much hair. Its smooth and shiny coat is easy to maintain. Brushing its coat once or twice in a week with a firm bristle brush and rubbing its body with a damp towel once in a week are sufficient to maintain a healthy looking coat. It should be bathed regularly. Its eyes and ears should be cleaned properly to avoid any infection.

The Redbone Coonhound is an active breed which requires a lot of daily exercise. Daily long walks should be supplemented with jogging and running for proper physical as well as mental development of the breed. Given its hunting tendency and a strong nose, it is important to keep it on a leash when outside in an open area.
Redbone Coonhound Health Problems:
The Redbone Coonhound is a hardy breed, not having any major health issues.
FEATURED DOG BREED
| | |
| --- | --- |
| Group: | Working |
| Size: | Large |
| Life Span: | 12-15 years |
| Height: | Male: 25.5-27.5 inches Female: 23.5-25.5 inches |
| Weight: | Male:70-100 lbs Female: 60-90 lbs |
| Color: | Solid black, or Pepper and salt |
| Description: | The origin of the Giant Schnauzer lies in the Bavarian highlands of Germany. The breed da..... |