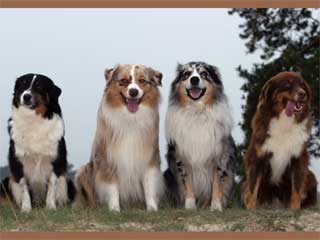 | | | | | | | |
| --- | --- | --- | --- | --- | --- | --- |
| Grooming: | | | | | | |
| Shedding: | | | | | | |
| Energy Level: | | | | | | |
| Protection: | | | | | | |
| Watch Dog: | | | | | | |
| | |
| --- | --- |
| Group: | Herding |
| Size: | Medium |
| Life Span: | 12-15 years |
| Height: | Male: 21-23 inches |
| | Female: 18-21 inches |
| Weight: | Male: 50-65 lbs |
| | Female: 40-55 lbs |
Australian Shepherd Facts
Coat :
Outercoat is straight or slightly wavy. Undercoat is short and smooth.
Gait :
Smooth and effortless
Color(s) :
Red, black, blue merle, red merle or red with white markings
Living Area :
Large
Hair Length:
Medium
Exercise Need :
Daily long walk and jog
Recognized By :
(UKC) United Kennel Club
(NKC) National Kennel Club
(AKC) American Kennel Club
(NZKC) New Zealand Kennel Club
(CKC) Canadian Kennel Club
(APRI) America Pet Registry, Inc.
(ACR) American Canine Registry
(DRA) Dog Registry of America

Date of Origin :
19th Century
Place of Origin :
United states
Todays Use :
Companion Dog
Originally Used :
sheep Herding, Farm Dog
Other Name :
Aussie
Australian Shepherd Information
Australian Shepherd Description:
The exact origin of the Australian Shepherd is unknown. Despite its name, it is believed to have originated in some regions of Spain and was later developed in America. It is believed to be a descendant of dogs from Basque which were brought to Australia and United States by the shepherds. It was later crossed with other Collie type dogs to create a dog with excellent herding skills. In the olden days, the Australian Shepherd was used for herding cattle. It was first recognized by the AKC in 1991.

The Australian Shepherd is a medium sized dog with a compact, sturdy frame. It has a well defined head which is proportionate to the body; medium sized ears which are high set and triangular in shape; medium sized eyes which are almond shaped and brown, amber or blue in color; a black or pink nose; a square looking muzzle which slightly tapers towards the end; taut lips which are black in color with teeth which meet in scissors bite. This breed has a docked or a bobbed tail which is carried at the level of the back. It has medium sized legs which are strong and straight oval shaped feet. It has a weather resistant double coat with a medium length outercoat which is straight or slightly wavy, and a short and smooth undercoat. The color of the coat can be red, black, blue merle, red merle or red with white markings.

The Australian Shepherd is a hard working breed with a calm demeanor. It is excellent with kids as well as dogs and other pets. It is an obedient breed which is easy to train. It has a strong sixth sense and a tendency to bark which makes it a good watchdog. However, it is an active breed which needs lot of exercise and always wants something to do. Thus, it is not recommended for families which cannot give enough time to the dog. It needs a large space to move around freely so not suited to an apartment life.
Australian Shepherd Care & Grooming:
The Aussie is an average shedder. The double coat needs to be brushed at least 3-4 times a week to maintain a healthy looking coat. It should be bathed only when necessary and must be dried properly after each bath. The ears and eyes should be cleaned regularly to avoid any infection. Its nail and the hair around the paws need to be trimmed regularly. Its feathery ears tend to accumulate moisture and dirt so special care needs to be taken of the ears.

It is an active breed which needs lot of daily exercise. Long walks several times a day are essential to have a well behaved dog. These should be supplemented with jogging, running and other games on a regular basis to keep the dog occupied most of the times. Lack of exercise may create behavioral problem in the dog and can also make it overweight.
Australian Shepherd Health Problems:
The Australian Shepherd is prone to some health issues like Cancer, Cataract, hip Dysplasia, Eye and ear infections etc.
FEATURED DOG BREED
| | |
| --- | --- |
| Group: | Herding |
| Size: | Small |
| Life Span: | 12-15 years |
| Height: | Male: 12-14 inches Female: 11-13 inches |
| Weight: | Male:30-35 lbs Female: 25-30 lbs |
| Color: | Various shades of grey and red |
| Description: | The origin of the Swedish Vallhund is uncertain. It is believed to be about 1,000 years ..... |