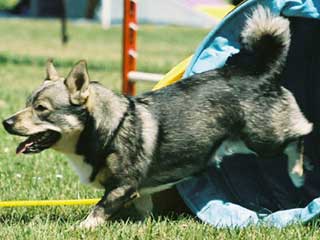 | | | | | | | |
| --- | --- | --- | --- | --- | --- | --- |
| Grooming: | | | | | | |
| Shedding: | | | | | | |
| Energy Level: | | | | | | |
| Protection: | | | | | | |
| Watch Dog: | | | | | | |
| | |
| --- | --- |
| Group: | Herding |
| Size: | Small |
| Life Span: | 12-15 years |
| Height: | Male: 12-14 inches |
| | Female: 11-13 inches |
| Weight: | Male: 30-35 lbs |
| | Female: 25-30 lbs |
Swedish Vallhund Facts
Coat :
Outer coat is rough and dense. Undercoat is soft
Gait :
Free and effortless
Color(s) :
Various shades of grey and red
Living Area :
Any
Hair Length:
Medium
Exercise Need :
Daily long walk
Recognized By :
(KCGB) Kennel Club of Great Britain
(NZKC) New Zealand Kennel Club
(APRI) America Pet Registry, Inc.
(ACR) American Canine Registry
(AKC) American Kennel Club
(DRA) Dog Registry of America

Date of Origin :
Ancient
Place of Origin :
Sweden
Todays Use :
Companion Dog
Originally Used :
Farm dog
Other Name :
Vallhund, Swedish Cattle Dog
Swedish Vallhund Information
Swedish Vallhund Description:
The origin of the Swedish Vallhund is uncertain. It is believed to be about 1,000 years old and was bred by the Vikings. In the olden days, the breed was used as a farm dog, using for herding cattle, guarding as well as catching vermin. Its use as a farm dog is what prompted the name of the dog, "Vallhund", which literally translates to farm dog. The breed is believed to be of the lineage of Pembroke Welsh Corgi, although there is no written evidence to suggest that. Like other dog breeds, this breed too was on the brink of extinction after the Second World War. However, a certain Karl Gustave is credited with reviving the breed. The breed was first recognized by the AKC in 2007.

The Swedish Vallhund is a small sized dog with Spitz like physical characteristics. It has a large, wedge shaped head; oval shaped eyes medium in size and dark brown in color; prick shaped eras which are medium in size; a square shaped muzzle; a black nose with flared nostrils; black taut lips with teeth which meet in scissors bite. This breed can have bobtail (no tail), stub tail or full curl tail. It has short but strong legs. It has a double coat with a medium length outer coat which is rough and dense and, a soft and dense undercoat. The color of its coat can be various shades of grey and red.

The Swedish Vallhund is an obedient and an active breed. It is great with kids as well as other pets. However, caution is advised around smaller pets such as cats, rabbits, rats etc. as it has a natural hunting tendency. It is an agile dog with an innate ability to sound an alarm quickly. Thus, it makes for a great watchdog. The breed can be reserved with strangers. Socializing at an early age is important to bring out the best behavior. Being an obedient breed, it is easy to train. Calm but consistent leadership skills are required to train the dog effectively. The breed adapts well to indoor as well as outdoor so is well suited to an apartment life.
Swedish Vallhund Care & Grooming:
The Swedish Vallhund is an average shedder and sheds heavily during spring and fall. Its coat needs to be brushed at least 2-3 times a week and almost daily during shedding season. It should be bathed only when necessary and must be dried properly after each bath. The ears and eyes should be cleaned regularly to avoid any infection. Its nail and the hair around ears, eyes and paws need to be trimmed regularly.

It is a very active dog which needs daily exercise. Daily walks are essential to keep the dog healthy both physically and mentally. These should be supplemented with jogging, running and other games to make the dog occupied most of the time. It tends to gain weight easily so should not be overfed.
Swedish Vallhund Health Problems:
The Swedish Vallhund is a healthy breed with few health issues like PRA, hip Dysplasia, Back problems etc.
FEATURED DOG BREED
| | |
| --- | --- |
| Group: | Herding |
| Size: | Medium |
| Life Span: | 12-14 years |
| Height: | Male: 20-24 inches Female: 19-23 inches |
| Weight: | Male:45-55 lbs Female: 35-45 lbs |
| Color: | Solid colored with or without white trim; ... |
| Description: | The history of the Canaan Dog is about 10,000 years old. Historical evidence suggests that anc..... |