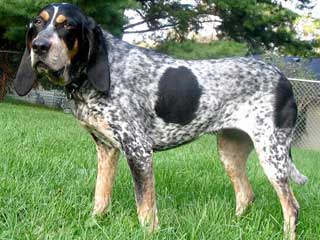 | | | | | | | |
| --- | --- | --- | --- | --- | --- | --- |
| Grooming: | | | | | | |
| Shedding: | | | | | | |
| Energy Level: | | | | | | |
| Protection: | | | | | | |
| Watch Dog: | | | | | | |
| | |
| --- | --- |
| Group: | Hound |
| Size: | Large |
| Life Span: | 10-12 years |
| Height: | Male: 22-27 inches |
| | Female: 21-25 inches |
| Weight: | Male: 55-80 lbs |
| | Female: 45-65 lbs |
Bluetick Coonhound Facts
Coat :
Smooth and glossy
Gait :
Active and vigorous
Color(s) :
Dark blue with various shaped black spots
Living Area :
Average
Hair Length:
Medium
Exercise Need :
Daily long walk
Recognized By :
(APRI) America Pet Registry, Inc.
(AKC) American Kennel Club
(UKC) United Kennel Club
(NKC) National Kennel Club
(CKC) Canadian Kennel Club
(ANKC) Australian National Kennel Council
(ACR) American Canine Registry
(DRA) Dog Registry of America
(AKC) American Kennel Club

Date of Origin :
1900s
Place of Origin :
United states
Todays Use :
Companion Dog
Originally Used :
Hunting Dog
Other Name :
Bluetick
Bluetick Coonhound Information
Bluetick Coonhound Description:
The origin of the Bluetick Coonhound lies in the state of Louisiana of the US. The breed is a result of crossbreeding between the English Foxhound, American Foxhound, the Bleu de Gascogne Hound and the Balck and Tan Virginia Foxhound. Earlier, the breed was categorized under the English Foxhound or the Coonhound. However, the breed was recognized as a separate breed in 1946. The breed was first recognized by the AKC in 2009.

The Bluetick Coonhound is a medium to large sized dog with a compact and muscular frame. It has a large head; round eyes which are large in size and dark colored; low set long ears which are carried close to the head; black nose with flared nostrils; a broad muzzle with a slightly longish appearance; taut lips with teeth which meet in scissors bite. This breed has a low set tail with a strong base and slightly tapering towards the end. The tail is carried above the line of the back with a prominent curl towards the end. It has medium length legs with small feet. The breed has a smooth and glossy coat which lying close to the body and medium in length. The color of the coat is dark blue with black colored spots on its back, ears and sides.

The Bluetick Coonhound is an intelligent and an agile breed. It is great with children. However, it can be slightly dominant towards other dogs if not socialized at a young age. Caution is advised with non-canine pets such as cats, hares etc. because of the breedís strong hunting instincts. It has very good eyesight and has strong protective instincts, which makes it a good watchdog as well as a guard dog. It is a curious breed and thus, training it can be a little difficult. A firm and consistent approach is required to train this breed. This breed does not adapt very well to an indoor environment. Thus, it is not well suited to an apartment life.
Bluetick Coonhound Care & Grooming:
The Bluetick Coonhound is an average shedder. Its smooth and shiny coat is easy to maintain. Brushing its coat 2-3 times in a week with a firm bristle brush and also rubbing its body with a damp towel once in a week are sufficient to maintain a healthy looking coat. It should be bathed only when necessary using a mild shampoo and must be dried properly after each bath. Its eyes and ears should be cleaned properly to avoid any infection.

This is an active dog which requires lots of daily exercise, physically as well as mentally. Daily long walks are essential to fulfill the natural needs of the dog to walk. Walks should be supplemented with jogging or running every now and then in an open but secured fenced area. However, it should not be let off the leash in an open, unsecured area because of its strong sense of smell and hunting instincts. It tends to gain weight quickly so should not be overfed. This dog is prone to bloat, so small frequent meals are recommended instead of a large meal.
Bluetick Coonhound Health Problems:
The Bluetick Coonhound is prone to some health issues like Cataract, hip Dysplasia, Krabbes Disease, Bloat etc.
BLUETICK COONHOUND OWNED BY USERS


Breed: Bluetick Coonhound
Name: Lily
Age: 1.4 years
Sex: Female
About Lily : We rescued Lily from the Humane Society about four and a half months ago. She's a goofy, cuddly dog but she has a willful streak and is guided by her nose, which means she's always on a leash. Her howl is sure something to hear!
FEATURED DOG BREED
| | |
| --- | --- |
| Group: | Hound |
| Size: | Medium |
| Life Span: | 10-12 years |
| Height: | Male: 16-17 inches Female: 15-16 inches |
| Weight: | Male:22-26 lbs Female: 20-24 lbs |
| Color: | Black, chestnut red or a tricolor of black... |
| Description: | The origin of the Basenji lies in Africa. This breed is one of the most ancient breeds of dog, or..... |