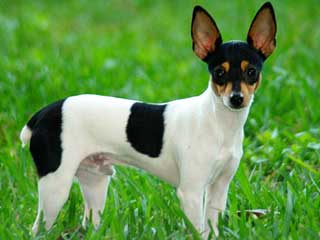 | | | | | | | |
| --- | --- | --- | --- | --- | --- | --- |
| Grooming: | | | | | | |
| Shedding: | | | | | | |
| Energy Level: | | | | | | |
| Protection: | | | | | | |
| Watch Dog: | | | | | | |
| | |
| --- | --- |
| Group: | Toy |
| Size: | Small |
| Life Span: | 12-15 years |
| Height: | Male: 8.5-11.5 inches |
| | Female: 8.5-11.5 inches |
| Weight: | Male: 4-8 lbs |
| | Female: 4-8 lbs |
Toy Fox Terrier Facts
Coat :
Smooth, shiny and fine
Gait :
Smooth and lively
Color(s) :
Black and white; tan and white; tri color of white, chocolate and tan.
Living Area :
Any
Hair Length:
Short
Exercise Need :
Daily long walk
Recognized By :
(UKC) United Kennel Club
(NKC) National Kennel Club
(AKC) American Kennel Club
(APRI) America Pet Registry, Inc.
(ACR) American Canine Registry
(DRA) Dog Registry of America

Date of Origin :
1900's
Place of Origin :
United states
Todays Use :
Companion Dog, Watch Dog
Originally Used :
Vermin Hunter, Companion Dog
Other Name :
Amertoy, American Toy Terrier
Toy Fox Terrier Information
Toy Fox Terrier Description:
The origin of the Toy Fox Terrier lies in the USA. The breed dates back to the 20 the century. It is believed to be a direct descendant to the Smooth Fox Terrier, which is a much larger breed of dog. The Smooth Fox Terrier was cross bred with smaller breeds of dogs such as Miniature Pinscher, Manchester Terrier and Chihuahua resulted in the Toy Fox Terrier. It was primarily used for hunting rats. The breed was first recognized by the AKC in 2003.

The Toy Fox Terrier is small sized dog with a slender, athletic frame and a keen expression. It has a proportionate head; rounded eyes which are prominent and dark in color; V shaped ears which are carried erect and pointed towards the end; a strong muzzle which is proportion to the head; a black nose; taut lips with teeth which meet in scissors bite. This breed has a docked tail so as it keep it in proportion to the size of the body. The tail is set high and carried erect. It has medium sized legs with slender and small, oval shaped feet. This breed has a short coat which is smooth, glossy and fine in texture. The color of the coat can be black and white; tan and white; tri color of white, chocolate and tan.

The Toy Fox Terrier is a curious and a very intelligent breed. It is very easy to train and can be trained to carry out a multitude of tasks. This breed has been trained to assist deaf people as well as other handicapped people. It is great with kids as well as other dogs. However, caution is advised with smaller pets such as hares, guinea pigs, rats etc. because of the innate terrier hunting instincts of the breed. It is friendly with almost anyone it meets. Thus, it does not make for a very good watchdog. However, it is a great companion breed. It adapts well to indoors as well as an outdoor environment. Hence, it is well suited to an apartment life.
Toy Fox Terrier Care & Grooming:
The Toy Fox Terrier is an average shedder. Its short and smooth coat is easy to maintain. Brushing once or twice in a week with a firm bristle brush and rubbing its body with a damp towel once in a week are sufficient to maintain a healthy looking coat. It should be bathed regularly and must be dried properly after each bath. Regular trimming of the nails is advised to avoid injuries. Its eyes and ears should be cleaned properly to avoid any infection.

It is active breed which needs lot of daily exercise. Long walks several times a day are essential to keep the dog healthy both physically and mentally. It loves to romp in an open but secured fenced area. However, it should not be let off the leash in an open area as it has a tendency to run after small animals. It is sensitive to very high or very low temperatures so should be adequately protected.
Toy Fox Terrier Health Problems:
The Toy Fox Terrier is generally a healthy and long living breed with some health issues like Luxating patella, Skin allergies etc. It may also be allergic to corn, wheat and beet pulp.
FEATURED DOG BREED
| | |
| --- | --- |
| Group: | Terrier |
| Size: | Medium |
| Life Span: | 12-15 years |
| Height: | Male: 9-10 inches Female: 9-10 inches |
| Weight: | Male:35-45 lbs Female: 35-45 lbs |
| Color: | Black, blue, grey, cream or fawn |
| Description: | The Skye Terrier derives its name from the Isle of Skye in Scotland, which is its place of o..... |