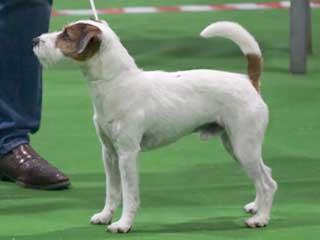 | | | | | | | |
| --- | --- | --- | --- | --- | --- | --- |
| Grooming: | | | | | | |
| Shedding: | | | | | | |
| Energy Level: | | | | | | |
| Protection: | | | | | | |
| Watch Dog: | | | | | | |
| | |
| --- | --- |
| Group: | Terrier |
| Size: | Small |
| Life Span: | 14-15 years |
| Height: | Male: 12-15 inches |
| | Female: 12-15 inches |
| Weight: | Male: 13-17 lbs |
| | Female: 13-17 lbs |
Parson Russell Terrier Facts
Coat :
Smooth or Broken; and straight, dense and shiny
Gait :
Free and tireless
Color(s) :
White, white with black or tan markings
Living Area :
Any
Hair Length:
Short
Exercise Need :
Daily long walk and run
Recognized By :
(AKC) American Kennel Club
(CKC) Canadian Kennel Club
(NKC) National Kennel Club
(APRI) America Pet Registry, Inc.
(ACR) American Canine Registry
(DRA) Dog Registry of America

Date of Origin :
18th Century
Place of Origin :
England
Todays Use :
Companion Dog
Originally Used :
Fox Hunter
Other Name :
Parson
Parson Russell Terrier Information
Parson Russell Terrier Description:
The origin of the Parson Russell Terrier lies in England. The breed dates back to the mid of 18th century. It owes its name to a breeder named Jack Russell, after which it was originally named as the Jack Russell Terrier. The exact lineage of the dog is unknown. However, it is believed that Jack Russell purchased a white and tan terrier from a milkman which formed the basis of the Parson Russell Terrier. The breed was primarily used for hunting small game such as fox, rabbit etc. It was first recognized by the AKC in 1997.

The Parson Russell Terrier is a small sized dog with a square frame and long legs. It has a strong head which is proportion to the body; almond shaped eyes which are medium in size and dark colored; v shaped ears which are small in size and lie close to the head; a strong, deep and rectangular muzzle; a black nose with flared nostrils; taut lips with teeth which meet in scissors bite. This breed has a docked tail which is in proportion to the body. The tail is set moderately and is carried above the line of the back, slightly away from the body. It may be carried at the level of the back when alert, but never carried below the line of the back. It has long, slender legs with small feet. This breed has double coat which can either be smooth or broken. Its outer coat is always straight, dense and shiny. The color of the coat can be white, or white with black or tan markings.

The Parson Russell Terrier is a cheerful, obedient breed. It is great with kids and does not mind rough play. It is good with other dogs as well if trained well. However, caution is advised with other small non canine pets such as guinea pigs, rabbits etc. because of the dog's innate hunting instincts. It has a tendency to bark and is slightly wary of strangers, which makes it a good watchdog. It can be easily susceptible to the Small Dog Syndrome which can lead to behavioral issues. Thus, a firm hand is required when communicate with this breed. It is an easy to train breed which can be taught to perform various tricks. Its cheerful, jovial nature makes it a good companion breed. It adapts well to an indoor as well as an outdoor environment. Hence, it is well suited to an apartment life.
Parson Russell Terrier Care & Grooming:
The Parson Russell Terrier is an average shedder. Its short and thick coat is easy to maintain. Brushing 2-3 times in a week with a firm bristle brush and rubbing its body with a damp towel once in a week are sufficient to maintain a healthy looking coat. Its coat may also be stripped once in a year. It should be bathed only when necessary and must be dried properly after each bath. Regular trimming of the nails is advised to avoid injuries. Its eyes and ears should be cleaned properly to avoid any infection.

It is an active breed which needs moderate exercise. Long daily walks are essential for physical and mental well being of the dog. Walks should occasionally be supplemented with running or jogging in an open area However, due to the dog's innate hunting instincts, it should not be let off the leash in an unsecured area. High fenced walls are necessary when leaving the dog alone since it can jump to great heights.
Parson Russell Terrier Health Problems:
The Parson Russell Terrier is prone to some health issues like Lens luxation, Cataract, Luxating patella etc.
FEATURED DOG BREED
| | |
| --- | --- |
| Group: | Hound |
| Size: | Large |
| Life Span: | 8-10 years |
| Height: | Male: 22-25 inches Female: 21-24 inches |
| Weight: | Male:65-70 lbs Female: 60-65 lbs |
| Color: | Any |
| Description: | The origin of the English Foxhound dates back to the 17th century. This breed was create..... |