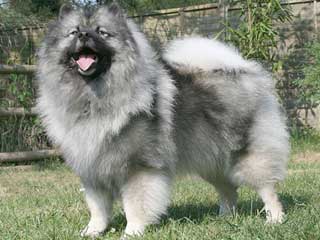 | | | | | | | |
| --- | --- | --- | --- | --- | --- | --- |
| Grooming: | | | | | | |
| Shedding: | | | | | | |
| Energy Level: | | | | | | |
| Protection: | | | | | | |
| Watch Dog: | | | | | | |
| | |
| --- | --- |
| Group: | Non-sporting |
| Size: | Medium |
| Life Span: | 12-15 years |
| Height: | Male: 17-19 inches |
| | Female: 16-18 inches |
| Weight: | Male: 35-45 lbs |
| | Female: 30-40 lbs |
Keeshond Facts
Coat :
Outercoat is straight and rough. Undercoat is dense and furry
Gait :
Straight and sharp
Color(s) :
Combination of gray, black and cream
Living Area :
Any
Hair Length:
Long
Exercise Need :
Daily long walk
Recognized By :
(CKC) Canadian Kennel Club
(AKC) American Kennel Club
(UKC) United Kennel Club
(KCGB) Kennel Club of Great Britain
(CKC) Canadian Kennel Club
(ANKC) Australian National Kennel Council
(NKC) National Kennel Club
(NZKC) New Zealand Kennel Club
(APRI) America Pet Registry, Inc.
(ACR) American Canine Registry
(DRA) Dog Registry of America

Date of Origin :
17th Century
Place of Origin :
Germany
Todays Use :
Companion Dog
Originally Used :
Watchdog
Other Name :
Dutch Barge Dog, Smiling Dutchman, German Spitz
Keeshond Information
Keeshond Description:
The origin of the Keeshond lies in Germany. The breed is believed to be result of crossbreeding between the Pomeranian, the Chow Chow, the Norwegian Elkhound and the Finnish Spitz. The breed's earliest name was the German Spitz which was later changed to Wolfspitz and then finally to Keeshond. The breed derives its name from a German man named Kees de Gyselaer who was a German patriot rebelling against the House of Orange. In fact, the dog became the face of protests against the House of Orange. However, when the House of Orange came to power again, the breed almost disappeared from Germany. It became a popular breed outside Germany only in the early part of the 20th century when it was introduced in the US. In the olden days, it was primarily used as a guard dog and a watch dog. The breed was first recognized by the AKC in 1930.

The Keeshond is a medium sized dog with square, sturdy frame. It has a proportionate, wedge shaped head; medium sized eyes which are almond shaped and dark brown in color; small sized ears which are triangular in shape and carried erect; a proportionate muzzle with a strong, square appearance; a black nose with flared nostrils; taut lips which are black in color with teeth which meet in scissors bite. This breed has a medium length tail which is set high and profusely feathered. The tail is carried in a prominent curl over the back. It has short, stout legs which are heavily feathered with round, cat like feet. This breed has a long, straight outercoat which is rough in texture and stands away from the body, and a dense and furry undercoat. The color of its coat can be a combination of gray, black and cream. The outercoat is tipped with black, and the undercoat is cream or pale gray. An important feature of this dog is distinct "Spectacles" marking around its eyes where the dark lines slant from eyes to ears.

The Keeshond is an outgoing and affectionate breed. It is excellent with kids, dogs as well as other pets. It is friendly with strangers too. However, it has an innate tendency to warn of impending danger and thus, makes for a good watchdog. It is easy to train and can be taught various tricks with ease. However, it is a sensitive breed and should not be subjected to harsh discipline. This breed has a tendency to bark incessantly and thus, should be taught when to stop. It does well in an apartment life if sufficiently exercised.
Keeshond Care & Grooming:
The Keeshond is a seasonal heavy shedder. Its long and dense double coat needs regular grooming. Brushing or combing almost daily with a firm bristle brush is very much required to keep its coat healthy. It is an odorless dog so should be bathed only when absolutely necessary and must be dried properly after each bath. Its eyes and ears need to be cleaned regularly. It is sensitive to warm temperature so should be adequately protected.

The Keeshond is an active breed which needs daily exercise. Long walks daily are essential for physical and mental well being of the dog. These should be supplemented with jogging or running in an open area on a regular basis. However, over exercising should be avoided when the dog is young as it can lead to knee problems. It has a tendency to gain weight quickly so overfeeding should be avoided.
Keeshond Health Problems:
The Keeshond is prone to some health issues hip Dysplasia, Skin allergies, Heart problems, Luxating patella etc.
RELATED NON-SPORTING BREEDS
FEATURED DOG BREED
| | |
| --- | --- |
| Group: | Hound |
| Size: | Large |
| Life Span: | 10-12 years |
| Height: | Male: 26-28 inches Female: 23-25 inches |
| Weight: | Male:110-120 lbs Female: 70-90 lbs |
| Color: | Any |
| Description: | The origin of the Otterhound lies in France. Although the exact origin of the breed is unknown..... |