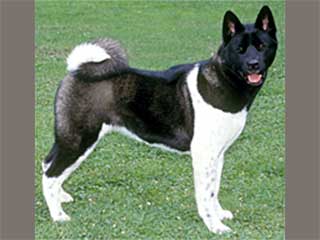 | | | | | | | |
| --- | --- | --- | --- | --- | --- | --- |
| Grooming: | | | | | | |
| Shedding: | | | | | | |
| Energy Level: | | | | | | |
| Protection: | | | | | | |
| Watch Dog: | | | | | | |
| | |
| --- | --- |
| Group: | Working |
| Size: | Large |
| Life Span: | 10-12 years |
| Height: | Male: 26-28 inches |
| | Female: 24-26 inches |
| Weight: | Male: 80-120 lbs |
| | Female: 70-110 lbs |
Akita Facts
Coat :
Outer coat straight and harsh. Undercoat thick, soft and dense.
Gait :
Brisk and powerful with strides of moderate length
Color(s) :
Any color including white, brindle or pinto
Living Area :
Large area
Hair Length:
Medium
Exercise Need :
Daily long walk
Recognized By :
(APRI) America Pet Registry, Inc.
(ACA)
(AKC) American Kennel Club
(CKC) Canadian Kennel Club
(NKC) National Kennel Club
(CKC) Canadian Kennel Club
(ACR) American Canine Registry
(ACA)
(DRA) Dog Registry of America

Date of Origin :
17th century
Place of Origin :
Japan
Todays Use :
Guard dog, Show Dog
Originally Used :
Hunting, dog fighting
Other Name :
Silent Hunter, American Hunter
Akita Information
Akita Description:
The origin of Akita lies in Japan in Akita Perfecture in the island of Honshu, which gives the breed its name. It is considered to be one of the oldest Japanese breeds. In the olden days, it was primarily used as a hunting dog, used for hunting wild boar, deer and Asian Black Beer. It was cross bred with English Mastiff and Great Dane in the early part of the 20th century to prepare it for dog fighting events. During the Second World War, it was also crossbred with the German Shepherd to prevent it from being culled. One of the most popular Akitas in the history of the breed is Hachiko. According to popular folklore, this dog accompanied its master to work on a train. One day, the master suffered a heart attack at work and died. Yet, the dog kept a vigil at the train station and continued to do so for nine long years until it finally died in 1931. A statue of the dog was installed at the train station. The breed was first introduced in America in 1937 when it was given as a gift to Helen Keller. It was then cross bred with several breeds which then resulted in the modern day American Akita. The American Akita is different in appearance than the Japanese variety. The breed was first recognized by AKC in 1972.

The Akita is a large breed dog with heavy bone density. It has a broad head giving its face a slightly triangular shape; deep-set small eyes which are dark brown in color; medium set ears which are small and triangular in shape; a broad muzzle which is square in shape; taut lips black in color with teeth which meet in scissors bite or an even bite. This breed has a large tail which is strong at the base and uniform in density throughout and has a strong curl and carried over the back. This breed has a double coat with a long, straight and harsh outer coat and, a soft, short and dense undercoat. The coat can have any color including white, brindle or pinto. White Akita does not have a mask.

The Akita is a docile and a brave breed. It has innate hunting capabilities and thus, makes for a good guard dog. However, it is not too good with children it is not raised with. Socializing at an early age is required to bring out its best behavior. This breed can be a little difficult to train. Patience and a firm approach are required to train this breed. This breed loves variety and easily gets bored. Hence, a lot of time needs to be dedicated to this breed. It adjusts well to indoor as well as outdoor surroundings. Hence, it is okay for an apartment lifestyle.
Akita Care & Grooming:
The Akita is a seasonal, heavy shedder. Brushing at least twice a week with a firm bristle brush is required to maintain the natural health of the coat. It requires moderate exercise. Daily long walks are recommended for optimum mental and physical development of the breed. This breed has a tendency to bloat. Hence, overfeeding should be avoided.
Akita Health Problems:
The Akita is prone to some health issues like Addison's Disease, Diabetes, Hypothyroidism, hip and elbow dysplasia, glaucoma and progressive renal atrophy.
FEATURED DOG BREED
| | |
| --- | --- |
| Group: | Herding |
| Size: | Medium |
| Life Span: | 12-14 years |
| Height: | Male: 20-24 inches Female: 19-23 inches |
| Weight: | Male:45-55 lbs Female: 35-45 lbs |
| Color: | Solid colored with or without white trim; ... |
| Description: | The history of the Canaan Dog is about 10,000 years old. Historical evidence suggests that anc..... |