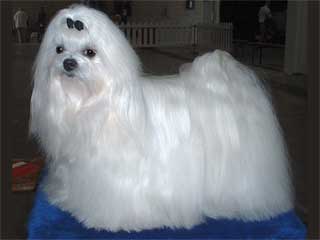 | | | | | | | |
| --- | --- | --- | --- | --- | --- | --- |
| Grooming: | | | | | | |
| Shedding: | | | | | | |
| Energy Level: | | | | | | |
| Protection: | | | | | | |
| Watch Dog: | | | | | | |
| | |
| --- | --- |
| Group: | Toy |
| Size: | Small |
| Life Span: | 12-15 years |
| Height: | Male: 8-10 inches |
| | Female: 7-9 inches |
| Weight: | Male: 5-7 lbs |
| | Female: 4-6 lbs |
Maltese Facts
Coat :
Flat and silky
Gait :
Smooth and lively
Color(s) :
Pure White
Living Area :
Any
Hair Length:
Long
Exercise Need :
Daily walk
Recognized By :
(CKC) Canadian Kennel Club
(FCI) Fédération Cynologique Internationale
(AKC) American Kennel Club
(UKC) United Kennel Club
(KCGB) Kennel Club of Great Britain
(CKC) Canadian Kennel Club
(ANKC) Australian National Kennel Council
(NKC) National Kennel Club
(NZKC) New Zealand Kennel Club
(APRI) America Pet Registry, Inc.
(ACR) American Canine Registry
(DRA) Dog Registry of America

Date of Origin :
Ancient
Place of Origin :
Italy
Todays Use :
Companion Dog
Originally Used :
Companion Dog
Other Name :
Maltese Information
Maltese Description:
The exact origin of Maltese is unknown. Some believe that the breed derives its name from the island of Malta while other theories suggest that the breed got its name from a now nonexistent town of Melita in Sicily. Maltese is believed to have descended from a Spitz type dog, although certain other theories which suggest that it might be a descendant of the Tibetan Terrier. Over the years, the breed was crossbred with smaller breeds such as the Poodle and miniature Spaniel to further reduce its size. Originally, the breed was used to hunt rodents, but over time, it became popular as a toy breed. It was first recognized by the AKC in 1888.

The Maltese is a toy breed covered with long hair all over. It has a medium sized head which is proportionate to the body; low set ears which are carried close to the head; round eyes which are dark colored; a black nose; a squarish muzzle which slightly tapers towards the end; taut lips which are black in color with teeth which meet in scissors bite, even bite or an edge-to-edge bite. This breed has a long tail which is heavily plumed and carried over the back. It has short legs which are strong and straight with hindlegs slightly angulated and round feet which are small in size. It has a single coat which is long, silky and lying flat on the sides of the body. The color of the coat is only pure white, although slight markings of lemon on the ears are acceptable.

The Maltese is a lively and an intelligent breed. It is great with kids, dogs as well as other pets. Its lively spirit makes it an excellent companion breed. It is friendly with strangers too. It has a tendency to bark on hearing suspicious noises, which makes it a good watchdog. This breed is very easy to train and can be taught new tricks. However, it is prone to the Small Dog Syndrome. Strong leadership is required to have a well behaved dog. Being a toy breed, it does very well in an apartment life.
Maltese Care & Grooming:
The Maltese sheds very little hair and is good for allergy sufferers. Its long and silky coat needs extensive grooming. Almost daily brushing is required to maintain a healthy looking coat. The hair on the head should either be trimmed or tied up in a knot to keep them away from the eyes. Its long pure white coat tends to accumulate dust, so need to be bathed regularly but must be dried properly after each bath. Its eyes, ears and teeth should be cleaned properly to avoid any infection. The hair around its eyes, ears and paws, and nails should be trimmed regularly. Some dry food or bone should be given to the dog to chew, in order to keep its teeth strong and clean.

Being a toy breed, it needs moderate amount of exercise. A daily walk is essential for emotional needs of the dog. A romp in an open area every now and then or play is sufficient to take care of its developmental needs. Lack of exercise may create behavioral problem in the dog and can also make it overweight. It is sensitive to very high or very low temperature so should be adequately protected.
Maltese Health Problems:
The Maltese is prone to some health issues like Teeth and eye problem, Skin allergy, Respiratory problem etc.
MALTESE OWNED BY USERS


Breed: Maltese
Name: Indi
Age: 2.0 years
Sex: Female
About Indi : Very cheeky but a wonderful dog!
FEATURED DOG BREED
| | |
| --- | --- |
| Group: | Terrier |
| Size: | Medium |
| Life Span: | 12-15 years |
| Height: | Male: 15-16 inches Female: 14-15 inches |
| Weight: | Male:28-38 lbs Female: 24-34 lbs |
| Color: | Red, fawn, white, black, blue or brindle |
| Description: | The origin of the Staffordshire Bull Terrier lies in Staffordshire, England. T..... |