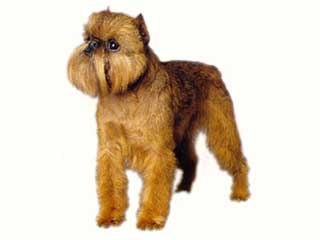 | | | | | | | |
| --- | --- | --- | --- | --- | --- | --- |
| Grooming: | | | | | | |
| Shedding: | | | | | | |
| Energy Level: | | | | | | |
| Protection: | | | | | | |
| Watch Dog: | | | | | | |
| | |
| --- | --- |
| Group: | Toy |
| Size: | Small |
| Life Span: | 12-15 years |
| Height: | Male: 7-9 inches |
| | Female: 7-9 inches |
| Weight: | Male: 8-12 lbs |
| | Female: 8-10 lbs |
Brussels Griffon Facts
Coat :
Rough, dense and wiry
Gait :
Straight and balanced
Color(s) :
Red, black, black and tan, or belge (mixture of black and reddish brown)
Living Area :
Any
Hair Length:
Medium
Exercise Need :
Daily walk
Recognized By :
(CKC) Canadian Kennel Club
(FCI) Fédération Cynologique Internationale
(AKC) American Kennel Club
(UKC) United Kennel Club
(KCGB) Kennel Club of Great Britain
(CKC) Canadian Kennel Club
(ANKC) Australian National Kennel Council
(NKC) National Kennel Club
(APRI) America Pet Registry, Inc.
(ACR) American Canine Registry
(DRA) Dog Registry of America

Date of Origin :
17th Century
Place of Origin :
Belgium
Todays Use :
Companion Dog
Originally Used :
Companion Dog, Watch Dog
Other Name :
Belgian Griffon, Petit Brabancon
Brussels Griffon Information
Brussels Griffon Description:
The origin of the Brussels Griffon lies in Brussels, Belgium. It is one of the varieties of the three types of Griffon, the other two being the Belgian Griffon and the Petit Griffon. In some parts of the world, all the three varieties are considered to be the same breed. Although the exact origins of the Brussels Griffon are unknown, it is believed to be a result of crossbreeding between the Petit Barbancon, the Pug, English Toy Spaniel, Yorkshire Terrier, Belgian Street Dog and Irish Terrier. In the 17th century, this breed was used as a companion breed for drivers and for hunting vermin and badgers. Although the breed never soared in popularity, the numbers of the breed dwindled after the Second World War. It was only due to dedicated breeding efforts in the UK that the breed was resurrected. It was first recognized by the AKC in 1910.

The Brussels Griffon is a toy breed with a short, sturdy frame. It has a round head which is slightly large as compared to the body; large eyes which are black in color; small sized ears which are high set and carried erect; a short nose which is jet black in color; a short muzzle which is well filled; taut lips which are black in color with teeth which meet in scissors bite. This breed has a docked tail which is set high and carried erect. It has long legs which are slightly squarish in appearance with small, well padded feet. It has a rough, dense and wiry coat which is not excessively long. The color of the coat can be red, black, black and tan, or belge (mixture of black and reddish brown).

The Brussels Griffon is an intelligent, lively and an obedient breed. It is good with kids as well as other dogs. However, it should not be trusted with small, non canine pets such as guinea pigs, birds, rabbits etc. because of the dog's hunting instincts. It is easy to train and adapts well to travelling and hence, makes for a good companion breed. It is slightly reserved with strangers with a tendency to bark which makes it a good watchdog too. However, it is prone to develop the Small Dog Syndrome. Hence, strong leadership skill is required to prevent any behavioral issues. This breed loves to be around its master and is well suited to an apartment life.
Brussels Griffon Care & Grooming:
The Brussels Griffon sheds very little hair. The dense and wiry coat of the dog needs regular grooming. The coat needs to be brushed 3-4 times a week and also a professional grooming 2-3 times a year to maintain a healthy looking coat. It should be bathed only when necessary and must be dried properly after each bath. The eyes and ears of the dog should be cleaned properly. The hair around its eyes, ears and paws need to be trimmed regularly.

It is an active toy breed which needs its share of daily walks to release pent up energy. A romp in an open area takes care of most of its exercise needs. This dog is sensitive to warm climate and is prone to heat stroke, so should be adequately protected.
Brussels Griffon Health Problems:
The Brussels Griffon is prone to some health issues like Heat stroke, Cleft palate, Cataract, Respiratory problems etc.
FEATURED DOG BREED
| | |
| --- | --- |
| Group: | Toy |
| Size: | Small |
| Life Span: | 14-15 years |
| Height: | Male: 10-12.5 inches Female: 10-12.5 inches |
| Weight: | Male:8-10 lbs Female: 8-10 lbs |
| Color: | Red, stag red, chocolate with tan or black... |
| Description: | The Miniature Pinscher is a small dog breed which is said to have originated in German..... |