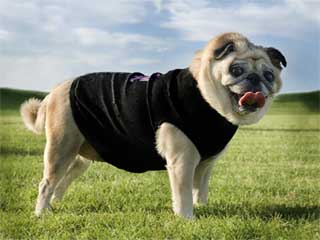 | | | | | | | |
| --- | --- | --- | --- | --- | --- | --- |
| Grooming: | | | | | | |
| Shedding: | | | | | | |
| Energy Level: | | | | | | |
| Protection: | | | | | | |
| Watch Dog: | | | | | | |
| | |
| --- | --- |
| Group: | Toy |
| Size: | Small |
| Life Span: | 12-15 years |
| Height: | Male: 10-14 inches |
| | Female: 10-14 inches |
| Weight: | Male: 14-18 lbs |
| | Female: 14-18 lbs |
Pug Facts
Coat :
Fine, soft and glossy
Gait :
Free and jaunty
Color(s) :
Fawn or black
Living Area :
Any
Hair Length:
Short
Exercise Need :
Daily walk
Recognized By :
(CKC) Canadian Kennel Club
(FCI) Fédération Cynologique Internationale
(AKC) American Kennel Club
(UKC) United Kennel Club
(KCGB) Kennel Club of Great Britain
(CKC) Canadian Kennel Club
(ANKC) Australian National Kennel Council
(NKC) National Kennel Club
(NZKC) New Zealand Kennel Club
(APRI) America Pet Registry, Inc.
(ACR) American Canine Registry
(DRA) Dog Registry of America

Date of Origin :
Ancient
Place of Origin :
China
Todays Use :
Companion Dog
Originally Used :
Companion Dog
Other Name :
Chinese Pug, Dutch Bulldog, Dutch Mastiff, Miniature Mastiff
Pug Information
Pug Description:
The Pug is an ancient dog breed believed to have been imported from China. The earliest references to pug like dogs date as far back as 551 BC, when they were carried by the royal dynasty of China. However, the modern pug is believed to be a result of cross-breeding between the Pekingese and the King Charles Spaniel. This small dog breed is said to have been taken to Europe by the East India Company sometime in the 16th century. Since times immemorial, this toy dog breed has been a favorite of the royal class. It was only in the 19th century that this breed began making its way in homes and it was finally recognized by the AKC in 1885.

Pugs have strong will power, which is why they are often called multum in parvo, Latin for much in little. They have a small, square body, strong muscles, strong chest, face with large and deep wrinkles, and variations in the shape of ears. The ears of pugs have two variations- the rose style and the button style. The rose style ears are characterized by a fold against the side of the head and are smaller than button styled ears. Prominent eyes of the Pugs are dark, large and rounded. Pugs also have strong legs which are neither too long nor too short relative to the size of the body and strong shoulders. They have black nails, with sufficiently gapped toes and slightly square shaped feet, and tails are set high and curled over the back. They have a soft and shiny coat which can be fawn or black. Masks and ears of the pugs are black in color.

Pugs are a quiet and docile breed of dogs but have a very strong will power indeed. This little dog is very lively, loyal and affectionate. This intelligent breed is easy to train and with proper training they get very well with children and other pets. They do not accept strangers easily and barks a lot if feel any danger, which makes them a good watch dog. Pugs need great deal of human attention. However, their quiet but playful nature make them an excellent choice for households with kids. Due to small size this breed is suitable for city and apartment life.
Pug Care & Grooming:
Pug is a maintenance breed. They shed a lot seasonally and hence, their coat should be brushed at least twice a week to keep them looking well groomed. Brushing its coat daily with a soft comb helps in less shedding of the fur and they should be bathed only when necessary. Because of the many skin folds, pugs also tend to accumulate a lot of dirt on their face. Cleaning them regularly with warm water and a Q-tip is strongly advised to avoid serious infections. Their nails also need to be trimmed regularly as they grow faster than those of other dog breeds. Pugs should be brushed daily to avoid any infections of the mouth and to keep their milk tooth in optimum condition. Eyes and ears of the dog should be cleaned on regular basis.

And unlike the popular belief, pugs are muscular dogs with an illusionary chubby frame. Ideally, you should take them out on a walk for at least 15 minutes every day. Lack of exercise may develop behavioral problem in the dog and can also make the dog overweight. This dog tends to gain weight so should not be overfed.
Pug Health Problems:
Pug is one of the long living dog breed with few major health problems. They are prone to some health issues like Hip Dysplasia, Epilepsy, Obesity, eye and heart problem, PDE (Pug Dog Encephalitis) etc. Pugs are sensitive to very high and very low temperature, so all care should be taken when taking them out.
PUG OWNED BY USERS


Breed: Pug
Name: Ophelia
Age: 7.6 years
Sex: Female
About Ophelia : Pugs are a fun loving breed and do very well with young kids.


Breed: Pug
Name: Kisi
Age: 0.10 years
Sex: Female
About Kisi : silent and too cute habits
FEATURED DOG BREED
| | |
| --- | --- |
| Group: | Toy |
| Size: | Small |
| Life Span: | 10-12 years |
| Height: | Male: 8-10 inches Female: 8-10 inches |
| Weight: | Male:8-14 lbs Female: 8-14 lbs |
| Color: | White with black & tan markings, black & t... |
| Description: | The origin of the English Toy Spaniel, also known as the King Charles Spaniel, dates ..... |