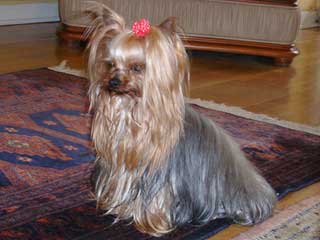 | | | | | | | |
| --- | --- | --- | --- | --- | --- | --- |
| Grooming: | | | | | | |
| Shedding: | | | | | | |
| Energy Level: | | | | | | |
| Protection: | | | | | | |
| Watch Dog: | | | | | | |
| | |
| --- | --- |
| Group: | Toy |
| Size: | Small |
| Life Span: | 14-16 years |
| Height: | Male: 5-7 inches |
| | Female: 5-7 inches |
| Weight: | Male: 4-7 lbs |
| | Female: 4-7 lbs |
Yorkshire Terrier Facts
Coat :
Straight, fine and silky
Gait :
Free and agile
Color(s) :
Blue and tan
Living Area :
Any
Hair Length:
Long
Exercise Need :
Daily walk
Recognized By :
(CKC) Canadian Kennel Club
(FCI) Fédération Cynologique Internationale
(AKC) American Kennel Club
(UKC) United Kennel Club
(KCGB) Kennel Club of Great Britain
(CKC) Canadian Kennel Club
(ANKC) Australian National Kennel Council
(NKC) National Kennel Club
(NZKC) New Zealand Kennel Club
(APRI) America Pet Registry, Inc.
(ACR) American Canine Registry
(DRA) Dog Registry of America

Date of Origin :
19th Century
Place of Origin :
England
Todays Use :
Companion Dog
Originally Used :
Ratter
Other Name :
Yorkie
Yorkshire Terrier Information
Yorkshire Terrier Description:
The Yorkshire Terrier is very confident, intelligent and an active little dog. It was developed in North England during 19th century to catch rats in textile mills and coal mines. The Yorkie was first recognized by the AKC in 1885 and now has become one of the most popular breed in the world.

Yorkshire Terrier is a small dog having a small head; short muzzle; eyes are prominent and set apart, nose is black; ears are v-shaped and stand erect; teeth meet in a scissors or level bite; legs are straight and tail is small and slightly curled over the back. Yorkie has a very beautiful long and silky coat which is also straight and glossy. The color of the coat can be a combination of blue and tan.

Yorkshire Terrier is an energetic, brave, loyal and adventurous dog. Yorkie always wants to please its owner. It is a very intelligent breed and learns quickly. This is an indoor pet and is a good choice for city and apartment life. It needs training to get friendly with younger children. Caution is advised with small pets such as rabbits, birds, rats etc. because of the breed's hunting instincts. It is a curious breed which is eager to learn. Yorkie does not accept strangers and bark a lot, which makes it a good watch dog. This breed is very protective about its family. With proper training and patience a sweet and devoted companion dog can be found in the Yorkshire Terrier.
Yorkshire Terrier Care & Grooming:
The Yorkshire Terrier sheds little to no hair and is good for allergy suffers. Its long and silky coat needs extensive grooming. The coat needs to be brushed 4-5 times a week with a firm bristle brush to avoid any tangles and matt. The coat should also be trimmed regularly to prevent matting of the hair. It should be bathed only when necessary and must be dried properly after each bath. Its eyes and ears need to be cleaned regularly to avoid any infection. Its nail and, the hair around ears, eyes and paws should be trimmed regularly.

It is a fairly active breed. A daily walk is sufficient to keep the dog healthy both physically and mentally. Supplementing it with a romp is an open area is good for the overall health of the breed. However, it should not be let off the leash in an unsecured area because of its innate hunting instincts. Lack of exercise may develop behavioral problem in the dog. It is sensitive to very high or very low temperature so should be adequately protected. This dog has a tendency to gain weight quickly so should not be overfed. Yorkies prefer some small meals to one big meal per day. Some dry food or bone should be given to it to chew, in order to keep its teeth strong and clean.


Yorkshire Terrier Health Problems:
The Yorkshire Terrier is one of the longest living dog breed which can live up to 14 years or more. It is prone to some health problems like hip Dysplasia, Bronchitis, Eye problems, Obesity, Dental problem etc.
YORKSHIRE TERRIER OWNED BY USERS


Breed: Yorkshire Terrier
Name: Shankley
Age: 10.0 years
Sex: Male
About Shankley : lovely dog


Breed: Yorkshire Terrier
Name: Dexter
Age: 10.4 years
Sex: Male
About Dexter : He's adorable!!!!!!! :)
FEATURED DOG BREED
| | |
| --- | --- |
| Group: | Herding |
| Size: | Small |
| Life Span: | 12-15 years |
| Height: | Male: 11-13 inches Female: 10-12 inches |
| Weight: | Male:30-38 lbs Female: 25-34 lbs |
| Color: | Red, sable, brindle, black or blue merle; ... |
| Description: | The origin of the Cardigan Welsh Corgi lies in Ceredigion, Wales. The breed is regar..... |