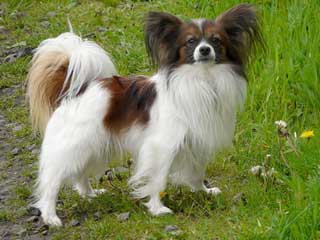 | | | | | | | |
| --- | --- | --- | --- | --- | --- | --- |
| Grooming: | | | | | | |
| Shedding: | | | | | | |
| Energy Level: | | | | | | |
| Protection: | | | | | | |
| Watch Dog: | | | | | | |
| | |
| --- | --- |
| Group: | Toy |
| Size: | Small |
| Life Span: | 12-15 years |
| Height: | Male: 8-11 inches |
| | Female: 8-11 inches |
| Weight: | Male: 7-10 lbs |
| | Female: 7-10 lbs |
Papillon Facts
Coat :
Abundant, long, straight, fine and silky
Gait :
Free, quick and graceful
Color(s) :
White with patches of any colors
Living Area :
Any
Hair Length:
Long
Exercise Need :
Daily walk
Recognized By :
(CKC) Canadian Kennel Club
(FCI) Fédération Cynologique Internationale
(AKC) American Kennel Club
(UKC) United Kennel Club
(KCGB) Kennel Club of Great Britain
(CKC) Canadian Kennel Club
(ANKC) Australian National Kennel Council
(NKC) National Kennel Club
(NZKC) New Zealand Kennel Club
(APRI) America Pet Registry, Inc.
(ACR) American Canine Registry
(DRA) Dog Registry of America

Date of Origin :
Ancient
Place of Origin :
France
Todays Use :
Companion Dog
Originally Used :
Companion Dog
Other Name :
Phalene, Continental Toy Spaniel, Epagneul Nain Continental
Papillon Information
Papillon Description:
The Papillon, belongs to the family of titian spaniels and has been associated with royal families in the medieval history. This breed was very popular in England and France in the past. It is characterized by its erect ears which resemble with the wings of a butterfly. In French Papillon means "butterfly". In the United States the breeds Papillon and Phalene come under same breed, only difference is that the Papillon has erect ears and the Phalene has drooping ears. Papillon was first recognized by AKC in 1915.

The breed belongs to the toy family and has a small, dainty frame. It has round, dark eyes which always seem alert; erect ears resembling the wings of a butterfly on the sides of the head; a small head and a tapering muzzle; a black rounded nose; thin lips and scissors bite teeth. The tail is long, high and arched; thin and straight forelegs with slender and straight hindlegs. It has abundant hair on the body which is long, straight, fine and silky. The color of the coat can be white with patches of any colors.

Papillon is a small, high energy dog which is neither aggressive nor aloof. It is an adventurous breed which loves learning new tricks and is very friendly with kids as well as other pets. It is an intelligent breed which is easy to train and it loves the outdoors. However, it is sensitive to cold temperatures because of its single coat. The breed is great for families with kids and has higher energy levels compared to other companion breeds, because of which it requires more exercise. Due to its small frame and non aggressive attitude, it is not a very good watch dog, although it can be a very alert breed.
Papillon Care & Grooming:
Papillon is an average shedder and, is a clean and odorless dog. Daily brushing is required to keep its long and silky coat healthy. It should be bathed only when necessary. Its teeth need to be brushed daily to avoid any infection. However, enzyme based toothpaste only should be used for brushing and not the usual ones. The nails should be trimmed regularly to avoid bacterial infections. Papillon is a high energy breed which needs food at least 4 times a day when young, and at least 2 meals a day when older than 2 years. A moderate fat diet is recommended for good coat and skin, which should include vegetarian as well as non-vegetarian food.

Compared to other companion dogs, this dog breed requires more exercise because of its high energy levels. A walk a day is a must to avoid behavioral problems apart from other exercises.
Papillon Health Problems:
Papillon prone to some health issues like Patellar Luxation, Periodontal, Hypoglycemia and liver shunt.
PAPILLON OWNED BY USERS


Breed: Papillon
Name: Gyzmo
Age: 7.0 years
Sex: Male
About Gyzmo : Gyzmo is the love of my life:-)
FEATURED DOG BREED
| | |
| --- | --- |
| Group: | Terrier |
| Size: | Small |
| Life Span: | 11-13 years |
| Height: | Male: 10-11 inches Female: 10-11 inches |
| Weight: | Male:10-14 lbs Female: 10-14 lbs |
| Color: | Blue and tan, solid sandy or solid red |
| Description: | The origin of the Australian Terrier, as the name suggests, lies in Australia. The his..... |