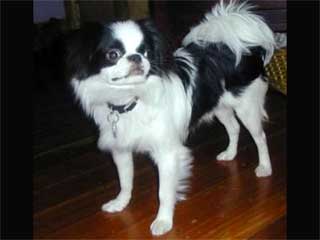 | | | | | | | |
| --- | --- | --- | --- | --- | --- | --- |
| Grooming: | | | | | | |
| Shedding: | | | | | | |
| Energy Level: | | | | | | |
| Protection: | | | | | | |
| Watch Dog: | | | | | | |
| | |
| --- | --- |
| Group: | Toy |
| Size: | Small |
| Life Span: | 8-10 years |
| Height: | Male: 8-11 inches |
| | Female: 8-11 inches |
| Weight: | Male: 5-15 lbs |
| | Female: 5-15 lbs |
Japanese Chin Facts
Coat :
Dense, straight and silky
Gait :
Lively
Color(s) :
Black and white, red and white or black and white with tan markings
Living Area :
Any
Hair Length:
Long
Exercise Need :
Daily walk
Recognized By :
(CKC) Canadian Kennel Club
(FCI) Fédération Cynologique Internationale
(AKC) American Kennel Club
(KCGB) Kennel Club of Great Britain
(CKC) Canadian Kennel Club
(ANKC) Australian National Kennel Council
(NKC) National Kennel Club
(NZKC) New Zealand Kennel Club
(APRI) America Pet Registry, Inc.
(ACR) American Canine Registry
(DRA) Dog Registry of America

Date of Origin :
Ancient
Place of Origin :
China
Todays Use :
Companion Dog
Originally Used :
Companion Dog, Lap Dog
Other Name :
Chin, Japanese Spaniel
Japanese Chin Information
Japanese Chin Description:
The origin of the Japanese Chin, contrary to its name, lies in China. However, the exact origin of the breed is unknown. Some theories suggest that the breed was introduced in Japan as gifts to the noble class by Korean rulers. Other theories suggest that the breed was first given as a gift to the Empress of Japan in the late 6th century or the early 7th century. However, what is known of the dog is that it was primarily bred as a companion dog, unlike other dogs which were primarily work dogs in Japan. It was a popular breed among the noble class of Japan and was frequently gifted to the nobility class for their exceptional service to the country. The breed was first recognized by the AKC in 1888.

The Japanese Chin is a toy breed with a well balanced frame. It has a large head; large eyes which are round in shape and dark in color; small sized ears which are V shaped, low set and carried close to the head; a short nose with flared nostrils; a short muzzle which is deep and powerful looking; taut lips which are black in color with teeth which meet in an undershot bite. This breed has a medium length tail which is set high and carried over the back in a prominent curl. It has short legs which are straight and powerful with hare like feet. It has a dense, straight and silky single coat. The color of the coat can be black and white, red and white or black and white with tan markings.

The Japanese Chin is a lively and a lovable breed. It is good with kids, dogs as well as other pets. However, it may not tolerate too much rough play and should be avoided. It is slightly reserved with strangers and thus, makes for a good watchdog. The lively nature of the breed makes it a great companion breed. However, it is prone to the small dog syndrome. Thus, a strong set of rules should be established to avoid any behavioral issues. It is easy to train and can be taught to perform various tricks. It is well suited to an apartment lifestyle.
Japanese Chin Care & Grooming:
The Japanese Chin is an average shedder. Brushing at least 3-4 times a week is required to remove dead hair and maintain a healthy looking coat. It should be bathed only when absolutely necessary and needs to be dried properly after each bath. The eyes and the ears should be cleaned properly to avoid any infections. Hair around its eyes, ears and paws need to be trimmed regularly.

The Japanese Chin does not require a great deal of exercise. However, a daily walk is sufficient to keep the dog healthy both physically and mentally. It is sensitive to very high or very low temperatures so should be adequately protected. It tends to snore.
Japanese Chin Health Problems:
The Japanese Chin is prone to some health issues like Heart problems, Eye infections, Respiratory problem etc.
FEATURED DOG BREED
| | |
| --- | --- |
| Group: | Toy |
| Size: | Small |
| Life Span: | 8-10 years |
| Height: | Male: 8-11 inches Female: 8-11 inches |
| Weight: | Male:5-15 lbs Female: 5-15 lbs |
| Color: | Black and white, red and white or black an... |
| Description: | The origin of the Japanese Chin, contrary to its name, lies in China. However, the exact or..... |