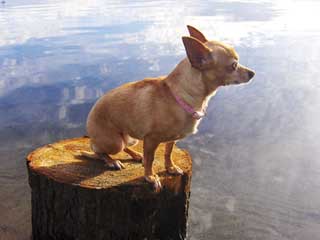 | | | | | | | |
| --- | --- | --- | --- | --- | --- | --- |
| Grooming: | | | | | | |
| Shedding: | | | | | | |
| Energy Level: | | | | | | |
| Protection: | | | | | | |
| Watch Dog: | | | | | | |
| | |
| --- | --- |
| Group: | Toy |
| Size: | Small |
| Life Span: | 14-16 years |
| Height: | Male: 6-9 inches |
| | Female: 6-9 inches |
| Weight: | Male: 4-6 lbs |
| | Female: 4-6 lbs |
Chihuahua Facts
Coat :
Smooth, close and glossy
Gait :
Swift
Color(s) :
Any color - solid, marked or splashed
Living Area :
Any
Hair Length:
Long Or Short
Exercise Need :
Daily walk
Recognized By :
(CKC) Canadian Kennel Club
(FCI) Fédération Cynologique Internationale
(AKC) American Kennel Club
(UKC) United Kennel Club
(KCGB) Kennel Club of Great Britain
(CKC) Canadian Kennel Club
(ANKC) Australian National Kennel Council
(NKC) National Kennel Club
(NZKC) New Zealand Kennel Club
(APRI) America Pet Registry, Inc.
(ACR) American Canine Registry
(DRA) Dog Registry of America

Date of Origin :
Ancient
Place of Origin :
Mexico
Todays Use :
Companion dog
Originally Used :
Companion dog
Other Name :
Chis
Chihuahua Information
Chihuahua Description:
Chihuahua also known as "Chis" is considered as the smallest breed in the world. This is the oldest breed in the American continent. The name Chihuahua was given to the breed as this breed is ascended from the Mexican state of Chihuahua. This breed was first brought to Europe by the famous explorer Christopher Columbus during 16th century, where it gained its popularity. This breed was used in religious ceremonies and was pet to the upper class. Chihuahua was recognized by AKC (American Kennel Club) in 1904 and now has become one of the most popular breeds in the world. These lively tiny dogs are well known as "Purse Dogs".

Chihuahua has a well rounded and apple in shape head; muzzle is short and slightly pointed; teeth are arranged in a level or scissors bite; ears are large and erect; eyes are large, round, set well apart and usually dark and luminous; legs are short and thin; tail is long and sickle in shape, either curled over the back or to the side. This breed has two types of coat, one is short and other is long. Short coated Chihuahua has a smooth, glossy and close coat placed well over the body. Long coated Chihuahua has a longer smooth coat that either can be flat or slightly curly.

Chis is pleasant little very intelligent breed. This is one of the most popular companion dog and also a good watch dog. This breed is extremely devoted, alert, confident, lively, gentle and fearless. Chihuahuas are generally considered as one-person dogs because they are very much devoted to their owners and suspect everyone else. This may not be a good family pet as it does not get along with younger children easily. Chihuahuas do not accept strangers and bark a lot, which makes them good watch dogs.

Chihuahua is the smallest breed that registered with AKC, due to its small size this is a good choice for city and apartment life. Chihuahuas are known to be temperamental and mostly not friendly towards younger children. This breed is very much devoted to one or two members of the family. It takes some time and patience to train this breed properly.
Chihuahua Care & Grooming:
Chihuahuas need a great deal of human attention like petting, touching etc. This is a very active dog so daily walk is very much required to keep him healthy. This breed is an average shedder. The short-coated Chihuahua should be gently brushed occasionally and the long-coated Chihuahua needs to be brushed regularly with a soft bristle brush. This breed should be bathed once or twice in a month, while bathing special care should be taken not to get water into their ears. Otherwise an infection may develop. Their nails should be trimmed regularly. Chihuahuas prefer some small meals to one big meal per day. Chihuahuas are sensitive to cold so proper care should be taken while exposing them to cold weather.
Chihuahua Health Problems:
Chihuahua is one of the longest living dog breed which can live up to 16 years or more. They are prone to some health problems like Hypoglycemia and Patellar Luxation, Eye problems, Heart disease and Tooth and gum complaints. Chihuahuas are prone to weak knees, it may create difficulty in walking while they get older. This breed born with a soft spot on the top of the head known as Molera. This spot may not be closed fully so care should be taken as any strong hit on this place can kill him. Chihuahua requires expert veterinary attention in areas like birthing and dental care.
CHIHUAHUA OWNED BY USERS


Breed: Chihuahua
Name: Blue
Age: 7.0 years
Sex: Male
About Blue : he is the most sweetest dog


Breed: Chihuahua
Name: Allie
Age: 0.8 years
Sex: Female
About Allie :


Breed: Chihuahua
Name: Midnight
Age: 0.3 years
Sex: Male
About Midnight : he very sweet loveabe and very kind he loves to pay and have fun he has some seizures


Breed: Chihuahua
Name: Snuggles
Age: 3.4 years
Sex: Female
About Snuggles : snuggs is a great playful dog i love her so much!!!!!!


Breed: Chihuahua
Name: Harley
Age: 2.0 years
Sex: Female
About Harley : we also have a male exact same coloring ,but from a differant parents look like twins ! we love both like children


Breed: Chihuahua
Name: Peppy
Age: 12.10 years
Sex: Male
About Peppy : For Chihushua he is so loving he makes my nicer when I get home from work. As it been said, I pay the mortage Peppy ownes the house my best friend and buddy.
FEATURED DOG BREED
| | |
| --- | --- |
| Group: | Hound |
| Size: | Large |
| Life Span: | 8-10 years |
| Height: | Male: 22-25 inches Female: 21-24 inches |
| Weight: | Male:65-70 lbs Female: 60-65 lbs |
| Color: | Any |
| Description: | The origin of the English Foxhound dates back to the 17th century. This breed was create..... |