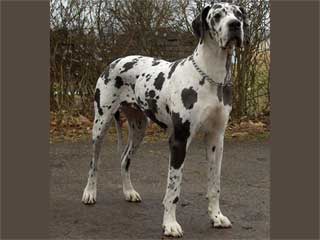 | | | | | | | |
| --- | --- | --- | --- | --- | --- | --- |
| Grooming: | | | | | | |
| Shedding: | | | | | | |
| Energy Level: | | | | | | |
| Protection: | | | | | | |
| Watch Dog: | | | | | | |
| | |
| --- | --- |
| Group: | Working |
| Size: | Large |
| Life Span: | 8-10 years |
| Height: | Male: 30-34 inches |
| | Female: 28-32 inches |
| Weight: | Male: 130-170 lbs |
| | Female: 100-140 lbs |
Great Dane Facts
Coat :
Short, thick, clean and glossy
Gait :
Strong and powerful
Color(s) :
Brindle, fawn, blue, black, harlequin and mantle
Living Area :
Large
Hair Length:
Short
Exercise Need :
Daily long walk
Recognized By :
(CKC) Canadian Kennel Club
(FCI) Fédération Cynologique Internationale
(AKC) American Kennel Club
(UKC) United Kennel Club
(KCGB) Kennel Club of Great Britain
(CKC) Canadian Kennel Club
(ANKC) Australian National Kennel Council
(NKC) National Kennel Club
(NZKC) New Zealand Kennel Club
(CCR)
(APRI) America Pet Registry, Inc.
(ACR) American Canine Registry
(DRA) Dog Registry of America

Date of Origin :
Ancient
Place of Origin :
Germany
Todays Use :
Guard Dog, Companion Dog
Originally Used :
Boar hunter
Other Name :
Deutsche Dogge, Dogue Allemand, Danois, Deense Dogge
Great Dane Information
Great Dane Description:
The Great Dane is a large dog breed believed to have its origins in Germany. The dog breed is believed to be a result of cross breeding between Irish Wolfhound and the English Mastif. The dog breed was used by the Germans in the 18th century for hunting boars and was registered by AKC in 1887. Over the years, it has become a popular dog breed in households around the world.

The Great Dane is one of the most elegant dog breeds. With a well proportioned body, it has a strong, rectangular head with pronounced features; a black muzzle; deep-set, expressive eyes; medium sized ears set high; a black or a blue-black nose; large lips and strong teeth with a scissors bite. This dog breed is characterized by a muscular neck held high; a muscular chest; strong-muscular legs with rounded feet; a high-set tail which tapers at the tip and a thick but short coat. The coat of the Great Dane can be brindle, fawn, blue, black, harlequin, mantle or even striped and is often glossy.

The Great Dane is often called the "gentle giant". Although big in size, this dog breed is never overtly aggressive. Easy to train and friendly with people, the Great Dane can be a very good companion dog. However, it can be really ferocious when needs to be, and coupled with its well developed sixth sense, it makes for a really good watch-dog and guard dog. The friendly and playful nature of the dog makes it excellent around children too. However, caution is always advised with kids around. This dog does not bark a lot, only barks if feel any danger.
Great Dane Care & Grooming:
Great Danes grow up really fast, and that's why, their exercise and nutrition needs must be paid close attention to. Great Danes should be given a protein rich diet and should be given small meals 5 to 6 times a day in order to avoid them getting overweight. Being a large dog breed and an active one at that, it should have a proper exercise regimen, with long walks at least once a day. Keeping them indoors for very long durations can affect their temperament.

They should also be trained at a very young age, else it can get difficult to train them owing to their size. Great Danes do not shed much because of their thick and short coat. Gentle brushing with a firm bristle brush once in a week and bathing only when necessary with dry shampoo should be sufficient. Apart from that, the toenails should be trimmed regularly and the teeth should be brushed daily to avoid infections.
Great Dane Health Problems:
Great Danes are prone to some health issues like hip dysplasia, hypothyroidism, Von Willebrand's disease, bloat and tumors. Every care should be taken to keep them safe and healthy. Getting them vaccinated is a good idea to protect them against some potentially fatal diseases.
FEATURED DOG BREED
| | |
| --- | --- |
| Group: | Non-sporting |
| Size: | Medium |
| Life Span: | 12-15 years |
| Height: | Male: 17-19 inches Female: 16-18 inches |
| Weight: | Male:35-45 lbs Female: 30-40 lbs |
| Color: | Combination of gray, black and cream |
| Description: | The origin of the Keeshond lies in Germany. The breed is believed to be result of crossbreeding ..... |