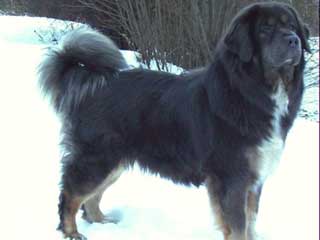 | | | | | | | |
| --- | --- | --- | --- | --- | --- | --- |
| Grooming: | | | | | | |
| Shedding: | | | | | | |
| Energy Level: | | | | | | |
| Protection: | | | | | | |
| Watch Dog: | | | | | | |
| | |
| --- | --- |
| Group: | Working |
| Size: | Large |
| Life Span: | 12-14 years |
| Height: | Male: 26-30 inches |
| | Female: 24-28 inches |
| Weight: | Male: 150-170 lbs |
| | Female: 140-160 lbs |
Tibetan Mastiff Facts
Coat :
Outer coat is heavy, thick & coarse. Undercoat is soft & dense
Gait :
Steady and well balanced
Color(s) :
Black, brown, & blue or grey, all with or without tan markings, & also different shades of gold
Living Area :
Average
Hair Length:
Long
Exercise Need :
Daily long walk
Recognized By :
(CKC) Canadian Kennel Club
(FCI) Fédération Cynologique Internationale
(KCGB) Kennel Club of Great Britain
(NKC) National Kennel Club
(NZKC) New Zealand Kennel Club
(APRI) America Pet Registry, Inc.
(ACR) American Canine Registry
(DRA) Dog Registry of America
(AKC) American Kennel Club

Date of Origin :
Ancient
Place of Origin :
Tibet
Todays Use :
Guard dog
Originally Used :
Guard dog
Other Name :
Do-Khyi, Tsang-khyi
Tibetan Mastiff Information
Tibetan Mastiff Description:
The Tibetan Mastiff is one of the oldest dog breeds in the world. Although the exact origin of the breed is unknown, the breed is thought to date back to 11th century. The breed is believed to have descended from the Tibetan Mountain dogs in the Himalayan region after it was left isolated. The popularity of the breed soared in the 18th century when Queen Victoria adopted one of these dogs. However, at the same of the First World War, the numbers of this breed began to dwindle. After dedicated breeding programs, the breed again grew in prominence in the late 20th century in the United States. It remains a rare breed in Tibet, although it is popular in the United States as well as the UK. The breed was first recognized by the AKC in 2006.

The Tibetan Mastiff is a large sized dog with a muscular frame and an alert expression. It has a large, strong head; medium sized eras which are brown in color; high set ears which are V-shaped, medium in size and slightly pendulous in nature; a strong, square muzzle; a large nose with flared nostrils which is black in color; thick lips which are pendulous with teeth which meet in scissors bite. This breed has a high set tail which is well feathered with a prominent curl and is carried over the back. It has medium length legs which are straight and muscular with small, cat like feet. This dog has a double coat with a long, thick, straight and rough outer coat and a soft, dense weather resistant undercoat. Dogs have distinctly more coat than bitches. The color of its coat can be black, brown, blue or grey; all with or without tan markings; and also different shades of gold.

The Tibetan Mastiff is a loyal and a fearless breed. It is good with children as well as other pets, including dogs. However, it is reserved with strangers. Thus, it makes for a good watchdog. It has strong protective instincts which make it a good watchdog too. Socialization at an early age is required to bring out the best behavior. This breed can be slightly strong headed, and thus, it is not well suited to inexperienced dog owners. The breed is largely inactive indoors and if sufficiently exercised they can do okay in an apartment life.
Tibetan Mastiff Care & Grooming:
The Tibetan Mastiff is a seasonal shedder. Its long and thick coat needs regular grooming. Brushing its coat 3-4 times in a week with a firm bristle brush and almost daily brushing during shedding season is sufficient to maintain a healthy looking coat. It should be bathed only when necessary and must be dried properly after each bath. However, extra care should be taken of its feet since it is a heavy breed and a lot of pressure is put on the feet. Regular trimming of the nails is advised to avoid injuries. Its eyes and ears should be cleaned properly to avoid any infection. The hair around its ears, eyes and paws should also need to be trimmed regularly.

The Tibetan Mastiff is not a very active breed. Thus, a long daily walk is sufficient for physical as well as mental well being of the breed. Excessive exercising should be avoided at an early age as it can affect the bone development of the dog. It tends to gain weight quickly so should not be overfed. This dog is prone to bloat, so small frequent meals are recommended instead of a large meal.
Tibetan Mastiff Health Problems:
The Tibetan Mastiff is prone to some health issues like hip Dysplasia, Heart problem, Epilepsy, PRA (progressive retinal atrophy), Cataract, Canine Inherited Demyelinative Neuropathy, Skin and ear infections etc.
FEATURED DOG BREED
| | |
| --- | --- |
| Group: | Hound |
| Size: | Medium |
| Life Span: | 12-14 years |
| Height: | Male: 13-15 inches Female: 13-15 inches |
| Weight: | Male:30-40 lbs Female: 30-40 lbs |
| Color: | White with any combination of lemon, orang... |
| Description: | The origin of the Petit Bassett Griffon Vendeen (PBGV) dates back to the 16t..... |