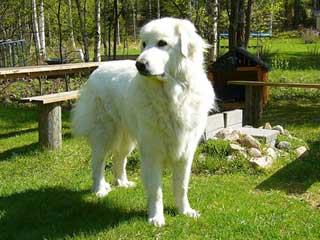 | | | | | | | |
| --- | --- | --- | --- | --- | --- | --- |
| Grooming: | | | | | | |
| Shedding: | | | | | | |
| Energy Level: | | | | | | |
| Protection: | | | | | | |
| Watch Dog: | | | | | | |
| | |
| --- | --- |
| Group: | Working |
| Size: | Large |
| Life Span: | 8-10 years |
| Height: | Male: 27-32 inches |
| | Female: 25-29 inches |
| Weight: | Male: 100-130 lbs |
| | Female: 85-110 lbs |
Great Pyrenees Facts
Coat :
Outercoat is dense, flat and rough. Undercoat is dense and wooly
Gait :
Smooth and elegant
Color(s) :
Pure White or white with markings of gray, badger, reddish brown or different shades of tan.
Living Area :
Large
Hair Length:
Long
Exercise Need :
Daily long walk
Recognized By :
(CKC) Canadian Kennel Club
(FCI) Fédération Cynologique Internationale
(AKC) American Kennel Club
(UKC) United Kennel Club
(KCGB) Kennel Club of Great Britain
(CKC) Canadian Kennel Club
(ANKC) Australian National Kennel Council
(NKC) National Kennel Club
(NZKC) New Zealand Kennel Club
(APRI) America Pet Registry, Inc.
(ACR) American Canine Registry
(DRA) Dog Registry of America

Date of Origin :
Ancient
Place of Origin :
Siberia
Todays Use :
Companion Dog, Guard Dog
Originally Used :
Livestock Guardian Dog
Other Name :
Chien Des Pyrenees
Great Pyrenees Information
Great Pyrenees Description:
The origin of the Great Pyrenees lies in Siberia or parts of Central Asia. The ancestry of the breed lies in the Kuvasz and Maremmano Abruzesse. It is also believed that it is related in some way to St. Bernard. Prior to the 16th century, the breed inhabited high mountainous regions. However, by the starting of the 16th century, the breed became very popular with the noble class of France. Back then, it was used as a guard dog in France as well as protecting sheep from animals such wolves and bears. The breed was first recognized by the AKC in 1933.

The Great Pyrenees is a large sized dog with a compact, sturdy frame. It has a wedge shaped head which is proportionate to the body; medium sized eyes which are almond shaped and dark brown in color; medium sized ears which are triangular in shape, rounded at the tip and carried close to the head; a black, broad nose; a strong, broad and square muzzle; taut lips which are black in color with teeth which meet in scissors bite or level bite. This breed has a long, low set tail. The tail is strong from the root to the tip, is plumed and is carried low when relaxed and may be carried over the back when in action. It has a medium length, strong legs with round, well padded feet. The Great Pyrenees has a water resistant double coat with long, dense and straight outercoat which is slightly coarse in texture and a dense, fine and woolly undercoat. The color of the coat can be pure white or white with markings of gray, badger, reddish brown or different shades of tan.

The Great Pyrenees is a well mannered dog with a serious yet affectionate disposition. It is good with kids if socialized at an early age. However, it can be wary of strangers as well as other dogs. Caution is advised with non canine pets because of the dog's strong protective instincts. It is a strong dog which makes for a great guard dog. However, it can be a little difficult to train. Patience and a calm approach are required when training this breed. It has a calm disposition which makes it an average companion breed. Although not a very active breed, it loves to wander around. Thus, it does not do very well in an apartment life. This working dog is more comfortable in a large open area and that area must be securely fenced.
Great Pyrenees Care & Grooming:
The Great Pyrenees sheds little throughout the year and heavily once in a year. Its long and dense double coat needs extensive grooming. Brushing of the coat at least 3-4 times a week is necessary to maintain a healthy looking coat. Daily brushing is required during the shedding season. Caution is advised against trimming the coat in hot weather since the breed is prone to sunburn. It should be bathed only when absolutely necessary and must be dried properly after each bath. The hair around its eyes, ears and paws should be trimmed regularly.

It is not a very active breed. However, it needs to be exercised sufficiently to avoid weight gain. Daily walk is necessary for emotional and developmental need of the dog. It should be supplemented with running or jogging in a secured fenced area on a regular basis. This dog tends to gain weight quickly so should not be overfed. It is sensitive to very high temperature so need to be adequately protected.
Great Pyrenees Health Problems:
The Great Pyrenees is prone to some health issues like Bloat, hip Dysplasia, Skin diseases, Cancer, Patellar luxation etc.
FEATURED DOG BREED
| | |
| --- | --- |
| Group: | Working |
| Size: | Large |
| Life Span: | 6-8 years |
| Height: | Male: 25-28 inches Female: 23-26 inches |
| Weight: | Male:90-110 lbs Female: 80-100 lbs |
| Color: | Tricolored; combination of black, white an... |
| Description: | The Bernese Mountain Dog, also known as Bernese Sennenhund in German, is large breed..... |