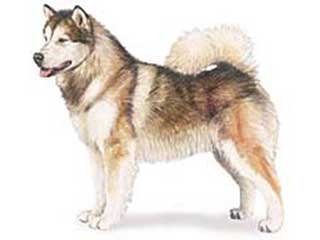 | | | | | | | |
| --- | --- | --- | --- | --- | --- | --- |
| Grooming: | | | | | | |
| Shedding: | | | | | | |
| Energy Level: | | | | | | |
| Protection: | | | | | | |
| Watch Dog: | | | | | | |
| | |
| --- | --- |
| Group: | Working |
| Size: | Large |
| Life Span: | 12-14 years |
| Height: | Male: 25-28 inches |
| | Female: 23-26 inches |
| Weight: | Male: 85-100 lbs |
| | Female: 75-80 lbs |
Alaskan Malamute Facts
Coat :
Hard and thick outer coat. Soft, dense and wooly undercoat
Gait :
steady, balanced and powerful
Color(s) :
Shades of gray, black and sable
Living Area :
Large area
Hair Length:
Medium
Exercise Need :
Daily long walk and jog
Recognized By :
(APRI) America Pet Registry, Inc.
(FCI) Fédération Cynologique Internationale
(AKC) American Kennel Club
(UKC) United Kennel Club
(KCGB) Kennel Club of Great Britain
(CKC) Canadian Kennel Club
(NKC) National Kennel Club
(NZKC) New Zealand Kennel Club
(CKC) Canadian Kennel Club
(ACR) American Canine Registry
(DRA) Dog Registry of America

Date of Origin :
Ancient
Place of Origin :
United States (Alaska)
Todays Use :
Sled pulling, Companion Dog
Originally Used :
Sled pulling, Carrying heavy load
Other Name :
Alaskan Malamute Information
Alaskan Malamute Description:
The Alaskan Malamute is one of the oldest breed of dogs, its history going back to more than 2000 years ago. This breed was first bred by the Malamute tribe, which is evident in the name of the breed. Back then, it was an important mode of transportation, used for carrying light as well as heavy load. This breed assisted in the Gold Rush of 1896, assisted in various polar expeditions such as those of Richard Byrd and also worked as a search and rescue dog during the Second World War. This breed was first recognized by AKC in 1935.

The Alaskan Malamute is a large breed with a strong, muscular build. It has a broad head; medium sized, almond shaped eyes which are brown in color; medium set, small ears which are triangular in shape; A long, strong muzzle which is slightly square in shape; a medium sized nose which is black in color; taut lips black in color with teeth which meet in scissors bite. This breed has a medium sized tail with a plume like appearance and carried over the back. It has a double coat, with a hard and thick outer coat and a soft, dense and wooly undercoat. The acceptable colors of the coat are shades of gray, black and sable.

The Alaskan Malamute is a strong, obedient and generally a one man dog. It is great with kids. However, it has a dominant streak with other dogs. Caution is advised with smaller pets like cats as it has a natural tendency to prey on these animals. Although it is a people pleaser breed, it can be difficult to train. A firm hand is needed for training it. It is friendly with strangers and hence, does not make for a good watch dog. It is an active breed which can be destructive if left indoors for too long. Thus, it is not suitable for an apartment lifestyle.
Alaskan Malamute Care & Grooming:
The Alaskan Malamute is a heavy shedder and is a odorless dog. The dense coat of the breed needs to be brushed at least twice a week to maintain the natural shine of the coat. The coat does not attract much dirt and oil, and hence, frequent bathing is not necessary. This breed tends to gain weight quickly. Although large in size, it requires a moderate diet. Hence, it should not be overfed. Special care needs to be taken of its eyes, since it is susceptible to bacterial infections and other disease of the eye.

It is an active breed which requires a lot of exercise. Long daily walks are recommended for optimum physical and mental development of the breed. These should be supplemented with running in an open area occasionally. This breed does not handle extremely warm temperatures very well. It needs to be kept cool in warm temperatures.
Alaskan Malamute Health Problems:
The Alaskan Malamute prone to some health issues like hip dysplasia, bloat, cataract, polyneuropathy, chondrodysplasia, progressive renal atrophy and diseases of the heart.
FEATURED DOG BREED
| | |
| --- | --- |
| Group: | Herding |
| Size: | Large |
| Life Span: | 10-12 years |
| Height: | Male: 22-25 inches Female: 21-24 inches |
| Weight: | Male:70-90 lbs Female: 60-80 lbs |
| Color: | Different shades of blue, gray or grizzle |
| Description: | The origin of the Old English Sheepdog lies in England. Although the exact origin of..... |