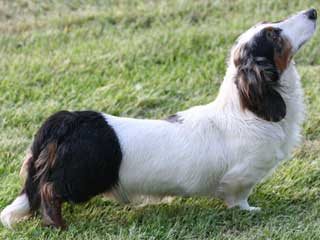 | | | | | | | |
| --- | --- | --- | --- | --- | --- | --- |
| Grooming: | | | | | | |
| Shedding: | | | | | | |
| Energy Level: | | | | | | |
| Protection: | | | | | | |
| Watch Dog: | | | | | | |
| | |
| --- | --- |
| Group: | Hound |
| Size: | Small |
| Life Span: | 12-15 years |
| Height: | Male: 5-11 inches |
| | Female: 5-11 inches |
| Weight: | Male: 8-32 lbs |
| | Female: 8-32 lbs |
Dachshund Facts
Coat :
Smooth or Wirehaired or Longhaired
Gait :
Smooth and lively
Color(s) :
Any
Living Area :
Any
Hair Length:
Short Or Long
Exercise Need :
Daily long walk
Recognized By :
(FCI) Fédération Cynologique Internationale
(AKC) American Kennel Club
(UKC) United Kennel Club
(KCGB) Kennel Club of Great Britain
(CKC) Canadian Kennel Club
(NKC) National Kennel Club
(NZKC) New Zealand Kennel Club
(RA)

Date of Origin :
17th Century
Place of Origin :
Germany
Todays Use :
Companion Dog
Originally Used :
Badger Hunter
Other Name :
Dachshund Information
Dachshund Description:
The origin of the Dachshund lies in Germany. This breed dates back to early 17th Century. It derives its name from the word "Dachshund" which in German means "Badger Dog". This dog was primarily used as a badger hunter. However, like most breeds, the Dachshund was on the verge of extinction after the First World War. Through a dedicated breeding program by few US breeders this breed was resurrected and now has become one of the most popular breeds in the world. The breed was first recognized by the AKC in 1885.

The Dachshund is small sized dog with a long body, short legs and high bone density. It has a well proportionate head which tapers towards the tip of the nose; black or dark colored nose with wide nostrils; almond-shaped dark colored eyes which are medium in size; long hanging ears which are set on the top of the head and touch the cheek; muzzle is slightly domed; tightly stretched lips having teeth meet in a scissors bite; well padded feet are short and strong; medium sized tail is curved and a continuation of the spine.

In accordance to the size, the Dachshund is divided into two parts: Standard and Miniature.

Standard Dachshund: Weighs between 16-32 pounds and Height between 8-11 inches.

Miniature Dachshund: Weighs between 8-11 pounds and Height between 5-7 inches.

In accordance to the coat, the Dachshund is divided into three parts: Smooth, Wirehaired, Longhaired.

Smooth Dachshund: The coat of this type of breed is short, smooth and glossy. The color of its coat can be single color like red or cream; two colored like black, chocolate, gray or fawn, with tan or cream markings; other patterns also.

Wirehaired Dachshund: It has a doble coat with a short, dense, hard and rough outer coat and, a short and little soft undercoat. The color of the coat can be grizzle, red, chocolate and tan etc.

Longhaired Dachshund: The coat of this type of breed is long, smooth, glossy and slightly wavy. The color of its coat can be single color like red or cream; two colored like black, chocolate, gray or fawn, with tan or cream markings; other patterns also.

The Dachshund is an active, affectionate, lively, intelligent and very loyal dog. If socialized at an early age, it goes well with children but does not tolerate too much rough play. It is good with other dogs as well. However, caution is advised with non canine pets such as rats, rabbits, guinea pigs, birds etc. because of the dog's innate hunting instincts. It is little difficult to train and variety is required in the training program since it gets easily bored of repetition. It is susceptible to Small Dog Syndrome, which can lead to behavioral issues. So a firm and consistent approach is required to handle this dog. It makes for a great companion dog and also a great watchdog. It adapts well to an indoor as well as outdoor environment and hence, it is well suited to an apartment life.
Dachshund Care & Grooming:
The Dachshund is an average shedder. Its grooming depends on its coat type. The coat of Smooth and Wirehaired Dachshund should be brushed 2-3 times a week and more frequent brushing is required for Longhaired breed. The short coat of Smooth Dachshund can also be rubbed with a damp towel once or twice in a week. Wirehaired Dachshund needs professional grooming at least twice in a year. This dog should be bathed only when necessary and must be dried properly after each bath. Hair around eyes, ears and paws of the Longhaired breed should be trimmed properly. Its long hanging ears tend to accumulate dirt and moisture so special care needs to be taken of the ears.

It is a moderately active breed which needs regular exercise. Daily long walks are sufficient to keep the dog healthy both physically and mentally. The walks should be supplemented with a romp in an open area every now and then. It should not be let off the leash in an unsecured area because of its innate hunting instincts. Jumping, rough handling and extreme exercise should be avoided to keep the dog healthy. It tends to gain weight quickly so should not be overfed.
Dachshund Health Problems:
The Dachshund is prone to some health issues like Spinal problems, Obesity, Patellar luxation, Cataract, PRA, Thyroid etc.
DACHSHUND OWNED BY USERS


Breed: Dachshund
Name: Lilly
Age: 8.5 years
Sex: Female
About Lilly : loving and silly
FEATURED DOG BREED
| | |
| --- | --- |
| Group: | Herding |
| Size: | Large |
| Life Span: | 12-14 years |
| Height: | Male: 23-27 inches Female: 21-25 inches |
| Weight: | Male:65-75 lbs Female: 60-70 lbs |
| Color: | Black or black with little white markings |
| Description: | As the name suggests, the origin of the Belgian Sheepdog lies in Belgium. Also called th..... |