Petit Basset Griffon Vendeen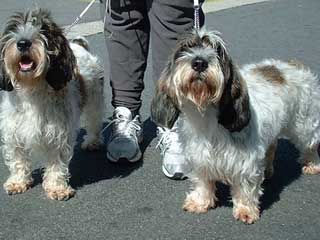 | | | | | | | |
| --- | --- | --- | --- | --- | --- | --- |
| Grooming: | | | | | | |
| Shedding: | | | | | | |
| Energy Level: | | | | | | |
| Protection: | | | | | | |
| Watch Dog: | | | | | | |
| | |
| --- | --- |
| Group: | Hound |
| Size: | Medium |
| Life Span: | 12-14 years |
| Height: | Male: 13-15 inches |
| | Female: 13-15 inches |
| Weight: | Male: 30-40 lbs |
| | Female: 30-40 lbs |
Petit Basset Griffon Vendeen Facts
Coat :
Outer coat is rough and dense. Undercoat is short and thick
Gait :
Free and straight
Color(s) :
White with any combination of lemon, orange, black, sable
Living Area :
Any
Hair Length:
Long
Exercise Need :
Daily long walk
Recognized By :
(FCI) Fédération Cynologique Internationale
(AKC) American Kennel Club
(KCGB) Kennel Club of Great Britain
(CKC) Canadian Kennel Club
(ANKC) Australian National Kennel Council
(NKC) National Kennel Club
(NZKC) New Zealand Kennel Club
(APRI) America Pet Registry, Inc.
(ACR) American Canine Registry
(DRA) Dog Registry of America

Date of Origin :
16th Century
Place of Origin :
France
Todays Use :
Companion Dog
Originally Used :
Hare/Rabbit hunter
Other Name :
PBGV
Petit Basset Griffon Vendeen Information
Petit Basset Griffon Vendeen Description:
The origin of the Petit Bassett Griffon Vendeen (PBGV) dates back to the 16th century. The breed first originated in France in the region of Vendeen, and thus, its name. In French its name means: Petit – small, Basset– low to the ground, and Griffon– rough or wire coated. It was crossbred with the Great Bassett Griffon Vendeen to create a breed of manageable size. It was primarily used for hunting hares and rabbits. This dog is largely popular in France, its country of origin. The breed was first recognized by the AKC in 1990.

The PBGV is a scent hound with an elongated, low lying frame. It has a proportionate head; oval shaped eyes which are large in size and dark colored; low set ears which are feathered and carried close to the head; a square, proportionate muzzle; a large nose with flared nostrils and black in color; taut lips with teeth which meet in scissors bite or a level bite. It has a medium length tail with a strong base and tapering towards the end. The tail is set high and is carried over the line of the back, in the 2 o'clock position. This breed has short but strong legs with small, square feet. It has a double coat with a long, dense and rough outer coat, and a short and thick undercoat. Its lips and tail are covered with long hair. The color of the coat is white with any combination of black, sable, orange or lemon.

The Petit Bassett Griffon Vendeen is a playful, robust and a mischievous breed. It is good with children and excellent with other dogs. However, caution is advised with non canine pets such as cats, rabbits, rats, birds etc. because of its innate hunting instincts. It is friendly with strangers and thus, does not make for a good watchdog. It is primarily a companion breed. It can slightly difficult to train. A firm and consistent approach is needed to train this breed. The PBGV adapts well to indoor as well as outdoor, and thus, it is well suited to an apartment life.
Petit Basset Griffon Vendeen Care & Grooming:
The PBGV sheds little hair. The long and dense coat of the dog needs regular grooming. The coat needs to be brushed 4-5 times a week and also a professional grooming once or twice in a year to maintain a healthy looking coat. It should be bathed only when necessary and must be dried properly after each bath. The eyes and ears of the dog should be cleaned properly. Its nail and the hair around the eyes, ears and paws should be trimmed regularly. Its beard should be cleaned daily to remove any food remains. Its low set hanging ears tend to accumulate dirt so special care should be taken of it.

It is an active breed which needs lot of daily exercise. Daily walks are essential to make the dog healthy both physically and mentally. These need to be supplemented with jogging or running in an open but secure area to release the excess energy of the dog. This breed should always be kept on a leash when out in the open because of its strong hunting instincts and strong sense of smell. It is uncomfortable in extremely hot weather and should be adequately protected.
Petit Basset Griffon Vendeen Health Problems:
The Petit Bassett Griffon Vendeen is prone to certain health issues like Epilepsy, Hypothyroidism, Skin allergies, hip and elbow Dysplasia, Patellar luxation etc.
FEATURED DOG BREED
| | |
| --- | --- |
| Group: | Terrier |
| Size: | Small |
| Life Span: | 10-12 years |
| Height: | Male: 10-14 inches Female: 10-14 inches |
| Weight: | Male:25-35 lbs Female: 25-35 lbs |
| Color: | White or any other color except blue or li... |
| Description: | The origin of the Miniature Bull Terrier lies in England. In the early ..... |