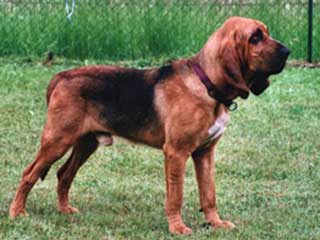 | | | | | | | |
| --- | --- | --- | --- | --- | --- | --- |
| Grooming: | | | | | | |
| Shedding: | | | | | | |
| Energy Level: | | | | | | |
| Protection: | | | | | | |
| Watch Dog: | | | | | | |
| | |
| --- | --- |
| Group: | Hound |
| Size: | Large |
| Life Span: | 10-12 years |
| Height: | Male: 25-27 inches |
| | Female: 23-25 inches |
| Weight: | Male: 90-110 lbs |
| | Female: 80-100 lbs |
Bloodhound Facts
Coat :
Hard and wrinkled
Gait :
Free and elastic
Color(s) :
Black and tan, liver and tan, or red and tan
Living Area :
Any
Hair Length:
Short
Exercise Need :
Daily long walk
Recognized By :
(CKC) Canadian Kennel Club
(FCI) Fédération Cynologique Internationale
(AKC) American Kennel Club
(UKC) United Kennel Club
(KCGB) Kennel Club of Great Britain
(CKC) Canadian Kennel Club
(ANKC) Australian National Kennel Council
(NKC) National Kennel Club
(NZKC) New Zealand Kennel Club
(APRI) America Pet Registry, Inc.
(ACR) American Canine Registry
(DRA) Dog Registry of America

Date of Origin :
Ancient
Place of Origin :
Europe
Todays Use :
Scent tracker, Companion Dog
Originally Used :
Trailing, Hunting wild boars
Other Name :
St. Hubert Hound, Chien St. Hubert
Bloodhound Information
Bloodhound Description:
The Bloodhound, also known as the St. Hubert Hound, has its origin in Europe. This dog breed derives its name from its strong sense of smell and the ability to trace blood even days old. This dog breed is more than a 1,000 years old. In the ancient times, it was used primarily for hunting wild boars and for tracking down animals and human beings. This breed was a favorite among the monks of St. Hubert who later sent them to United States. It was first recognized by the AKC in 1885.

The Bloodhound is a large breed of dog with loose folds of skin, especially in the head and the neck region. This breed has a narrow head, proportionate to the length of the body; deep-set eyes; a short muzzle; black nose; low set drooping ears; a high set slightly curved tail; straight and muscular forelegs and straight hindlegs. The lips are thin with the teeth meeting in scissors bite. The bloodhound has a short, wrinkled and hard coat and the color of the coat can be black and tan, liver and tan, or red and tan with little white on chest, feet and tip of the stern.

The Bloodhound is a well mannered breed which is very kind and patient. It is excellent around kids as well as other pets. It is one of the most patient breed of dogs which does not mind being played with while it is lying down. It can look for a scent for hours without getting tired. Although docile, it can be difficult to train. This breed is restless by nature and gets carried away by the slightest of scents. Thus, it can be difficult to give them obedience training. A firm hand is needed to train them well. This breed can be friendly to strangers. Socialization at an early age is required to avoid making them timid. This breed is an excellent companion breed and is excellent for family with kids.
Bloodhound Care & Grooming:
The short and rough coat of the Bloodhound is easy to maintain. This dog breed is an average shedder. Brushing once in a week with a firm bristle brush is sufficient to maintain its coat. Rubbing with a rough cloth every once in a while is recommended, specially its fold and wrinkles should be cleaned properly. The ears of this dog need to be cleaned regularly to avoid any bacterial infections.

This breed is an energetic breed when outdoors. Regular exercise is needed for healthy physical as well as mental development of the dog. A walk everyday is recommended to prevent behavioral problems. However, long walks should be avoided when the dog is young as it can hamper their development. This breed grows very fast and hence, adequate diet is recommended for healthy development. Overfeeding should be avoided since they have a tendency to gain weight quickly. This breed is sensitive to high climate due to its thick coat, so care should be taken when taking them out.
Bloodhound Health Problems:
The Bloodhound prone to some health issues like gastrointestinal disease, bloat, eye and ear problems, skin allergies etc. Bloat is the most common cause of this breed's death so owners should be very much aware of this issue.
FEATURED DOG BREED
| | |
| --- | --- |
| Group: | Hound |
| Size: | Large |
| Life Span: | 12-14 years |
| Height: | Male: 26- 27 inches Female: 25-26 inches |
| Weight: | Male:55- 60 lbs Female: 50-55 lbs |
| Color: | Silver, Cream, Black, Brindle, black-and-t... |
| Description: | Afghan Hound also known as "a king of dogs" is a very elegant, strong, agile and peaceful do..... |