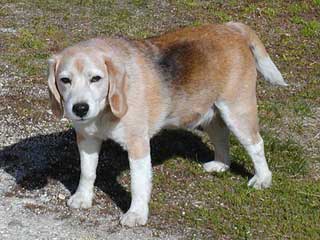 | | | | | | | |
| --- | --- | --- | --- | --- | --- | --- |
| Grooming: | | | | | | |
| Shedding: | | | | | | |
| Energy Level: | | | | | | |
| Protection: | | | | | | |
| Watch Dog: | | | | | | |
| | |
| --- | --- |
| Group: | Hound |
| Size: | Medium |
| Life Span: | 12-15 years |
| Height: | Male: 10-15 inches |
| | Female: 10-15 inches |
| Weight: | Male: 22-25 lbs |
| | Female: 20-23 lbs |
Beagle Facts
Coat :
Dense and hard
Gait :
Color(s) :
Any: tri-color, black &tan, orange &white, lemon & white, red &white
Living Area :
Any
Hair Length:
Medium
Exercise Need :
Daily long walk
Recognized By :
(CKC) Canadian Kennel Club
(FCI) Fédération Cynologique Internationale
(AKC) American Kennel Club
(UKC) United Kennel Club
(KCGB) Kennel Club of Great Britain
(CKC) Canadian Kennel Club
(ANKC) Australian National Kennel Council
(NKC) National Kennel Club
(NZKC) New Zealand Kennel Club
(APRI) America Pet Registry, Inc.
(ACR) American Canine Registry
(DRA) Dog Registry of America

Date of Origin :
1800's
Place of Origin :
England
Todays Use :
Contraband detection, Companion Dog
Originally Used :
Rabbit Hunter
Other Name :
English Beagle
Beagle Information
Beagle Description:
The origin of the Beagle is uncertain but it is believed that this breed was developed in the Great Britain during 1800's. This dog was used to hunt rabbits, hare and other small animals. This breed was first recognized by AKC in 1885 and now has become one of the most popular breed in the world.

Beagles are of two types; one is of height between 13" to 15" and other is of height less than 13". This strong and energetic dog's body is square in shape; head is long; muzzle is straight and medium; eyes are large, brown or hazel in color and set well apart; nose is black and broad; ears are long, wide and hang down; legs are short and strong; tail is set little high and never curled over the back. This dog has a medium, dense, hard and weather resistant coat. The coat can have any color but the most common color is the tri-color black, tan and white. The feet of these dogs are always white and also have a white tip on their tail.

Beagle is an independent, active, loyal, friendly and intelligent dog. This breed generally mingles well with children and also with other dogs. Due to his hunting nature he is always aggressive towards small animals. This is not a one man dog, Beagle loves his entire family. This breed has a very high sense of smell, so used as an excellent narcotics detection dog. The bark of this dog is not a normal sounded bark, it somewhat sounds like a short howl.
Beagle Care & Grooming:
Beagle is an average shedder and does not have a doggy smell. The medium coat of this dog needs minimal grooming. Their coat should be brushed once or twice in a week with a firm bristle brush and should be bathed only when necessary using a mild shampoo. The ears and eyes of the dog should be cleaned regularly and the claws should be trimmed properly.

Beagle is an active breed so lots of daily exercises like daily long walk and jog are very much required to keep him healthy. They do okay in an apartment life if sufficiently exercised. This dog should be guided while walking else may disappear in search of wild smell.
Beagle Health Problems:
Generally Beagle is a very healthy and long living breed with relatively few health problems like Hip Dysplasia, Epilepsy, Thyroid abnormalities, Chondroplasia, Eye problem, Heart disease etc. The ears of this breed tend to be infected so care should be taken to keep their ears clean and dry.
FEATURED DOG BREED
| | |
| --- | --- |
| Group: | Herding |
| Size: | Large |
| Life Span: | 12-14 years |
| Height: | Male: 23-27 inches Female: 21-25 inches |
| Weight: | Male:65-75 lbs Female: 60-70 lbs |
| Color: | Black or black with little white markings |
| Description: | As the name suggests, the origin of the Belgian Sheepdog lies in Belgium. Also called th..... |