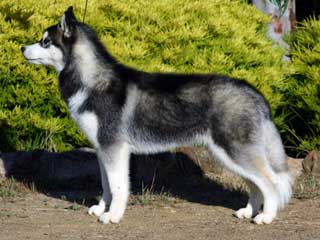 | | | | | | | |
| --- | --- | --- | --- | --- | --- | --- |
| Grooming: | | | | | | |
| Shedding: | | | | | | |
| Energy Level: | | | | | | |
| Protection: | | | | | | |
| Watch Dog: | | | | | | |
| | |
| --- | --- |
| Group: | Working |
| Size: | Medium |
| Life Span: | 12-15 years |
| Height: | Male: 21-24 inches |
| | Female: 20-22 inches |
| Weight: | Male: 45-60 lbs |
| | Female: 35-50 lbs |
Siberian Husky Facts
Coat :
Outercoat is thick, smooth and straight. Undercoat is soft and dense
Gait :
Free and effortless
Color(s) :
Any
Living Area :
Average
Hair Length:
Medium
Exercise Need :
Daily long walk and jog
Recognized By :
(CKC) Canadian Kennel Club
(FCI) Fédération Cynologique Internationale
(AKC) American Kennel Club
(UKC) United Kennel Club
(KCGB) Kennel Club of Great Britain
(CKC) Canadian Kennel Club
(ANKC) Australian National Kennel Council
(NKC) National Kennel Club
(NZKC) New Zealand Kennel Club
(APRI) America Pet Registry, Inc.
(ACR) American Canine Registry
(DRA) Dog Registry of America

Date of Origin :
Ancient
Place of Origin :
Siberia
Todays Use :
Companion Dog, Sled Dog
Originally Used :
Sled Dog
Other Name :
Husky, Chukcha
Siberian Husky Information
Siberian Husky Description:
The origin of the Siberian Husky lies in Siberia. It is regarded as one of the oldest breeds of dogs along with other dog breeds such as the Malamutes and the Samoyed. The breed descended from the oldest known Eskimo dogs which were used for Eskimos as sled dogs. In fact, pulling heavy loads over long distances in tough weather conditions was the primary use of this breed. It was in early part of the 20th century that the breed was taken to Alaska during the Gold Rush. While there, it was also used in dog races as well as became very popular during the outbreak of diphtheria epidemic in Nome. During the epidemic, Siberian Husky was used for carrying medicines to different parts of the region. The breed has also served in the Arctic Search and Rescue Unit in the Second World War. It was first recognized by the AKC in 1930.

The Siberian Husky is a medium sized dog with a compact, well built frame. It has a wedge shaped, proportionate head; medium sized eyes which are almond shaped and blue or brown in color; medium sized ears which are set high, carried erect and are triangular in shape; a black, tan or liver colored nose, in accordance with the color of the coat; a slightly wide muzzle which tapers towards the end with no signs of snippiness; tight lips which are black in color with teeth which meet in scissors bite. This breed has a medium length tail which is low set and bushy. The tail is carried above the line of the back in a handsome curl when the dog is in action. When relaxed, the tail is carried downwards. It has medium sized legs which are strong and straight with oval shaped feet. It has a double coat with a thick, smooth, straight and medium in length outercoat which is furry in appearance and, a soft and dense undercoat. Its coat can be of any color, most common colors are black and white, red and white, gray and white, or silver.

The Siberian Husky is a docile and a slightly mischievous breed. It is excellent with kids as well as other dogs and pets. This dog makes for an excellent companion breed. However, it is friendly with strangers and does not have a tendency to bark, which does not make it a very good watchdog or a guard dog. It can be slightly difficult to train and a consistent approach is needed when training this breed. It is a working dog and needs to be kept occupied most of the time. Thus, it is not recommended for beginners or for families who cannot afford enough time for the dog. The Siberian Husky does not do very well in an apartment life and is more comfortable in at least an average sized yard.
Siberian Husky Care & Grooming:
The Siberian Husky is an average shedder and sheds heavily during spring and fall. Brushing 3-4 times a week and almost daily brushing during shedding season is required to maintain a healthy looking coat. It should be bathed only when necessary and must be dried properly after each bath. Its eyes and ears need to be cleaned properly to avoid any infection. The hair around its eyes, ears and paws, and nails should be trimmed regularly.

It is active breed which needs lot of daily exercise. Daily walks should be supplemented with jogging or running in an open fenced area. However, too much exercise should be avoided in warm weather because of the breed's very thick coat. This breed is prone to gain weight easily so should not be overfed. It is sensitive to warm climate so should be adequately protected.
Siberian Husky Health Problems:
The Siberian Husky is prone to some health issues like Cataract, PRA, Gastric disease etc.
FEATURED DOG BREED
| | |
| --- | --- |
| Group: | Toy |
| Size: | Small |
| Life Span: | 10-12 years |
| Height: | Male: 8-10 inches Female: 8-10 inches |
| Weight: | Male:6-10 lbs Female: 6-10 lbs |
| Color: | Any solid color like blue, black, gray, si... |
| Description: | The actual origin of the Poodle is bit controversial but as per the AKC, this dog was originated from Germany where it d..... |