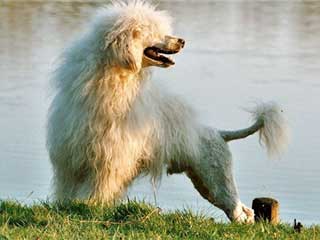 | | | | | | | |
| --- | --- | --- | --- | --- | --- | --- |
| Grooming: | | | | | | |
| Shedding: | | | | | | |
| Energy Level: | | | | | | |
| Protection: | | | | | | |
| Watch Dog: | | | | | | |
| | |
| --- | --- |
| Group: | Working |
| Size: | Medium |
| Life Span: | 10-14 years |
| Height: | Male: 20-23 inches |
| | Female: 17-21 inches |
| Weight: | Male: 42-60 lbs |
| | Female: 35-50 lbs |
Portuguese Water Dog Facts
Coat :
Very thick and, either curly or wavy
Gait :
Short and lively
Color(s) :
Black, white, different shades of brown, or a combination of black or brown with white
Living Area :
Any
Hair Length:
Medium
Exercise Need :
Daily long walk and swimming
Recognized By :
(CKC) Canadian Kennel Club
(FCI) Fédération Cynologique Internationale
(AKC) American Kennel Club
(UKC) United Kennel Club
(KCGB) Kennel Club of Great Britain
(CKC) Canadian Kennel Club
(NKC) National Kennel Club
(NZKC) New Zealand Kennel Club
(APRI) America Pet Registry, Inc.
(ACR) American Canine Registry
(DRA) Dog Registry of America

Date of Origin :
Ancient
Place of Origin :
Portugal
Todays Use :
Companion Dog
Originally Used :
Water rescue Dog
Other Name :
Cao De Agua
Portuguese Water Dog Information
Portuguese Water Dog Description:
There are numerous theories connected to the origin of the Portuguese Water Dog. A theory suggests that this water dog was brought to Portugal in the 8th century by the Moors. Another theory suggests that when Goths left the Asian steppes with a few of their dogs, they went north to become the German Poodle. The ones left behind were taken south by the Visigoths, who then invaded Iberia and hence, the Portuguese Water Dog was formed. However, no written evidence has been found for this dog breed, apart from a monk's account dating back to the 13th century. The breed is known to be closely related to the poodle. In the olden days, it was used as a water rescue dog as well as for transporting messages and as a guard dog. By the 1930s, the numbers of this breed began to dwindle. It was through dedicated efforts of a businessman named Vasco Bensaude that the breed was revived. The Portuguese Water Dog was first recognized by the AKC in 1983.

The Portuguese Water Dog is a medium dog breed with a well balanced build. It has a large head; medium sized eyes which are dark brown or black in color; high set ears which are heart shaped and lie closely against the head; a strong muzzle which is slightly square in shape; a large nose with wide nostrils and color in accordance with color of the coat; thick lips with teeth which meet in scissors bite. This breed has a medium sized tail which is strong at the base and tapers toward the end, with plume like hair. The tail has a prominent curl and is carried over the back. The legs of this breed are short, strong and straight. The coat of this breed is thick with a curly or a wavy appearance. The coat covers almost all parts of the body. The color of the coat can be black, white, different shades of brown, or a combination of black or brown with white.

The Portuguese Water Dog is a water loving breed with an affectionate and playful demeanor. It is excellent with kids, dogs as well as other pets. It is an obedient breed which is easy to train. This breed has a good sense of smell and works well as a police dog as well as in other dog sports. It is loyal to its master and hence, makes for a good watchdog. The breed has a tendency to chew things lying around. Hence, it needs to be given things to chew. This high stamina working dog demands lots of time so not recommended for the owners, who do not have much time to spend with their dog. If sufficiently exercised, it can adjust well to an apartment life.
Portuguese Water Dog Care & Grooming:
The hypoallergenic coat of the Portuguese Water Dog sheds little to no hair. Show dog needs lots of grooming. As a family pet also, it needs daily maintenance to keep its coat clean and healthy. Its coat should be brushed frequently to avoid any tangles and matt. It should be bathed only when necessary and must be dried properly after each bath. Its hair grows slowly so clipping may be required 2-3 times in a year. The ears and eyes of the dog should be cleaned regularly and the claws should be trimmed properly. Hair around the ears, eyes and paws should be trimmed regularly.

It is an active breed which needs a lot of regular exercise. Long daily walks are necessary along with running in an open secured area. It should be supplemented with the occasional swim, as this dog loves swimming the most. It is important for optimum physical and mental well being of the breed.

Clips: Generally there are two types of clips are used for Portuguese Water Dog.

Lion Clip: With this cut hindquarters, middle part of the body, muzzle and half of the tail are shaved.

Retriever Clip: With this cut, hair is cut short in all over the dog's body except the end of the tail.
Portuguese Water Dog Health Problems:
The Portuguese Water Dog is prone to some health issues like hip Dysplasia, GM1 Storage Disease, Cataract, PRA etc.
FEATURED DOG BREED
| | |
| --- | --- |
| Group: | Toy |
| Size: | Small |
| Life Span: | 12-15 years |
| Height: | Male: 7-9 inches Female: 7-9 inches |
| Weight: | Male:8-12 lbs Female: 8-10 lbs |
| Color: | Red, black, black and tan, or belge (mixtu... |
| Description: | The origin of the Brussels Griffon lies in Brussels, Belgium. It is one of the varieties..... |