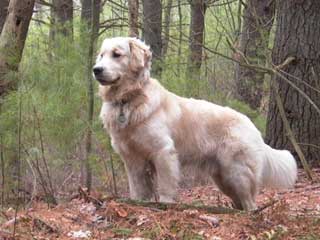 | | | | | | | |
| --- | --- | --- | --- | --- | --- | --- |
| Grooming: | | | | | | |
| Shedding: | | | | | | |
| Energy Level: | | | | | | |
| Protection: | | | | | | |
| Watch Dog: | | | | | | |
| | |
| --- | --- |
| Group: | Sporting |
| Size: | Large |
| Life Span: | 10-12 years |
| Height: | Male: 23-24 inches |
| | Female: 21-23 inches |
| Weight: | Male: 65-75 lbs |
| | Female: 55-65 lbs |
Golden Retriever Facts
Coat :
Dense, close, straight or wavy, and water resistant
Gait :
Free, smooth, powerful and well coordinated
Color(s) :
Lustrous golden of various shades
Living Area :
Any
Hair Length:
Medium
Exercise Need :
Daily long walk and jog
Recognized By :
(CKC) Canadian Kennel Club
(FCI) Fédération Cynologique Internationale
(AKC) American Kennel Club
(UKC) United Kennel Club
(KCGB) Kennel Club of Great Britain
(CKC) Canadian Kennel Club
(ANKC) Australian National Kennel Council
(NKC) National Kennel Club
(NZKC) New Zealand Kennel Club
(APRI) America Pet Registry, Inc.
(ACR) American Canine Registry
(DRA) Dog Registry of America

Date of Origin :
1800s
Place of Origin :
Scotland
Todays Use :
Family Dog, Show Dog
Originally Used :
Hunting dog
Other Name :
Golden Retriever Information
Golden Retriever Description:
The Golden Retriever was developed in the Scottish Highlands during late 1800's, by Lord Tweedmouth. This breed was developed by cross breeding different dogs like Flat-Coated Retriever, Tweed Water Spaniel and Irish Setter. This dog was developed with an excellent scenting ability to hunt birds, both in land and water. The first Golden Retriever registered by the AKC was in 1925 and now has become one of the most popular breed in the world.

The Golden Retriever is a strong, medium to large sized dog with a well proportioned head; neck is muscular and slightly long; muzzle is straight; teeth meet in a scissors bite; nose is black or brownish black; eyes are dark brown and set well apart; ears are relatively short and hangs down; tail is thick at the bottom with feathering along the underside. The most distinguished feature of this breed is its lustrous golden coat. It has a dense, close, straight or wavy, and water resistant coat. It has a moderate feathering on back of forelegs and on underbody; heavy feathering on neck, thighs and tail; short and even hair on head, paws and front legs.

The Golden Retriever is a calm, gentle, active, adorable, elegant and very friendly dog. This dog is very loyal to his family and, patient and gentle with children. It does well with other pets also. This is an intelligent breed and very easy to train. This obedient dog loves to please it owner. It is cautious towards strangers and barks loudly when sense any danger, which makes it a good watch dog. This gorgeous, wonderful family dog loves to swim and needs more human attention.
Golden Retriever Care & Grooming:
The Golden Retriever sheds throughout the year and sheds heavily during spring and fall. Frequent brushing with a firm bristle brush is required to keep its lustrous coat healthy. This dog should be bathed only when necessary using a dry shampoo. The ears and eyes of the dog should be cleaned regularly and the claws should be trimmed properly. The hair around the ears, tail and feet should be trimmed once in a month.

The Golden Retrievers are relatively active indoors and do best in an average area. They need lots of daily exercise like long walk, jog etc. If sufficiently exercised they can do okay in an apartment. Lack of exercise may develop behavioral problem in the dog and can also make the dog overweight. This dog tends to gain weight so should not be overfed. Like other retrievers, Golden Retriever matures slowly, both physically and mentally.
Golden Retriever Health Problems:
Golden Retrievers are prone to some health issues like hip Dysplasia, heart problem, cancer, eye problems, skin allergies etc.
GOLDEN RETRIEVER OWNED BY USERS


Breed: Golden Retriever
Name: Abbie
Age: 2.0 years
Sex: Female
About Abbie : Abby is just as funny as Hunter as you can see.She is very cute and gental.
FEATURED DOG BREED
| | |
| --- | --- |
| Group: | Herding |
| Size: | Small |
| Life Span: | 12-15 years |
| Height: | Male: 10-12 inches Female: 10-12 inches |
| Weight: | Male:27-30 lbs Female: 25-28 lbs |
| Color: | Red, sable, fawn, black or tan; with or wi... |
| Description: | The origin of the Pembroke Welsh Corgi lies in Pembrokeshire, Wales. The breed is on..... |