Nova Scotia Duck Tolling Retriever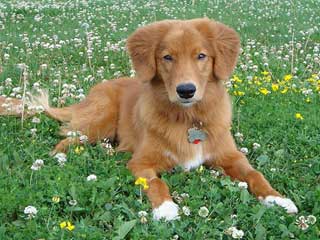 | | | | | | | |
| --- | --- | --- | --- | --- | --- | --- |
| Grooming: | | | | | | |
| Shedding: | | | | | | |
| Energy Level: | | | | | | |
| Protection: | | | | | | |
| Watch Dog: | | | | | | |
| | |
| --- | --- |
| Group: | Sporting |
| Size: | Medium |
| Life Span: | 12-14 years |
| Height: | Male: 18-21 inches |
| | Female: 17-20 inches |
| Weight: | Male: 40-50 lbs |
| | Female: 35-45 lbs |
Nova Scotia Duck Tolling Retriever Facts
Coat :
Outer coat is soft & water resistant. Undercoat is soft & dense.
Gait :
Springy and powerful
Color(s) :
Different shades of red with white markings
Living Area :
Any
Hair Length:
Medium
Exercise Need :
Daily long walk, jogging and swimming
Recognized By :
(CKC) Canadian Kennel Club
(FCI) Fédération Cynologique Internationale
(UKC) United Kennel Club
(CKC) Canadian Kennel Club
(NKC) National Kennel Club
(NZKC) New Zealand Kennel Club
(APRI) America Pet Registry, Inc.
(ACR) American Canine Registry
(DRA) Dog Registry of America
(AKC) American Kennel Club

Date of Origin :
19th Century
Place of Origin :
Canada
Todays Use :
Companion Dog
Originally Used :
Water Dog
Other Name :
Yarmouth Toller, Tolling Retriever, Little River Duck Dog
Nova Scotia Duck Tolling Retriever Information
Nova Scotia Duck Tolling Retriever Description:
The origin of the Nova Scotia Duck Tolling Retriever lies in Nova Scotia, Canada. The breed dates back to the 19th century. The exact origins of the breed are unknown. However, it is believed to be a result of crossbreeding between the Cocker Spaniel, Golden Retriever and the Irish Setter. The breed was developed to lure ducks for hunting, hence the name Duck Tolling. The breed was first recognized by the AKC in 2003.

The Nova Scotia Duck Tolling Retriever is a medium sized dog with a compact frame. It has a wedge shaped head which is proportionate to the body; almond shaped eyes which are medium in size and black or self colored; high set ears which are triangular in shape and drop to the sides; a broad nose with flared nostrils; a tapering muzzle; tight lips with teeth which meet in scissors bite. This breed has a medium length tail which is low set and heavily feathered. The tail is carried in a downward manner, except when alert. It has medium length, slender legs with webbed feet which aid it in swimming. This breed has a double coat, with a water resistant soft outer coat which is medium in length, and a soft and dense undercoat. The color of the coat can be different shades of red with white markings.

The Nova Scotia Duck Tolling Retriever is an intelligent breed which loaves retrieving games. It is great kids, dogs as well as other pets. However, it can be reserved with strangers. It has a tendency to bark when it senses danger, and thus, it makes for a good watchdog. It is easy to train and hence, it is a good breed for beginners. Given its happy, playful nature, it makes for a great companion breed. This breed adapts well to an indoor as well as an outdoor environment so is suited to an apartment life.
Nova Scotia Duck Tolling Retriever Care & Grooming:
The Nova Scotia Duck Tolling Retriever is an average shedder and sheds heavily during spring and fall. Brushing 2-3 times a week and almost daily brushing during shedding season is sufficient to maintain a healthy looking coat. It should be bathed only when necessary and must be dried properly after each bath. Its eyes and ears need to be cleaned properly to avoid any infection. Its nail and the hair around eyes, ears and paws should be trimmed regularly.

It is an active breed which needs a lot of exercise. Daily long walks are vital for physical and mental well being of the dog. These should be supplemented with jogging, running or swimming every now and then. The breed loves games like catching and retrieving which should be incorporated in the daily schedule. It tends to gain weight quickly so should not be overfed. It is sensitive to very high temperature so should be adequately protected.
Nova Scotia Duck Tolling Retriever Health Problems:
The Nova Scotia Duck Tolling Retriever is generally a very hardy breed with some health issues like PRA, hip Dysplasia, Thyroid etc.
FEATURED DOG BREED
| | |
| --- | --- |
| Group: | Hound |
| Size: | Large |
| Life Span: | 10-12 years |
| Height: | Male: 24-28 inches Female: 22-26 inches |
| Weight: | Male:50-65 lbs Female: 45-60 lbs |
| Color: | White, red, white and red, or white and ta... |
| Description: | The origin of the Ibizan Hound lies in the island of Ibiza, Spain. This breed is very simila..... |