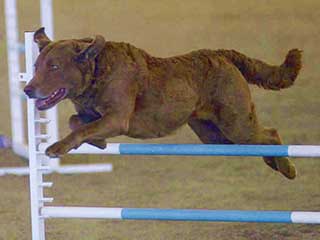 | | | | | | | |
| --- | --- | --- | --- | --- | --- | --- |
| Grooming: | | | | | | |
| Shedding: | | | | | | |
| Energy Level: | | | | | | |
| Protection: | | | | | | |
| Watch Dog: | | | | | | |
| | |
| --- | --- |
| Group: | Sporting |
| Size: | Large |
| Life Span: | 10-12 years |
| Height: | Male: 23-26 inches |
| | Female: 21-24 inches |
| Weight: | Male: 65-80 lbs |
| | Female: 55-70 lbs |
Chesapeake Bay Retriever Facts
Coat :
Outer coat is harsh and wavy. Undercoat is dense, wooly and fine
Gait :
Free and effortless
Color(s) :
Brown, red, sedge or deadgrass
Living Area :
Large
Hair Length:
Short
Exercise Need :
Daily long walk, jogging, swimming
Recognized By :
(CKC) Canadian Kennel Club
(FCI) Fédération Cynologique Internationale
(AKC) American Kennel Club
(UKC) United Kennel Club
(KCGB) Kennel Club of Great Britain
(CKC) Canadian Kennel Club
(NKC) National Kennel Club
(NZKC) New Zealand Kennel Club
(ANKC) Australian National Kennel Council
(APRI) America Pet Registry, Inc.
(ACR) American Canine Registry
(DRA) Dog Registry of America

Date of Origin :
19th Century
Place of Origin :
United states
Todays Use :
Companion Dog
Originally Used :
Water retriever
Other Name :
Chessie, Cbr, Chesapeake
Chesapeake Bay Retriever Information
Chesapeake Bay Retriever Description:
The origin of the Chesapeake Bay Retriever goes back to the early part of the 19th century. According to historical evidence, it was in 1807 that two puppies of the Newfoundland breed were rescued from a shipwreck in Maryland. These puppies were then crossbred with English Otter Hounds, Flat Coated Retrievers and Curly Coated Retrievers and thus, the Chesapeake Bay Retriever was born. In those days, the breed was primarily used for retrieving birds and humans from tough conditions of the Chesapeake Bay (an estuary in US). It was also used for hunting waterfowl. The breed was first recognized by AKC in 1878.

The Chesapeake Bay Retriever is a medium to large sized breed with strong and athletic built. It has a pronounced head which is proportionate to the body; medium sized eyes which are amber in color; medium set, medium sized ears which hang loosely close to the cheeks; a medium sized nose; a muzzle proportionate to the size of the head and tapering towards the end; thin lips with teeth which meet in scissors or a level bite. This breed has a medium sized tail which is carried straight, in line with the back with a slight curve towards the end. The tail is never carried over the back. It has a double coat, outer coat is short, harsh and wavy, and undercoat is dense, wooly and fine. The color of its coat can be brown, red, sedge or deadgrass with little white spots.

The Chesapeake Bay Retriever is an intelligent breed. It is an obedient breed which is excellent with kids and as well as with other dogs. However, caution is advised with cats as it has a natural tendency to chase cats. It may take time to mature and is a slow learner. Hence, a firm and a consistent approach may be needed to train this dog. The Chesapeake Bay Retriever is not recommended for the first time dog owners as it can be dominant and willful if not trained properly. It does not adjust very well indoors so may not be suitable for apartment life.
Chesapeake Bay Retriever Care & Grooming:
The Chesapeake Bay Retriever is an average shedder. Brushing its short and dense coat once or twice a week with a firm bristle brush is sufficient to remove dead hair and maintain the natural luster of the coat. It has an oily coat which protects it against harsh weather. Frequent bathing should be avoided as it can strip the body of its natural oil. It is susceptible to infections of the eye, and hence, extra care should be taken of the eyes.

This breed requires a lot of daily exercise. Daily long walk is necessary for proper physical and mental development of the breed. Jogging and swimming should also be made a part of the exercise routine to satisfy the natural tendency of the breed to swim and run.
Chesapeake Bay Retriever Health Problems:
The Chesapeake Bay Retriever prone to health issues like hip dysplasia, cataract, von Willebrand Disease and Progressive Renal Atrophy.
CHESAPEAKE BAY RETRIEVER OWNED BY USERS


Breed: Chesapeake Bay Retriever
Name: Hunter
Age: 3.0 years
Sex: Male
About Hunter : my Hunter is a good dog. He likes to be funny @ times as you can see.makes me laugh all the time.
FEATURED DOG BREED
| | |
| --- | --- |
| Group: | Sporting |
| Size: | Large |
| Life Span: | 10-12 years |
| Height: | Male: 22-24 inches Female: 21-23 inches |
| Weight: | Male:55-68 lbs Female: 45-58 lbs |
| Color: | Various shades of liver |
| Description: | The exact origin of the Irish Water Spaniel is relatively unknown. The father of this..... |