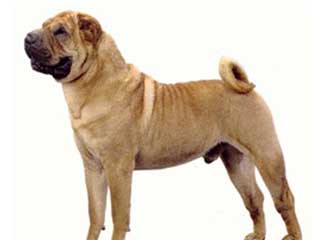 | | | | | | | |
| --- | --- | --- | --- | --- | --- | --- |
| Grooming: | | | | | | |
| Shedding: | | | | | | |
| Energy Level: | | | | | | |
| Protection: | | | | | | |
| Watch Dog: | | | | | | |
| | |
| --- | --- |
| Group: | Non-sporting |
| Size: | Medium |
| Life Span: | 8-10 years |
| Height: | Male: 18-20 inches |
| | Female: 18-20 inches |
| Weight: | Male: 45-60 lbs |
| | Female: 45-60 lbs |
Chinese Shar Pei Facts
Coat :
Straight and very harsh
Gait :
Free and balanced
Color(s) :
Any solid color and sable
Living Area :
Any
Hair Length:
Short
Exercise Need :
Daily long walk
Recognized By :
(CKC) Canadian Kennel Club
(FCI) Fédération Cynologique Internationale
(AKC) American Kennel Club
(UKC) United Kennel Club
(KCGB) Kennel Club of Great Britain
(ANKC) Australian National Kennel Council
(NKC) National Kennel Club
(NZKC) New Zealand Kennel Club
(APRI) America Pet Registry, Inc.
(ACR) American Canine Registry
(DRA) Dog Registry of America

Date of Origin :
Ancient
Place of Origin :
China
Todays Use :
Companion Dog, Guard Dog
Originally Used :
Guard Dog, Hunting Dog
Other Name :
Chinese fighting dog
Chinese Shar Pei Information
Chinese Shar Pei Description:
The origin the Chinese Shar Pei lies in the Guandong province of China. This breed is considered to be one of the oldest dog breeds, the proof of which lies in ancient pottery and other art depicting this breed, dating back to 200 BC. In the olden days, it was used for herding and guarding livestock, hunting wild boar as well as in dog fighting events. The breed faced extinction during the Communist Revolution, when the numbers of this breed dwindled. It was in 1973 that a Chinese businessman named Matgo Law drew attention to the plight of this breed. A few hundred specimen were then exported to America, where the breed was revived. The modern Chinese Shar Pei dogs have their ancestry in the dogs imported to America. The breed was first recognized by AKC in 1992.

The Chinese Shar Pei is a medium sized dog with a square built; it has a relatively large head when compared to the body; almond shaped, deep set eyes which are dark brown in color; high set, small ears which are triangular in shape; a square muzzle which is completely filled and strong; a large nose with flared nostrils and color in accordance with the color of the coat; slightly pendulous lips with teeth which meet in scissors bite. It has a high set tail which is broad at the base and tapers towards the end. The tail has a prominent curl towards the end and is carried over the back. This breed has straight, medium sized legs. The coat of this dog is straight, short and very harsh. The color of the coat can be any solid color and sable.

The Chinese Shar Pei is an intelligent and playful breed. It is great with kids and is a very loyal dog. It may display a dominant attitude towards other dogs. Socializing at an early age is required to bring out the best behavior in the dog. This dog is an excellent watch dog. However, it may be a little difficult to train. It is a sensitive breed so a firm but not harsh approach is needed when training this breed. It adjusts well indoors and hence is suited to an apartment lifestyle.
Chinese Shar Pei Care & Grooming:
The Chinese Shar Pei is an average shedder. Regular brushing with a firm bristle brush is required to keep its coat healthy. It should be bathed once in a week using a mild shampoo. Its eyes and ears should be cleaned properly, and nail should be trimmed regularly to avoid any injury.

This is an active breed which needs regular exercise. A daily long walk is required for optimum physical and mental well being. An occasional run in an open space should also be made a part of the routine. It is sensitive to high temperature so care should be taken when taking them out.
Chinese Shar Pei Health Problems:
The Chinese Shar Pei prone to some health issues like skin allergies, eye problems, kidney failure, Familial Shar Pei Fever etc.
CHINESE SHAR PEI OWNED BY USERS


Breed: Chinese Shar Pei
Name: Cisco
Age: 3.10 years
Sex:
About Cisco : He is a very well behavoured dog
RELATED NON-SPORTING BREEDS
FEATURED DOG BREED
| | |
| --- | --- |
| Group: | Working |
| Size: | Large |
| Life Span: | 10-12 years |
| Height: | Male: 23-25 inches Female: 21.5-23.5 inches |
| Weight: | Male:65-70 lbs Female: 55–60 lbs |
| Color: | Fawn and brindle |
| Description: | The Boxer was developed in Germany during late 1800's. This breed was derived from several other..... |