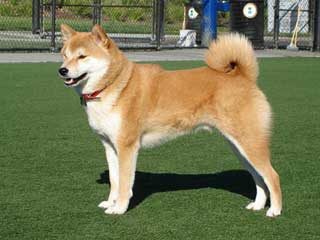 | | | | | | | |
| --- | --- | --- | --- | --- | --- | --- |
| Grooming: | | | | | | |
| Shedding: | | | | | | |
| Energy Level: | | | | | | |
| Protection: | | | | | | |
| Watch Dog: | | | | | | |
| | |
| --- | --- |
| Group: | Non-sporting |
| Size: | Medium |
| Life Span: | 12-15 years |
| Height: | Male: 14.5-16.5 inches |
| | Female: 13.5-15.5 inches |
| Weight: | Male: 20-25 lbs |
| | Female: 15-20 lbs |
Shiba Inu Facts
Coat :
Outercoat is straight and stiff. Undercoat soft and dense
Gait :
Agile and light
Color(s) :
Red, black and tan or red and sesame
Living Area :
Any
Hair Length:
Short
Exercise Need :
Daily walk
Recognized By :
(CKC) Canadian Kennel Club
(FCI) Fédération Cynologique Internationale
(AKC) American Kennel Club
(KCGB) Kennel Club of Great Britain
(ANKC) Australian National Kennel Council
(NKC) National Kennel Club
(NZKC) New Zealand Kennel Club
(APRI) America Pet Registry, Inc.
(ACR) American Canine Registry
(DRA) Dog Registry of America

Date of Origin :
Ancient
Place of Origin :
Japan
Todays Use :
Companion Dog
Originally Used :
Bird hunter, Companion Dog
Other Name :
Japanese Shiba Inu, Shiba Ken
Shiba Inu Information
Shiba Inu Description:
The origin of the Shiba Inu lies in Japan. It is one of the oldest dog breeds known along with other breeds such as Akita, Saluki etc. The breed dates back to the third century BC. In the olden days, the dog was primarily used for hunting small animals such as birds, rabbits etc. In Japanese the word "Shiba" means brushwood and "Inu" means dog. Like some other dog breeds, Shiba Inu was also on the verge of extinction after the Second World War. The modern variety of the dog was bred from three different varieties of Shibas namely Shinshi Shiba, Mino Shiba and Sanin Shiba. The breed was first recognized by the AKC in 1992.

The Shiba Inu is a medium sized dog with a compact, muscular frame. It has a well proportioned head; deep set eyes which are triangular in shape and dark brown in color; small sized ears which prick shaped and carried slightly forward but erect; black nose; a strong muzzle which slightly tapers towards the end; taut lips which are black in color with teeth which meet in scissors bite. This breed has a high set tail which is slightly feathered and carried in a strong curl over the back. It has medium sized, muscular legs with cat like feet. This breed has a water resistant double coat with a straight and stiff outercoat and soft and dense undercoat. Several different colors may make up the overall coat of the breed. The acceptable color of the undercoat is cream, buff or gray. Markings of reds, blacks and sesames and bright orange are acceptable in different parts of the body.

The Shiba Inu is an alert, obedient and a brave breed. It is excellent with kids as well as other dogs. Thus, it makes for a good companion breed. However, caution is advised with smaller pets such as rabbits, guinea pigs etc. because of the breed's primal hunting instincts. It can be reserved with strangers, which makes it a very good watchdog. It is easy to train breed which responds well to obedience training. However, it can be a little difficult to housebreak. This breed loves to spend time with its owner and family. Thus, it is well suited to an indoor environment, such as an apartment lifee, although it does adapt well to outdoors too.
Shiba Inu Care & Grooming:
The Shiba Inu sheds heavily seasonally. Its short and stiff coat is easy to groom. Its coat should be brushed daily during the shedding season else brushing twice a week with a firm bristle brush is enough to maintain the coat. It should be bathed only when necessary. Its eyes and ears should be cleaned regularly and nail needs to be trimmed properly.

The Shiba Inu is an adaptive breed, which means it will adapt itself to your schedule. A daily walk is sufficient to take care of emotional as well as developmental needs of the dog. However, for best results, running or jogging should be made a part of the daily routine. This dog should not be let off the leash in an unsecured area as it has a tendency to chase small animals. It tends to gain weight easily so overfeeding should be avoided.
Shiba Inu Health Problems:
The Shiba Inu is prone to some health issues like Patellar luxation, hip Dysplasia, Cataract, Skin allergies etc.
RELATED NON-SPORTING BREEDS
FEATURED DOG BREED
| | |
| --- | --- |
| Group: | Terrier |
| Size: | Medium |
| Life Span: | 14-16 years |
| Height: | Male: 14-15.5 inches Female: 12-14 inches |
| Weight: | Male:15-18 lbs Female: 13-16 lbs |
| Color: | White with black or tan markings |
| Description: | The origin of the Wire Fox Terrier lies in England. The breed dates back to the 17th cen..... |