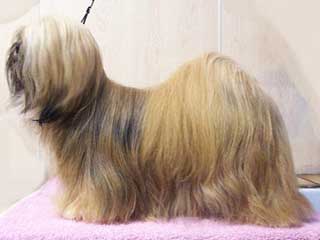 | | | | | | | |
| --- | --- | --- | --- | --- | --- | --- |
| Grooming: | | | | | | |
| Shedding: | | | | | | |
| Energy Level: | | | | | | |
| Protection: | | | | | | |
| Watch Dog: | | | | | | |
| | |
| --- | --- |
| Group: | Non-sporting |
| Size: | Small |
| Life Span: | 12-15 years |
| Height: | Male: 10-11 inches |
| | Female: 9-10 inches |
| Weight: | Male: 12-18 lbs |
| | Female: 12-18 lbs |
Lhasa Apso Facts
Coat :
Hard, heavy, straight and very dense
Gait :
Free and straight
Color(s) :
Any
Living Area :
Any
Hair Length:
Long
Exercise Need :
Daily walk
Recognized By :
(CKC) Canadian Kennel Club
(FCI) Fédération Cynologique Internationale
(AKC) American Kennel Club
(UKC) United Kennel Club
(KCGB) Kennel Club of Great Britain
(CKC) Canadian Kennel Club
(ANKC) Australian National Kennel Council
(NKC) National Kennel Club
(NZKC) New Zealand Kennel Club
(CCR)
(APRI) America Pet Registry, Inc.
(ACR) American Canine Registry
(DRA) Dog Registry of America

Date of Origin :
Ancient
Place of Origin :
Tibet
Todays Use :
Companion Dog
Originally Used :
Companion Dog, Watch Dog
Other Name :
Lhasa Apso Information
Lhasa Apso Description:
The origin of Lhasa Apso lies in Lhasa, Tibet. It is one of the oldest known dog breeds along with other breeds such as Shar-Pei, Saluki, Akita and others. The breed is believed to be more than 4,000 years old. In ancient times, it was primarily used as a guard dog for guarding monasteries and the homes of the noble class. It would alert the Tibetan Mastiffs with its loud bark and keen sense of hearing and seeing of any dangers. Despite being an ancient breed, it was hard to find outside Tibet until 1933, when a pair of Lhasas was given to an American dignitary named C. Suydam Cutting by the 13th Dalai Lama. The breed was first recognized by the AKC in 1935.

The Lhasa Apso is a small dog breed with a low lying frame. It has a heavy head with hair falling by either side; medium sized eyes which are dark brown in color; pendant ears which are heavily feathered; black nose; a strong, square muzzle; taut lips which are black in color with teeth which meet in scissors bite. This breed has a high set tail which is heavily feathered. The tail is carried over the back with a strong curl. It has well proportioned legs with cat like feet. It has a double coat with a long, hard, heavy, straight and very dense outer coat, and a short and soft undercoat. Its coat can be of any color, most common colors are cream and golden.

The Lhasa Apso is an intelligent and a friendly breed. If properly trained, it is good with kids as well as other pets, including dogs. The breed has a keen sense of sight as well as sound which makes is an excellent watchdog. Given the playful and alert nature of the breed, it makes for a good companion breed too. However, the Lhasa Apso is often subjected to the Small Dog Syndrome, which can make it irritable, snappy and disobedient. If given proper guidance, it is an obedient breed which is easy to train and responds well to motivational training. It does not necessarily need a yard and there, is well suited to an apartment life.
Lhasa Apso Care & Grooming:
The undercoat of the Lhasa Apso sheds once in a year and outer coat does not shed. The long coat of the breed is neatly parted which protects it against matting. However, a full grown coat needs to be brushed almost daily to prevent it from getting tangled. The long coat of the breed tends to attract a lot of dust. Thus, dry shampooing regularly is important to maintain a clean coat. Some Pet owners prefer to keep its coat short in "puppy cut" to avoid excess grooming. Hair around ears, eyes and paws should be trimmed once in a month. Its eyes and ears should be cleaned regularly and nail should be trimmed properly to avoid any injury.

The Lhasa Apso is a moderately active breed. A daily walk will take care of the emotional and developmental needs of the dog. An occasional romp is an open area is good to release the extra energy of this breed in a safe manner.
Lhasa Apso Health Problems:
The Lhasa Apso is prone to some health issues like Skin infections, Ulcers, hip Dysplasia, Eye diseases, PRA, Kidney problems etc.
RELATED NON-SPORTING BREEDS
FEATURED DOG BREED
| | |
| --- | --- |
| Group: | Non-sporting |
| Size: | Medium |
| Life Span: | 8-10 years |
| Height: | Male: 18-20 inches Female: 18-20 inches |
| Weight: | Male:45-60 lbs Female: 45-60 lbs |
| Color: | Any solid color and sable |
| Description: | The origin the Chinese Shar Pei lies in the Guandong province of China. This breed is co..... |