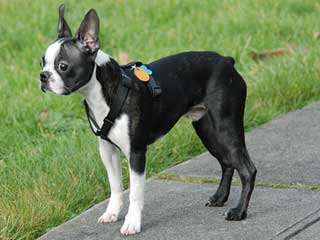 | | | | | | | |
| --- | --- | --- | --- | --- | --- | --- |
| Grooming: | | | | | | |
| Shedding: | | | | | | |
| Energy Level: | | | | | | |
| Protection: | | | | | | |
| Watch Dog: | | | | | | |
| | |
| --- | --- |
| Group: | Non-sporting |
| Size: | Medium |
| Life Span: | 14-16 years |
| Height: | Male: 15-17 inches |
| | Female: 15-17 inches |
| Weight: | Male: 10-25 lbs |
| | Female: 10-25 lbs |
Boston Terrier Facts
Coat :
Smooth, fine and glossy
Gait :
Straight and energetic
Color(s) :
Black, brindle or seal, with white markings
Living Area :
Any
Hair Length:
Short
Exercise Need :
Daily walk
Recognized By :
(CKC) Canadian Kennel Club
(FCI) Fédération Cynologique Internationale
(AKC) American Kennel Club
(UKC) United Kennel Club
(KCGB) Kennel Club of Great Britain
(CKC) Canadian Kennel Club
(ANKC) Australian National Kennel Council
(NKC) National Kennel Club
(NZKC) New Zealand Kennel Club
(APRI) America Pet Registry, Inc.
(ACR) American Canine Registry
(DRA) Dog Registry of America

Date of Origin :
19th Century
Place of Origin :
United states
Todays Use :
Companion Dog
Originally Used :
Companion Dog
Other Name :
Boston Bull, Boston Bull Terrier, American Gentleman
Boston Terrier Information
Boston Terrier Description:
The origin of the Boston Terrier lies in the USA. Nicknamed the "American Gentleman", this breed dates back to 1870. A gentleman named Robert Hooper is credited with the development of this breed. It was in 1870 that Hooper got a bull and terrier type, named the Judge. This bull and terrier type was then crossbred with French Bulldog and hence, the earliest variety of Boston Terrier was born. Over the years, the breed was bred down in size by crossbreeding it with pit fighting dogs, hence giving birth to the present variety. The breed was first recognized by the AKC in 1893.

The Boston Terrier is a medium sized dog with a well balanced, compact frame. It has a round head which is slightly large to look at; large eyes which are round in shape; small sized ears which are carried erect which may be cropped or kept natural; black nose with flared nostrils; a short muzzle which is full, square and deep, much like the Bulldog; taut lips with teeth which meet in scissors bite. This breed has a short tail which is set low. The tail is strong at the base and tapers towards the end. It is carried downwards when relaxed and never carried above the line of the back. The Boston Terrier has medium sized legs which are slender and straight with small, round feet. It has a short, smooth, fine and glossy coat. The color of the coat can be black, brindle or seal, with white markings. This dog is divided into three varieties on base of their weight: 1st is between 10-15 lbs, 2nd is 15-20 lbs and 3rd is 20-25 lbs.

The Boston Terrier is an intelligent and eager breed. It is good with kids and it can especially be trusted with elders. It is also good with dogs as well as other pets, including non-canine animals. It is very friendly with strangers, which puts a question mark over its ability as a watchdog. There have been owners who have commended this breed as a watchdog while others haven't spoken much about it. However, what is sure about this breed is it is very easy to train. It is eager to learn new things and has a good attention span. However, it can be susceptible to Small Dog Syndrome. Thus, strong leadership is required for the best behavior. This breed feels comfortable in an indoor environment and hence, it is well suited to an apartment life.
Boston Terrier Care & Grooming:
The Boston Terrier is an average shedder. The short and fine coat needs to be brushed once every week to maintain a healthy looking coat. The short and fine coat of the breed needs to be brushed once or twice a week to maintain a healthy looking coat. It should be bathed only when necessary or can also be rubbed occasionally with a damp towel. Its eyes and ears should be cleaned properly and nail needs to be trimmed regularly to avoid any injury.

This breed does not require much exercise. Daily walks fulfill most of its requirements. A romp in an open area every now and then takes care of its additional requirements for exercise. It is sensitive to very high or very low temperature so should be adequately protected.
Boston Terrier Health Problems:
The Boston Terrier is prone to some health issues like Cataract, Entropion, Cherry eye, Deafness, Patellar luxation, Skin allergies etc. More than 90% pups of this breed are delivered by C Section due to their large heads. Because of its snub nose it gets difficulty to breathe in extreme temperatures and also tends to wheeze and snore.
RELATED NON-SPORTING BREEDS
FEATURED DOG BREED
| | |
| --- | --- |
| Group: | Hound |
| Size: | Large |
| Life Span: | 10-12 years |
| Height: | Male: 28-30 inches Female: 26-28 inches |
| Weight: | Male:65-75 lbs Female: 60-70 lbs |
| Color: | Black, fawn, red, blue, brindle etc. |
| Description: | The Greyhound is one of the most ancient dog breeds. Depictions similar to this breed have been..... |