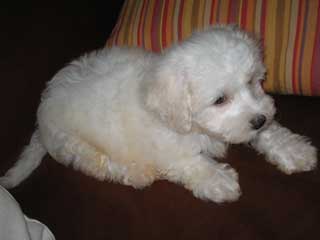 | | | | | | | |
| --- | --- | --- | --- | --- | --- | --- |
| Grooming: | | | | | | |
| Shedding: | | | | | | |
| Energy Level: | | | | | | |
| Protection: | | | | | | |
| Watch Dog: | | | | | | |
| | |
| --- | --- |
| Group: | Non-sporting |
| Size: | Small |
| Life Span: | 12-15 years |
| Height: | Male: 9-12 inches |
| | Female: 9-12 inches |
| Weight: | Male: 7-12 lbs |
| | Female: 7-12 lbs |
Bichon Frise Facts
Coat :
Outer coat coarse and curly. Undercoat soft, silky and dense
Gait :
Free and effortless
Color(s) :
White with shadings of buff, cream or apricot
Living Area :
Any
Hair Length:
Medium
Exercise Need :
Daily walk
Recognized By :
(CKC) Canadian Kennel Club
(FCI) Fédération Cynologique Internationale
(AKC) American Kennel Club
(UKC) United Kennel Club
(KCGB) Kennel Club of Great Britain
(CKC) Canadian Kennel Club
(NKC) National Kennel Club
(BFCA)
(NZKC) New Zealand Kennel Club
(ANKC) Australian National Kennel Council
(APRI) America Pet Registry, Inc.
(ACR) American Canine Registry
(DRA) Dog Registry of America

Date of Origin :
13th century
Place of Origin :
Spain, Belgium
Todays Use :
Companion Dog
Originally Used :
Companion Dog
Other Name :
Bichon Tenerife
Bichon Frise Information
Bichon Frise Description:
The Bichon Frise is a descendant of the Water Spaniel and was popular with the sailors in the olden days. It was a companion dog for the sailors who traded it from time to time, which led to this breed reaching different continents. The breed derives its name from the word bichon which is French for "small long haired dog." This breed was popular with the royals in France during the 16th century. It first came to the US in 1956 and was first recognized by AKC in 1972.

This small, cotton ball like dog has a small head; round, deep set black eyes; dropping ears of moderate length; a proportionate muzzle; black, well defined nose; thin, straight lips and sharp teeth with a scissors bite. The forelegs are short, straight and of medium bone density while the hind legs are angulated and muscular. The tail of this breed is short and curved, with the hair of the tail resting on the back. This breed has a double coat, with a velvety feel to it. The undercoat is soft, dense and silky while the outer coat is a little coarse and curly in texture. The color of the coat is white with slight shades of buff, cream or apricot.

Bichon Frise is a friendly breed with a charming disposition. It is a well mannered breed with high energy levels with a playful and affectionate nature. Sudden bursts of energy are commonly associated with this breed which is accompanied by frantic running and growling, which can be amusing to look at. It is excellent with kids and with other pets also. Bichon Frise loves company and requires a lot of human attention. Leaving it alone for too long can lead to behavioral problems. This breed is easy to train, although training should be started at an early age.
Bichon Frise Care & Grooming:
The Bichon Frise sheds very little hair and its hair grows continuously. So frequent brushing is required to avoid any tangles and matt. It should be bathed only when necessary. Coat of the pet dog is generally clipped for an easy maintenance. The ears, eyes and teeth of the dog should be cleaned regularly and the claws should be trimmed properly. Hair around the ears, eyes and paws should be trimmed regularly.

This breed is known to have high energy level and requires regular exercise to stay fit. A walk at least once a day is necessary for a healthy temperament. Like other small dogs, these too have a tendency to put on weight. They love to eat. However, moderate potion sizes one to two times a day is sufficient to meet their dietary requirement. It is advisable to subject them to socialization at an early age, as they can get a little snappy at times.
Bichon Frise Health Problems:
The Bichon Frise prone to some health issues like liver shunts, cataract, diseases of the ear and epilepsy. A potentially fatal condition found in this breed is autoimmuno hemolytic anemia which is characterized by loss of energy, vomiting etc. It is a potentially fatal condition and must be paid special attention to.
RELATED NON-SPORTING BREEDS
FEATURED DOG BREED
| | |
| --- | --- |
| Group: | Sporting |
| Size: | Large |
| Life Span: | 12-14 years |
| Height: | Male: 24-26 inches Female: 22-24 inches |
| Weight: | Male:60-70 lbs Female: 50-60 lbs |
| Color: | White with solid red patches |
| Description: | The origin of the Irish Red and White Setter lies in Ireland. This ..... |