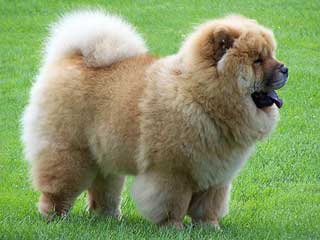 | | | | | | | |
| --- | --- | --- | --- | --- | --- | --- |
| Grooming: | | | | | | |
| Shedding: | | | | | | |
| Energy Level: | | | | | | |
| Protection: | | | | | | |
| Watch Dog: | | | | | | |
| | |
| --- | --- |
| Group: | Non-sporting |
| Size: | Medium |
| Life Span: | 12-15 years |
| Height: | Male: 18-20 inches |
| | Female: 17-19 inches |
| Weight: | Male: 50-70 lbs |
| | Female: 45-65 lbs |
Chow Chow Facts
Coat :
Outercoat is dense & rough or smooth. Undercoat is smooth & wooly
Gait :
Straight, quick and powerful
Color(s) :
Red, black, blue, cream or cinnamon
Living Area :
Any
Hair Length:
Long
Exercise Need :
Daily walk
Recognized By :
(CKC) Canadian Kennel Club
(FCI) Fédération Cynologique Internationale
(AKC) American Kennel Club
(UKC) United Kennel Club
(KCGB) Kennel Club of Great Britain
(CKC) Canadian Kennel Club
(ANKC) Australian National Kennel Council
(NKC) National Kennel Club
(NZKC) New Zealand Kennel Club
(APRI) America Pet Registry, Inc.
(ACR) American Canine Registry
(DRA) Dog Registry of America

Date of Origin :
Ancient
Place of Origin :
China
Todays Use :
Guard Dog, Companion Dog
Originally Used :
Hunting Dog, Guard Dog
Other Name :
Chow
Chow Chow Information
Chow Chow Description:
The exact origin of the Chow Chow is unknown. Historical evidence suggests that breed originated thousands of years ago in China or Mongolia. The breed has resemblance to the Chinese Shar Pei and is thought to be the ancestor of breeds like the Pomeranian and the Norwegian Elkhound. In the olden days, the breed was used in China as hunting dog as well as for guarding properties, herding as well as pulling. The breed gained in popularity in America during the 20th century when it was owned by President Calvin Coolidge and the First Lady. The breed was first recognized by the AKC in 1903.

The Chow Chow is a medium dog breed with a square, sturdy frame and a coat which is trimmed to resemble that of the lion. It has a large head; medium sized eyes which are almond shaped, deep set and dark brown in color; small sized ears which are triangular in shape and slightly rounded at the tip; a large nose which is black in color with flared nostrils; a strong, well filled and deep muzzle; black lips with teeth which meet in scissors bite. This breed has a high set tail which is feathered and carried over the back in a prominent curl. It has short, strong and muscular legs with large, well padded feet. This breed has two varieties of coat- rough and smooth. The rough coated variety has a double coat with a dense, coarse outercoat and a dense, smooth and woolly undercoat. The rough coated variety has a prominent ruff around the head and neck region. The smooth coated variety is almost the same with slight variation of the outercoat which is not governed by any specific rules. The acceptable colors of the coat are red, black, blue, cream or cinnamon.

The Chow Chow is a well mannered but a dominant breed. It is good with kids. However, socialization at an early age is required since it can be dominant towards other dogs and pets. It is slightly reserved with strangers, which makes it a good watchdog. It is a dominant breed which means it may try to be assertive at times. Strong guidance and firm training is required to have a well behaved dog. However, that doesn't mean it is hard to train. In fact, it can learn tricks very easily and responds well to obedience training. Due to its dominant nature, this breed is not recommended for first time dog owners. If sufficiently exercised, it adapts well to an apartment life.
Chow Chow Care & Grooming:
The Chow Chow is a seasonal heavy shedder. Its dense double coat needs regular grooming. Daily brushing of the coat is needed during the shedding season. Otherwise also, the coat needs to be brushed at least 3-4 times a week to maintain a good looking coat. It should be bathed only when necessary using a dry shampoo and its coat must be dried properly after each bath. The hairs around its eyes, ears and paws should be trimmed properly. This breed is prone to eye and ear diseases so extra care must be taken of these.

The Chow Chow is not a very active breed. However, a long walk daily is necessary for emotional and developmental needs of the dog. It is sensitive to hot weather so care should be taken when taking them out.
Chow Chow Health Problems:
The Chow Chow is prone to some health issues like Entropion, eye and ear problems, hip dysplasia, gastric cancer etc.
RELATED NON-SPORTING BREEDS
FEATURED DOG BREED
| | |
| --- | --- |
| Group: | Working |
| Size: | Large |
| Life Span: | 10-12 years |
| Height: | Male: 26-28 inches Female: 24-26 inches |
| Weight: | Male:80-120 lbs Female: 70-110 lbs |
| Color: | Any color including white, brindle or pint... |
| Description: | The origin of Akita lies in Japan in Akita Perfecture in the island of Honshu, which gives the bre..... |