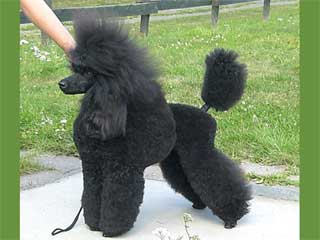 | | | | | | | |
| --- | --- | --- | --- | --- | --- | --- |
| Grooming: | | | | | | |
| Shedding: | | | | | | |
| Energy Level: | | | | | | |
| Protection: | | | | | | |
| Watch Dog: | | | | | | |
| | |
| --- | --- |
| Group: | Toy & Non Sport |
| Size: | Small & Medium |
| Life Span: | 12-15 years |
| Height: | Male: 8-18 inches |
| | Female: 8-18 inches |
| Weight: | Male: 6-65 lbs |
| | Female: 6-65 lbs |
Poodle Facts
Coat :
Curly or corded, harsh , dense
Gait :
Lightly springy
Color(s) :
Any solid color like blue, black, gray, silver, brown, apricot, white, cream
Living Area :
Any
Hair Length:
Medium
Exercise Need :
Daily walk
Recognized By :
(CKC) Canadian Kennel Club
(FCI) Fédération Cynologique Internationale
(AKC) American Kennel Club
(UKC) United Kennel Club
(KCGB) Kennel Club of Great Britain
(CKC) Canadian Kennel Club
(ANKC) Australian National Kennel Council
(NKC) National Kennel Club
(NZKC) New Zealand Kennel Club
(CCR)
(APRI) America Pet Registry, Inc.
(ACR) American Canine Registry
(DRA) Dog Registry of America

Date of Origin :
Ancient
Place of Origin :
Germany
Todays Use :
Companion Dog
Originally Used :
Water retrieving
Other Name :
Caniche
Poodle Information
Poodle Description:
As per the AKC, the Poodles are basically of 3 types. This differentiation is based only on the height of the dog. Apart from the height all other standards are almost same for all these 3 varieties.

Poodle Standard: Height should be more than 15"
Poodle Miniature: Height should be 11-15"
Poodle Toy: Height should be up to 10"

The actual origin of the Poodle is bit controversial but as per the AKC, this dog was originated from Germany where it derived its name from the German word "Pudel" means "one who plays in water". This breed was originally used for water retrieving. Hunters designed "Poodle Clip" to enhance the efficiency of the dog to move in the water. The Standard Poodle is believed to be the oldest Poodle variety. The Toy and Miniature Poodle were bred down from the Standard Poodle. Due to its intelligence and unusual appearance toy poodle was used in circus. Poodle was first recognized by the AKC in 1887 and now has become one of the most popular breed in the world.

Poodle has an unusual appearance as compared to other dogs. This elegant square-built dog has well proportionate head; Skull is somewhat rounded; muzzle is long and straight; neck is strong and long; oval shaped eyes are dark and set well apart; ears are long, flat and hangs close to the head; legs are straight and parallel; tails is set high and usually docked to about half of its original length. The coat of the Poodle is either curly, harsh and dense, or corded. The coat can be of any solid color like blue, black, gray, silver, brown, apricot, white, cream, cafe-au-laits etc.

Poodle is an active, adorable, alert, highly responsive family dog. This exceptionally intelligent breed is very easy to train, with proper training it may go well with children and other pets. It does not accept strangers easily and barks a lot, which makes it an excellent watch dog. This dog forms a strong bond with its family and needs lots of human attention. Poodle always wants something to do and usually does not prefer to be idle.
Poodle Care & Grooming:
Poodle's hypoallergenic coat sheds little to no hair. Show dog needs lots of grooming. As a family pet also, it needs daily maintenance to keep its coat clean and healthy. Its coat should be brushed frequently to avoid any tangles and matt. Poodles should be bathed regularly and clipped in every six to eight weeks. The ears and eyes of the dog should be cleaned regularly and the claws should be trimmed properly. Hair around the ears, eyes and paws should be trimmed regularly.

This active breed loves to play a lot, play fulfills the most part of its exercise needs but daily walk is also very much required to keep the dog healthy. Lack of exercise may develop behavioral problem in the dog.

Poodle Clips : Generally there are three types of clips.

Pet Clip: This clip is for the Poodles, who are not going for any dog show. With this cut, hair is cut short in all over the dog's body.

Continental Clip: This clip is generally meant for the show dogs. With this cut, hindquarters, upper half of the legs and half of the tail are shaved.

English saddle clip: This is same as Continental Clip, except the hindquarters are not shaved.
Poodle Health Problems:
Poodle is generally a healthy and long living breed with relatively few major health problems. They are prone to hip Dysplasia, Epilepsy, Hypothyroidism, Diabetes, Heart problem, PRA (Progressive Retinal Atrophy), Von Willenbrands, Ear infection etc.
RELATED TOY & NON SPORT BREEDS
FEATURED DOG BREED
| | |
| --- | --- |
| Group: | Herding |
| Size: | Medium |
| Life Span: | 10-14 years |
| Height: | Male: 17-20 inches Female: 17-20 inches |
| Weight: | Male:25-45 lbs Female: 25-45 lbs |
| Color: | Black, and red, each with or without out t... |
| Description: | ..... |