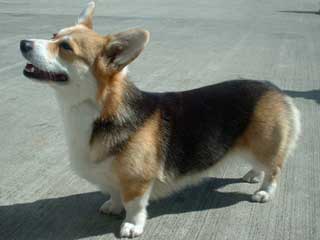 | | | | | | | |
| --- | --- | --- | --- | --- | --- | --- |
| Grooming: | | | | | | |
| Shedding: | | | | | | |
| Energy Level: | | | | | | |
| Protection: | | | | | | |
| Watch Dog: | | | | | | |
| | |
| --- | --- |
| Group: | Herding |
| Size: | Small |
| Life Span: | 12-15 years |
| Height: | Male: 10-12 inches |
| | Female: 10-12 inches |
| Weight: | Male: 27-30 lbs |
| | Female: 25-28 lbs |
Pembroke Welsh Corgi Facts
Coat :
Outercoat is dense and rough. Undercoat is thick and soft.
Gait :
Smooth and effortless
Color(s) :
Red, sable, fawn, black or tan; with or without white markings.
Living Area :
Any
Hair Length:
Medium
Exercise Need :
Daily long walk
Recognized By :
(CKC) Canadian Kennel Club
(FCI) Fédération Cynologique Internationale
(AKC) American Kennel Club
(UKC) United Kennel Club
(KCGB) Kennel Club of Great Britain
(CKC) Canadian Kennel Club
(ANKC) Australian National Kennel Council
(NKC) National Kennel Club
(NZKC) New Zealand Kennel Club
(APRI) America Pet Registry, Inc.
(ACR) American Canine Registry
(DRA) Dog Registry of America

Date of Origin :
Ancient
Place of Origin :
Wales
Todays Use :
Companion Dog
Originally Used :
Cattle Herding, Farm Dog
Other Name :
PWC, Corgi
Pembroke Welsh Corgi Information
Pembroke Welsh Corgi Description:
The origin of the Pembroke Welsh Corgi lies in Pembrokeshire, Wales. The breed is one of the oldest herding breeds known, dating as far back as the 12th century. Although the exact descendant of the breed is unknown, it is believed to have descended from Vallhund, Pomeranian, Keeshond and the Schipperke. In the olden days, it was primarily used for herding cattle. Over the years, the breed has gained popularity as a companion breed, with Queen Elizabeth II owning several Pembroke Welsh Corgis. The breed was first recognized by the AKC in 1934.

The Pembroke Welsh Corgi is a small sized dog with a long and strong frame. It has a fox like head; medium sized eyes which are oval in shape and dark brown in color; medium sized ears which are carried erect; a black nose; a slightly long muzzle which is square in appearance and gradually tapers towards the end; taut lips which are black in color with teeth which meet in scissors bite or level bite. This breed has a docked tail which is set low. The tail is plumed and carried at or below the level of the back. It has short legs which are strong and straight with oval shaped, well padded feet. It has a double coat with a medium length outercoat which is rough to touch and, a soft and dense weather resistant undercoat. The color of the coat can be red, sable, fawn, black or tan; may have some white markings on the head, chest, neck, legs and underparts of the body.

The Pembroke Welsh Corgi is a loyal and obedient breed. It is playful in nature and does well with kids as well as other dogs and pets. However, it is slightly reserved with strangers and has strong protective instincts, which makes it a good guard dog. It has a tendency to bark as well which makes it a good watchdog too. It is an easy to train breed and thus, is well suited to beginners. If given the right amount of exercise, it adapts well to an apartment life.
Pembroke Welsh Corgi Care & Grooming:
The Pembroke Welsh Corgi is an average shedder and sheds heavily during spring and fall. Its coat needs to be brushed at least 2-3 times a week and almost daily during shedding season. It should be bathed only when necessary and must be dried properly after each bath. The ears and eyes should be cleaned regularly to avoid any infection. Its nail and the hair around the paws need to be trimmed regularly.

The Pembroke Welsh Corgi is a very active dog which needs daily exercise. Daily walks are essential to keep the dog healthy both physically and mentally. These should be supplemented with jogging, running and other games to make the dog occupied most of the time. It tends to gain weight easily so should not be overfed.
Pembroke Welsh Corgi Health Problems:
The Pembroke Welsh Corgi is prone to some health issues like PRA, hip Dysplasia, Von Willebrand disease, Back problems etc.
FEATURED DOG BREED
| | |
| --- | --- |
| Group: | Herding |
| Size: | Large |
| Life Span: | 12-14 years |
| Height: | Male: 23-27 inches Female: 21-25 inches |
| Weight: | Male:65-75 lbs Female: 60-70 lbs |
| Color: | Black or black with little white markings |
| Description: | As the name suggests, the origin of the Belgian Sheepdog lies in Belgium. Also called th..... |