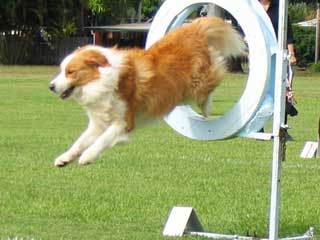 | | | | | | | |
| --- | --- | --- | --- | --- | --- | --- |
| Grooming: | | | | | | |
| Shedding: | | | | | | |
| Energy Level: | | | | | | |
| Protection: | | | | | | |
| Watch Dog: | | | | | | |
| | |
| --- | --- |
| Group: | Herding |
| Size: | Medium |
| Life Span: | 12-15 years |
| Height: | Male: 19-22 inches |
| | Female: 18-21 inches |
| Weight: | Male: 30-45 lbs |
| | Female: 25-40 lbs |
Border Collie Facts
Coat :
Coarse and straight or wavy
Gait :
Balanced and graceful
Color(s) :
Any solid color, bi-color or tri-color
Living Area :
Large
Hair Length:
Long Or Medium
Exercise Need :
Vigorous daily exercise
Recognized By :
(ABC)
(AIBC)
(CKC) Canadian Kennel Club
(FCI) Fédération Cynologique Internationale
(AKC) American Kennel Club
(UKC) United Kennel Club
(KCGB) Kennel Club of Great Britain
(ANKC) Australian National Kennel Council
(NKC) National Kennel Club
(NZKC) New Zealand Kennel Club
(APRI) America Pet Registry, Inc.
(ACR) American Canine Registry
(DRA) Dog Registry of America

Date of Origin :
19th Century
Place of Origin :
Scotland and england
Todays Use :
Guard Dog, Companion Dog
Originally Used :
Sheep herder
Other Name :
Scotch Sheep Dog
Border Collie Information
Border Collie Description:
The exact origin of the Border Collie is relatively unknown. However, it is believed to have descended from the landrace collies breed of the British Isles. The breed derives its name from the fact that it originated in the border region between Scotland and Britain. In the olden days, the breed was primarily used for herding sheep and other cattle because of its hypnotizing stare. The breed was first recognized by AKC in 1995.

The Border Collie is a medium sized dog with an athletic frame. It has a moderate sized head; oval shaped eyes which are medium in size and dark brown in color; high- set ears of medium size which are forward pointing; a large nose with flared nostrils and color similar to that of the coat color; a strong, square, muzzle; thin lips which meet in scissors bite. This breed has a low-set moderate length tail with a slight curl upwards when in motion. However, the tail is always carried low and never above the line of the back. The legs of this breed are strong, wide and muscular with oval shaped feet. This breed has a weather resistant double coat with a coarse outer coat, and a short, soft and dense undercoat. The outer coat may be straight or wavy. The color of the coat can be of any solid color, bi-color or tri-color like solid black; black and white; yellow and white; black, white and gray etc.

The Border Collie is an intelligent and a hard working breed. It is a people pleaser and can work hard for hours. Thus, it makes for a very loyal breed indeed. However, this breed is not recommended for people who cannot devote much time to it. When left alone for long hours, it can develop serious behavioral problems resulting in aggressiveness and snappiness. It is good with matured kids but needs proper training for it and is reserved towards strangers. However, it may show authoritative symptoms to other dogs. Caution is advised with smaller pets such cats and rabbits as it can be aggressive towards them. Being a natural work dog with great agility and stamina, it makes for a good watchdog as well as a guard dog. However, it is not very well suited to an apartment lifestyle due to its busy nature.
Border Collie Care & Grooming:
The Border Collie is a seasonal shedder. Its lustrous double coat requires regular care. Regular brushing with a firm bristle brush is recommended to maintain its coat. It should be bathed only when necessary using a dry shampoo. Extra attention should be paid to its ears to check for any mark or bacterial infections.

This breed requires a lot of exercise, physical as well as mental. A daily longwalk is not enough, it needs various tasks which exercise its body as well as mind to keep in top condition. This breed has a tendency to gain weight and should not be overfed.
Border Collie Health Problems:
The Border Collie prone to some health issues like hip dysplasia, epilepsy, eye and ear infections etc.
FEATURED DOG BREED
| | |
| --- | --- |
| Group: | Non-sporting |
| Size: | Medium |
| Life Span: | 12-15 years |
| Height: | Male: 16-18 inches Female: 16-18 inches |
| Weight: | Male:45-65 lbs Female: 45-65 lbs |
| Color: | Any solid color like blue, black, gray, si... |
| Description: | The actual origin of the Poodle is bit controversial but as per the AKC, this dog was originated from Germany where it d..... |