West Highland White Terrier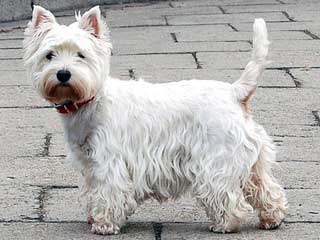 | | | | | | | |
| --- | --- | --- | --- | --- | --- | --- |
| Grooming: | | | | | | |
| Shedding: | | | | | | |
| Energy Level: | | | | | | |
| Protection: | | | | | | |
| Watch Dog: | | | | | | |
| | |
| --- | --- |
| Group: | Terrier |
| Size: | Small |
| Life Span: | 14-16 years |
| Height: | Male: 10-11 inches |
| | Female: 10-11 inches |
| Weight: | Male: 15-20 lbs |
| | Female: 15-20 lbs |
West Highland White Terrier Facts
Coat :
Outercoat is hard and straight. Undercoat is soft and dense
Gait :
Free and effortless
Color(s) :
White
Living Area :
Any
Hair Length:
Medium
Exercise Need :
Daily long walk
Recognized By :
(CKC) Canadian Kennel Club
(FCI) Fédération Cynologique Internationale
(AKC) American Kennel Club
(UKC) United Kennel Club
(KCGB) Kennel Club of Great Britain
(CKC) Canadian Kennel Club
(ANKC) Australian National Kennel Council
(NKC) National Kennel Club
(NZKC) New Zealand Kennel Club
(APRI) America Pet Registry, Inc.
(ACR) American Canine Registry
(DRA) Dog Registry of America

Date of Origin :
Ancient
Place of Origin :
Scotland
Todays Use :
Companion Dog
Originally Used :
Vermin Hunter, Companion Dog
Other Name :
Westie
West Highland White Terrier Information
West Highland White Terrier Description:
The origin of the West Highland White Terrier lies in Poltalloch region of Scotland. The breed is a result of crossbreeding between different terrier breeds of Scotland including the Cairn Terrier. Also called Westie, this breed was earlier known as the Poltalloch Terrier and later renamed as Roseneath Terrier before being finally named as the West Highland White Terrier. In the olden days, this breed was used for hunting rats, badgers and other small animals. It was first recognized by the AKC in 1908.

The Westie is a small sized dog with a well balanced, strong frame. It has a large, round head; medium sized eyes which are almond shaped, deep set and dark brown in color; small sized ears which are carried erect; a large, black nose; a strong, blunt and deep muzzle; tight lips which are black in color with teeth which meet in scissors bite. This breed has a medium sized tail which is set high and is covered with hard, straight hair. The tail is always carried erect and is never curled over the back. Unlike other terrier breeds, this breed has relatively long legs which are strong and straight with well padded feet. It has a double coat with a hard and straight outercoat and, a soft and dense undercoat. The coat around the head is trimmed to give the head a round appearance. The color of the coat is always pure white.

The West Highland White Terrier is a friendly and lively breed. It is great with kids as well as other dogs and makes for a very good companion breed. It is friendly towards strangers. However, despite that, it makes for a good watchdog. However, caution is advised with small pets such as cats, rabbits, rats etc. because of the dog's hunting instincts. The West Highland White Terrier is prone to the Small Dog Syndrome. Although it is easy to train, it needs calm and consistent leadership to avoid behavioral problems. The breed is most comfortable in an indoor environment and hence, it is well suited to an apartment life.
West Highland White Terrier Care & Grooming:
The Westie sheds very little hair. Its straight and rough coat needs regular grooming. Brushing 3-4 times a week and trimming in every 3-4 months are sufficient to keep its coat healthy and beautiful. It should be bathed only when absolutely necessary and must be dried properly after each bath. Its ears and eyes should be cleaned properly to avoid any infection. The hair around the ears, eyes and paws needs to be trimmed regularly.

Although it is an active breed, a daily walk meets most of its exercise requirements. The walk should be supplemented with a romp in an open area every now and then. It is sensitive to very high temperature so should be adequately protected.
West Highland White Terrier Health Problems:
The West Highland White Terrier is prone to some issues like Liver disease, Hernia, Skin allergies etc.
FEATURED DOG BREED
| | |
| --- | --- |
| Group: | Terrier |
| Size: | Small |
| Life Span: | 14-15 years |
| Height: | Male: 12-14 inches Female: 12-14 inches |
| Weight: | Male:10-15 lbs Female: 10-15 lbs |
| Color: | Black, salt and pepper, black and silver |
| Description: | The Miniature Schnauzer is a native of Germany, from where it derived it name from t..... |