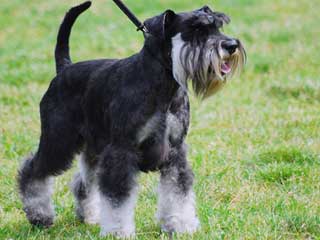 | | | | | | | |
| --- | --- | --- | --- | --- | --- | --- |
| Grooming: | | | | | | |
| Shedding: | | | | | | |
| Energy Level: | | | | | | |
| Protection: | | | | | | |
| Watch Dog: | | | | | | |
| | |
| --- | --- |
| Group: | Terrier |
| Size: | Small |
| Life Span: | 14-15 years |
| Height: | Male: 12-14 inches |
| | Female: 12-14 inches |
| Weight: | Male: 10-15 lbs |
| | Female: 10-15 lbs |
Miniature Schnauzer Facts
Coat :
Hard, wiry
Gait :
Straight
Color(s) :
Black, salt and pepper, black and silver
Living Area :
Any
Hair Length:
Medium
Exercise Need :
Daily long walk
Recognized By :
(CKC) Canadian Kennel Club
(FCI) Fédération Cynologique Internationale
(AKC) American Kennel Club
(UKC) United Kennel Club
(KCGB) Kennel Club of Great Britain
(CKC) Canadian Kennel Club
(ANKC) Australian National Kennel Council
(NKC) National Kennel Club
(NZKC) New Zealand Kennel Club
(APRI) America Pet Registry, Inc.
(ACR) American Canine Registry
(DRA) Dog Registry of America

Date of Origin :
Late 1800's
Place of Origin :
Germany
Todays Use :
Companion Dog
Originally Used :
Vermin Hunter
Other Name :
Zwergschnauzer
Miniature Schnauzer Information
Miniature Schnauzer Description:
The Miniature Schnauzer is a native of Germany, from where it derived it name from the word "Schnauze" which means "muzzle". During late 1800's this breed was developed as a vermin hunter or farm dog, by cross breeding small Standard Schnauzers with Affenpinscher or Poodle. The first Miniature Schnauzer registered by the AKC was in 1926 and now it has become one of the popular breeds in the world.

The Miniature Schnauzer is a strong, little dog with a square-built body; head is strong and rectangular in shape; muzzle is strong; oval shaped eyes are small, deep-set and dark brown in color; small V-shaped ears are set high, and are either cropped or uncropped; teeth meet in a scissors bite; nose is black; forelegs are straight and parallel; hind legs are strong and muscular; tail is ducked, set high and carried erect. The most distinguished features of this dog are its whiskers and attractive coat. It has thick and very prominent whiskers on its face. This dog has a double coat; outer coat is hard and wiry, and under coat is soft and dense. The color of the coat can be solid black, black and silver, or salt and pepper.

The Miniature Schnauzer is a very alert, active, obedient, adorable and loyal dog. This intelligent breed is very easy to train and with proper training it does well with children and other dogs. It is aggressive towards small animals. It does not accept strangers easily and is very alert, which makes it an excellent watch dog. This dog requires extensive socialization from an early age. This devoted family pet always wants to please its master and needs lots of human attention. This breed is an ideal choice for apartment life.
Miniature Schnauzer Care & Grooming:
The Miniature Schnauzer sheds little to no hair but its double coat needs daily maintenance. Its coat should be brushed frequently with a short wire brush to avoid matting, and should be bathed only when necessary. Clipping or hand stripping is required in every 2 months. Its teeth should be brushed daily to avoid any mouth problem. The ears and eyes of the dog should be cleaned regularly and the claws should be trimmed properly. Hair around the ears, eyes and paws should be trimmed regularly. The whiskers of the Miniature Schnauzer should be cleaned after each meal.

This active little dog needs lots of daily exercises like long walk, jog to keep it healthy both physically and mentally. Lack of exercise may develop behavioral problem in the dog and can also make the dog overweight. This dog tends to gain weight so should not be overfed. It prefers numbers of small meals to one big meal.
Miniature Schnauzer Health Problems:
The Miniature Schnauzer is a long living healthy breed with relatively few major problems. They are prone to Cushing's disease, Pancreatitis, diabetes, skin allergies, teeth problem etc.
MINIATURE SCHNAUZER OWNED BY USERS


Breed: Miniature Schnauzer
Name: Woody
Age: 0.6 years
Sex:
About Woody :
FEATURED DOG BREED
| | |
| --- | --- |
| Group: | Toy |
| Size: | Small |
| Life Span: | 14-16 years |
| Height: | Male: 5-7 inches Female: 5-7 inches |
| Weight: | Male:4-7 lbs Female: 4-7 lbs |
| Color: | Blue and tan |
| Description: | The Yorkshire Terrier is very confident, intelligent and an active little dog. It was d..... |