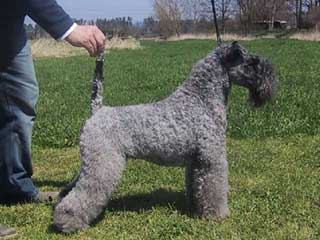 | | | | | | | |
| --- | --- | --- | --- | --- | --- | --- |
| Grooming: | | | | | | |
| Shedding: | | | | | | |
| Energy Level: | | | | | | |
| Protection: | | | | | | |
| Watch Dog: | | | | | | |
| | |
| --- | --- |
| Group: | Terrier |
| Size: | Medium |
| Life Span: | 12-14 years |
| Height: | Male: 19-20 inches |
| | Female: 18-19 inches |
| Weight: | Male: 33-40 lbs |
| | Female: 33-40 lbs |
Kerry Blue Terrier Facts
Coat :
Soft, dense and wavy
Gait :
Free and straight
Color(s) :
Different shades of blue gray or gray blue
Living Area :
Any
Hair Length:
Medium
Exercise Need :
Daily long walk
Recognized By :
(CKC) Canadian Kennel Club
(FCI) Fédération Cynologique Internationale
(AKC) American Kennel Club
(UKC) United Kennel Club
(KCGB) Kennel Club of Great Britain
(CKC) Canadian Kennel Club
(ANKC) Australian National Kennel Council
(NKC) National Kennel Club
(NZKC) New Zealand Kennel Club
(APRI) America Pet Registry, Inc.
(ACR) American Canine Registry
(DRA) Dog Registry of America

Date of Origin :
18th Century
Place of Origin :
Ireland
Todays Use :
Companion Dog
Originally Used :
Farm Dog, Small game hunter
Other Name :
Kerry, Irish Blue Terrier
Kerry Blue Terrier Information
Kerry Blue Terrier Description:
The origin of the Kerry BlueTerrier lies in County Terry of Ireland. The breed dates back to the 18th century. However, the exact origin of the breed is unknown. A theory suggests that the Portuguese Water Dog was crossbred with the female Wheaten Terrier of Ireland and thus, the Kerry Blue Terrier was born. Another theory suggests that the breed is a result of crossbreeding between Bedlington Terrier, Soft Coated Wheaten Terrier and Irish Terrier. There is still another theory which suggests that the breed's ancestry may lie in the extinct herding dogs of Gadhar. The Kerry Blue Terrier was primarily used as a farm dog for herding. The breed was first recognized by the AKC in 1922.

The Kerry is a medium sized dog with a lean frame. It has a long yet proportionate head; V-shaped ears which are small in size and are carried close to the cheeks; small eyes which are dark in color; a black nose with flared nostrils; a strong and square muzzle; taut lips with teeth which meet in scissors bite. This breed has a high-set tail which is medium in length. The tail is carried in vertical fashion with a slight bend forwards. It has a medium length legs which are strong and muscular and square shaped paws typical of the terrier. This breed has a soft, dense and wavy coat. It is born black and gradually by the age of 18 months it owns its actual color, which can be different shades of blue gray or gray blue.

The Kerry Blue Terrier is a fun-loving and friendly breed. It is good with kids as well as friendly with strangers. Despite that, it makes for a very good watchdog, although it is not a very good guard dog. Caution is advised with smaller pets such as rabbits, guinea pigs etc. because of the dog's strong hunting instincts. This breed can be dog aggressive if not socialized from a very young age. It is an obedient breed and thus, it is very easy to train. However, the training schedule should be constantly changed to keep it interested at all times, as it can get bored of routine. It adapts well to indoor as well as outdoor, and thus, it is well suited to an apartment life.
Kerry Blue Terrier Care & Grooming:
The hypoallergenic coat of the Kerry sheds very little hair. The dense and wiry coat of the dog needs regular grooming. The coat needs to be brushed 2-3 times a week and also a professional grooming 3-4 times a year to maintain a healthy looking coat. It should be bathed regularly and must be dried properly after each bath. The eyes and ears of the dog should be cleaned properly. Its beard should be cleaned properly after each meal to remove any food remains.

It is an active breed which needs lot of daily exercise. Daily walks are essential to make the dog healthy both physically and mentally. These need to be supplemented with jogging or running in an open but secure area to release the excess energy of the dog. However, it should not be let off the leash in an open area as it has a tendency to chase small animals.
Kerry Blue Terrier Health Problems:
The Kerry BlueTerrier is prone to some health issues like hip Dysplasia, Cerebellar abiotrophy, Cataract etc.
FEATURED DOG BREED
| | |
| --- | --- |
| Group: | Toy |
| Size: | Small |
| Life Span: | 12-15 years |
| Height: | Male: 8.5-11.5 inches Female: 8.5-11.5 inches |
| Weight: | Male:4-8 lbs Female: 4-8 lbs |
| Color: | Black and white; tan and white; tri color ... |
| Description: | The origin of the Toy Fox Terrier lies in the USA. The breed dates back to the 20 the cen..... |