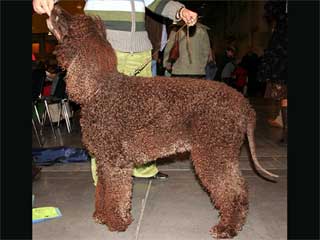 | | | | | | | |
| --- | --- | --- | --- | --- | --- | --- |
| Grooming: | | | | | | |
| Shedding: | | | | | | |
| Energy Level: | | | | | | |
| Protection: | | | | | | |
| Watch Dog: | | | | | | |
| | |
| --- | --- |
| Group: | Sporting |
| Size: | Large |
| Life Span: | 10-12 years |
| Height: | Male: 22-24 inches |
| | Female: 21-23 inches |
| Weight: | Male: 55-68 lbs |
| | Female: 45-58 lbs |
Irish Water Spaniel Facts
Coat :
Dense, tight and curly
Gait :
Free and well balanced
Color(s) :
Various shades of liver
Living Area :
Average
Hair Length:
Medium
Exercise Need :
Daily long walk, jogging, swimming
Recognized By :
(CKC) Canadian Kennel Club
(FCI) Fédération Cynologique Internationale
(AKC) American Kennel Club
(UKC) United Kennel Club
(KCGB) Kennel Club of Great Britain
(CKC) Canadian Kennel Club
(ANKC) Australian National Kennel Council
(NKC) National Kennel Club
(NZKC) New Zealand Kennel Club
(APRI) America Pet Registry, Inc.
(ACR) American Canine Registry
(DRA) Dog Registry of America

Date of Origin :
Ancient
Place of Origin :
Ireland
Todays Use :
Companion dog
Originally Used :
Water dog
Other Name :
Whiptail, Rat Tail Spaniel
Irish Water Spaniel Information
Irish Water Spaniel Description:
The exact origin of the Irish Water Spaniel is relatively unknown. The father of this breed is considered to be a certain Justin McCarthy from Dublin, Ireland. However, in absence of any breeding records for the breed, it is believed to be a combination of the Poodle, the Curly Coated Retriever, Portuguese Water Dog and Irish Setter. It was a popular breed in the 19th century. During that time, it was used for hunting ducks as well as a water and land retriever. With the advent of the Labrador, the breed waned in popularity. Today, it is one of the largest and the rarest spaniels in the world. It was first recognized by the AKC in 1884.

The Irish Water Spaniel is a medium to large sized dog with a keen sense for hunting. It has a well defined head which is relatively small; a long muzzle which is slightly square shaped; taut and thin lips with teeth which meet in scissors bite or even bite; a large nose; long low set ears which lie close to the cheeks; small, almond shaped eyes which are brown in color. A distinguishing characteristic of this breed is the topknot. The topknot is characterized by curls that cover the skull and loose curls falling over the ears. This breed is has a rat like tail which is low-set and is carried in level with the back. It has a dense, tight and curly outer coat, and a dense and soft undercoat. Density of the hair varies on different parts of the body. The color of its coat can be different shades of liver.

The Irish Water Spaniel is an intelligent and a spirited breed. It is a quick learner and loves to learn new things. With proper training it mingles well with children as well as other pets. Caution is advised with small, non canine pets such as rabbits, rats, guinea pigs, birds etc. because of the breed's strong hunting instincts. However, it can be reserved with strangers. Socializing at an early age is required to bring out the best behavior. It is a quiet breed and thus, makes for a good watchdog. It is very easy to train and responds well to obedience training. Although is a quite breed, it is very active and hence, does not adjust very well to an apartment life.
Irish Water Spaniel Care & Grooming:
The hypoallergenic coat of the Irish Water Spaniel sheds very little hair. The dense and curly coat of the dog needs regular grooming. The coat needs to be brushed once or twice in a week and also a professional grooming 3-4 times a year to maintain a healthy looking coat. It should be bathed only when necessary. The eyes and ears of the dog should be cleaned properly. Its nail and the hair around eyes, ears and paws should also need to be trimmed regularly.

It is largely a hunting and a guarding breed. Therefore, it requires a lot of exercise for proper physical as well as mental development. Long walks daily are recommended. Apart from that, vigorous exercise schedules are recommended every now and then. Keeping this breed indoors for too long can lead to behavioral problems.
Irish Water Spaniel Health Problems:
The Irish Water Spaniel is prone to some health issues like hip Dysplasia, Hypothyroidism, ear and skin infections etc.
FEATURED DOG BREED
| | |
| --- | --- |
| Group: | Herding |
| Size: | Medium |
| Life Span: | 12-14 years |
| Height: | Male: 20-24 inches Female: 19-23 inches |
| Weight: | Male:45-55 lbs Female: 35-45 lbs |
| Color: | Solid colored with or without white trim; ... |
| Description: | The history of the Canaan Dog is about 10,000 years old. Historical evidence suggests that anc..... |