German Shorthaired Pointer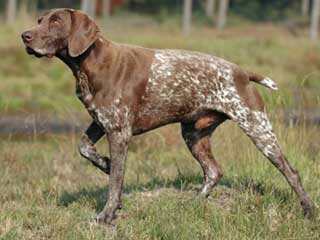 | | | | | | | |
| --- | --- | --- | --- | --- | --- | --- |
| Grooming: | | | | | | |
| Shedding: | | | | | | |
| Energy Level: | | | | | | |
| Protection: | | | | | | |
| Watch Dog: | | | | | | |
| | |
| --- | --- |
| Group: | Sporting |
| Size: | Large |
| Life Span: | 12-15 years |
| Height: | Male: 23-25 inches |
| | Female: 21-23 inches |
| Weight: | Male: 55-70 lbs |
| | Female: 45-60 lbs |
German Shorthaired Pointer Facts
Coat :
Thick and rough
Gait :
Smooth and powerful
Color(s) :
Solid liver or a mixture of liver and white.
Living Area :
Large
Hair Length:
Short
Exercise Need :
Daily long walk, jog and exercise
Recognized By :
(CKC) Canadian Kennel Club
(FCI) Fédération Cynologique Internationale
(AKC) American Kennel Club
(UCK)
(KCGB) Kennel Club of Great Britain
(CKC) Canadian Kennel Club
(ANKC) Australian National Kennel Council
(NKC) National Kennel Club
(NZKC) New Zealand Kennel Club
(APRI) America Pet Registry, Inc.
(ACR) American Canine Registry
(DRA) Dog Registry of America

Date of Origin :
Ancient
Place of Origin :
Germany
Todays Use :
Guard Dog, Family Dog
Originally Used :
Hunting Dog, Guard Dog
Other Name :
GSP, Deutsch Kurzhaar, Kurzhaar
German Shorthaired Pointer Information
German Shorthaired Pointer Description:
The exact origin of the German Shorthaired Pointer is unknown. However, there are various theories which suggest that different breeds of German scent hounds, sight hounds and tracking breed went into creating the German Shorthaired Pointer. According to theories, some breed which went into the making of the German Shorthaired Pointer are Spanish Pointer, German Bird Dog, Hounds of St.Hubert as well as English Pointer. In the olden days, the breed was used as an all-utility breed. It was used for hunting, guarding, tracking as well as companion breed. It was first recognized by the AKC in 1930.

The SP is a medium to large sized dog with an athletic, well balanced frame. It has a well defined head which is proportionate to the body; medium sized eyes which are almond shaped and dark brown in color; broad ears which are high set and are carried close to the head; a large nose which is brown in color and with flared nostrils; a squarish muzzle which slightly tapers towards the end but has no snippiness to it; taut lips with teeth which meet in scissors bite. This breed has a docked tail which is set high. The tail is carried at the level of the back when relaxed and slightly above it in an erect fashion when in action. This breed has long, slender and straight legs with slightly spoon shaped feet. It has a short and thick coat which is hard in texture. The color of the coat can be solid liver or a mixture of liver and white.

The German Shorthaired Pointer is an active, protective as well as a happy go lucky breed. It is good with kids as well as other dogs. However, caution is advised with smaller, non canine animals such as guinea pigs because of the breed's strong hunting instincts. This dog is a people pleaser and hence, it is very easy to train. However, it is a working breed and hence, needs to be kept occupied most of the times. Thus, it is not recommended for families which cannot afford enough time for the breed. It can be slightly reserved with strangers with a tendency to bark, which makes it a good watchdog. It is a high energy breed which needs lots of space to move around and should be kept in a secured fenced area. Thus, it is not well suited to an apartment life.
German Shorthaired Pointer Care & Grooming:
The GSP is an average shedder. The short and rough coat of the breed needs little grooming. Brushing its coat once in a week and rubbing its body occasionally with a damp towel is sufficient to maintain a healthy looking coat. It should be bathed only when necessary and must be dried properly after each bath. Its eyes and ears need to be cleaned regularly and nail should be trimmed properly to avoid any injury.

The German Shorthaired Pointer is a high energy breed which needs loads of daily exercise. Daily walks several times a day are necessary to keep the dog healthy both physically and mentally. They need to be supplemented with jogging, running as well as other games to release the pent up energy of the dog. It is sensitive to very low temperature so should be adequately protected.
German Shorthaired Pointer Health Problems:
The German Shorthaired Pointer is prone to some health issues like Epilepsy, hip Dysplasia, Entropion, Bloat, Cancer etc.
FEATURED DOG BREED
| | |
| --- | --- |
| Group: | Herding |
| Size: | Large |
| Life Span: | 12-14 years |
| Height: | Male: 23-27 inches Female: 21-25 inches |
| Weight: | Male:65-75 lbs Female: 60-70 lbs |
| Color: | Black or black with little white markings |
| Description: | As the name suggests, the origin of the Belgian Sheepdog lies in Belgium. Also called th..... |