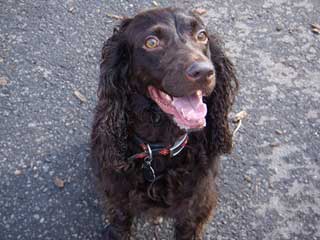 | | | | | | | |
| --- | --- | --- | --- | --- | --- | --- |
| Grooming: | | | | | | |
| Shedding: | | | | | | |
| Energy Level: | | | | | | |
| Protection: | | | | | | |
| Watch Dog: | | | | | | |
| | |
| --- | --- |
| Group: | Sporting |
| Size: | Medium |
| Life Span: | 12-15 years |
| Height: | Male: 15-18 inches |
| | Female: 14-17 inches |
| Weight: | Male: 25-40 lbs |
| | Female: 25-40 lbs |
Boykin Spaniel Facts
Coat :
Outer coat is glossy and flat or slightly wavy. undercoat is short and
Gait :
Free and effortless
Color(s) :
Brown or liver
Living Area :
Any
Hair Length:
Medium
Exercise Need :
Long daily walk and jog
Recognized By :
(BSCBAA)
(FCI) Fédération Cynologique Internationale
(UKC) United Kennel Club
(NKC) National Kennel Club
(CKC) Canadian Kennel Club
(APRI) America Pet Registry, Inc.
(ACR) American Canine Registry
(DRA) Dog Registry of America
(AKC) American Kennel Club

Date of Origin :
20th Century
Place of Origin :
United states
Todays Use :
Companion Dog
Originally Used :
Bird Flushing, Hunting Dog
Other Name :
Boykin, Swamp Poodle, LBD (Little Brown Dog)
Boykin Spaniel Information
Boykin Spaniel Description:
The origin of the Boykin Spaniel lies in South Carolina, USA. Legend has it that the credit of this breed's origin goes to L. Boykin, after whom the breed has been named. Sometime in the early 20th century, a friend of Boykin's found a dog of unidentified breed roaming the streets of South Carolina. He gave the breed to Boykin, who then crossbred the breed with the American Water Spaniel, the Springer Spaniel, the Pointers and the Chesapeake Bay Retrievers. Thus, the Boykin Spaniel was born. The breed was used for hunting water fowls and retrieving birds from water. It was first recognized by the AKC in 2009.

The Boykin Spaniel is a medium sized dog with a well balanced physique. It has a proportionate head with an alert expression; oval shaped eyes which are medium sized and brown in color; medium set ears which are pendulous and lie close to the cheeks; a square shaped muzzle; a dark colored nose with flared nostrils; taut lips with teeth which meet in scissors or an even bite. This breed has a high set tail which is docked and is carried horizontally, in line with the back. It has medium length, straight legs with webbed, well padded feet. This breed has a double coat. The outer coat is medium in length, flat or slightly wavy, and little harsh while the undercoat is short and dense. The coat can be slightly wavy or flat in appearance. The color of the coat can be brown or liver; with little white patches on chest and toes.

The Boykin Spaniel is a people pleaser. It is a quiet and obedient breed. Thus, this breed is easy to train. It is excellent with kids as well as other dogs. However, caution is advised with smaller non canine pets such as birds, cats, rats etc. because of the dog's natural hunting abilities. It is an agile breed and slightly reserved with strangers, which makes it a good watchdog. It is an excellent companion breed too. The breed can adapt well to indoor as well as outdoor. If given the right amount of exercise, it adapts well to an apartment life, but is more comfortable at least in an average sized yard.
Boykin Spaniel Care & Grooming:
The Boykin Spaniel is an average shedder. The glossy coat needs to be brushed at least 3-4 times a week to maintain a healthy looking coat. It should be bathed only when necessary and must be dried properly after each bath. The ears and eyes should be cleaned regularly to avoid any infection. Its nail and the hair around the paws need to be trimmed regularly. Its long hanging ears tend to accumulate dirt so special care needs to be taken of the ears.

It is a high energy breed which needs plenty of daily exercise. Daily walks are essential for emotional as well as physical well being of the dog. These should be supplemented with jogging, running, swimming and other games to allow the dog to release its pent up energy. It should not be let off the leash in an open area as it has a tendency to chase small animals. It tends to gain weight easily so should not be overfed.
Boykin Spaniel Health Problems:
The Boykin Spaniel is prone to some health issues like Cataract, Ear and skin infections, hip Dysplasia etc.
FEATURED DOG BREED
| | |
| --- | --- |
| Group: | Non-sporting |
| Size: | Medium |
| Life Span: | 12-15 years |
| Height: | Male: 18-20 inches Female: 17-19 inches |
| Weight: | Male:50-70 lbs Female: 45-65 lbs |
| Color: | Red, black, blue, cream or cinnamon |
| Description: | The exact origin of the Chow Chow is unknown. Historical evidence suggests that breed originate..... |