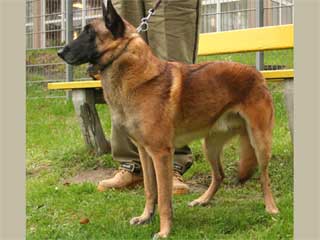 | | | | | | | |
| --- | --- | --- | --- | --- | --- | --- |
| Grooming: | | | | | | |
| Shedding: | | | | | | |
| Energy Level: | | | | | | |
| Protection: | | | | | | |
| Watch Dog: | | | | | | |
| | |
| --- | --- |
| Group: | Herding |
| Size: | Large |
| Life Span: | 10-12 years |
| Height: | Male: 23-27 inches |
| | Female: 21-25 inches |
| Weight: | Male: 55-65 lbs |
| | Female: 55-60 lbs |
Belgian Malinois Facts
Coat :
Outercoat is straight and hard. Undercoat is short and dense
Gait :
Smooth, free and tireless
Color(s) :
Rich fawn and mahogany with little black tips on the hair
Living Area :
Any
Hair Length:
Short
Exercise Need :
Daily long walk and jog
Recognized By :
(CKC) Canadian Kennel Club
(FCI) Fédération Cynologique Internationale
(AKC) American Kennel Club
(UKC) United Kennel Club
(KCGB) Kennel Club of Great Britain
(CKC) Canadian Kennel Club
(NKC) National Kennel Club
(NZKC) New Zealand Kennel Club
(ANKC) Australian National Kennel Council
(APRI) America Pet Registry, Inc.
(ACR) American Canine Registry
(DRA) Dog Registry of America

Date of Origin :
19th Century
Place of Origin :
Belgium
Todays Use :
Police and military Dog, Guard Dog
Originally Used :
Stock Herding
Other Name :
Chien De Berger Belge, Mechelaar
Belgian Malinois Information
Belgian Malinois Description:
The origin of the Belgian Malinois lies in Belgium. This breed is still not very popular outside Belgium. It is one of four types of Belgian shepherd dogs, the other three being the Belgian Tervuren, Belgian Groenendael and Belgian Laekenois. In certain countries, all the four varieties are regarded as the same breed. However, in AKC as well as UKC, the four varieties are categorized as different by the type of their coat. The Belgian Malinois was the first variety to be recognized as a separate breed and was first recognized by the AKC in 1959.

The Belgian Malinois is a medium to large sized dog with square, proportionate and a sturdy frame. It has a well defined head which is proportionate to the body; medium sized eyes which are almond shaped and dark brown in color; medium sized ears which are triangular in shape and carried erect; a proportionate muzzle which slightly tapers towards the end; a black nose with wide nostrils; taut lips which are black in color and teeth which meet in scissors bite or level bite. This breed has a medium sized tail which is set low and heavily feathered. It is carried low when relaxed with a prominent curl and is carried at or just above the level of the back when in action. This breed has long, straight legs with well padded, cat like feet. It has a water resistant double coat with a short, straight and harsh outercoat, and a short and dense undercoat. The color of the coat can be rich fawn and mahogany with little black tips on the hair and also has a black mask.

The Belgian Malinois is an obedient, loyal and a hard working breed. It is good with kids if socialized at an early age. However, it can be dominant towards other dogs as well as other pets. It needs firm training at an early age to socialize it well with other dogs and pets. It is easy to train and has a strong sense of sight and smell, which makes it a good watchdog as well as a guard dog. In fact, it does well as a police dog in search and rescue operations and in bomb disposal squads. This demanding breed is not recommended for beginners, It needs to be kept occupied at all times and a great deal of time needs to be devoted to this dog. On the positive front though, it can adapt well to an apartment life if sufficiently exercised but it is more comfortable in large area.
Belgian Malinois Care & Grooming:
The Belgian Malinois sheds heavily twice a year and sheds little throughout the year. The coat needs to be brushed at least 2-3 times a week with a firm bristle brush to maintain a healthy looking coat. It should be bathed only when absolutely necessary and must be dried properly after each bath. Its eyes and ears need to be cleaned regularly.

It is a working dog which needs lot of exercise, physically as well as mentally. Long walks several times a day are essential for well being of the dog. These should be supplemented with jogging or running in an open area with other mental activities such as search and rescue games.
Belgian Malinois Health Problems:
Although the Belgian Malinois is a healthy breed, it is prone to some health issues like hip and elbow Dysplasia, PRA, Skin allergies, Cataracts, Epilepsy etc.
FEATURED DOG BREED
| | |
| --- | --- |
| Group: | Toy |
| Size: | Small |
| Life Span: | 12-15 years |
| Height: | Male: 7-9 inches Female: 7-9 inches |
| Weight: | Male:8-12 lbs Female: 8-10 lbs |
| Color: | Red, black, black and tan, or belge (mixtu... |
| Description: | The origin of the Brussels Griffon lies in Brussels, Belgium. It is one of the varieties..... |